Injuries have forced a slightly different looking Bengals' unit but not a ton has changed.
We'll start with the numbers. According to ESPN, Vincent Rey is blowing away the rest of the team in tackles, odd given he hasn't been playing that much lately. They have him for 88 total tackles. Reggie Nelson is the next closest with 57.
As a team, they have 32 sacks with 28.5 of those coming from their defensive line, led by Carlos Dunlap's 9.5. Getting sacks from a lot of places whether it's Dunlap, Geno Atkins' eight, Michael Johnson or Domata Peko's four apiece, or even Wallace Gilberry's two. Dunlap and Johnson are entrenched in their end spots, playing primarily left and right respectively. They have unique length and are capable of knocking down passes and getting in the way of throwing lanes. As a DL as a whole, they have six pass deflections, paced by Johnson's two. Johnson has also forced a team-leading two fumbles.
From a snap count perspective, they see a lot of reps. For the season, Dunlap is at 80% whle Atkins and Johnson are over 70. The last two weeks' snap counts are skewed because those games turned into blowouts but in Week 11, their last competitive game, all three played 80% or above.
But like any four down front, there are plenty of rotational pieces. Gilberry is a swiss army knife, playing both end spots and kicking inside in some situations. Pat Sims and Will Clarke are playing more football than I recall seeing the first time around. Clark plays both end spots while Sims is the strongside defensive tackle, a load at 340 pounds. Toss in Brandon Thompson – who has my favorite nickname, Yams – and you have eight defensive lineman you're likely to see Sunday.
Just like we wrote last time, there is still a rotation at linebacker. Clear differenation between their run and coverage guys. Vontaze Burfict is the only exception, playing on most downs. In their base 4-3, Burfict is the SAM, Rey Maulauga is the MIKE, and A.J. Hawk is the WILL. Rey and Emmanuel Lamur get time in subpackage football. If there is an overall weakness on this Bengals' defense, it's their linebackers. Niche and collectively, average.
At cornerback, you can expect Dre Kirkpatrick to stick to the left sideline Sunday. Adam Jones has served as the right corner but has a good chance to miss, meaning rookie Troy Hill could start in his place. Leon Hall has been the slot corner but has also been injured, getting in a limited practice as of this writing. The Bengals' corners are hurting and a potential exploit Sunday. Rookie Josh Shaw is also in the mix and came in at the slot last week, though he too left with an injury. Sounds like he's good to go this week, however.
George Iloka missed last week, replaced by Shawn Williams, who you probably remember for making a diving INT against the Steelers the first time around. Iloka does sound ready to play this week. Reggie Nelson is opposite and one of the underrated safeties in the game. Seven INTs lead the league. Opportunistic with the ball in the air and can still hit you coming downhill. Love him as a player, even if he's on the enemy team.
As a unit, they've given up just 24 rushes of 10+ yards, tied for the second least in the NFL. They've allowed 31 passes of 20+ passes, the fewest in the NFL. And only six 40+ completions, tied for 27th. Basically, a group that does a nice job keeping a lid on things.
They vary the way they adjust to shits and motions. Sometimes, they'll ask their DL to shift, sometimes they won't and will move their linebackers to instead.
They'll ask at least one side of their line to do a T/E stunt on third and long, especially when they bluff pressure with their LBs in the A gaps and bail out post-snap.
Like last time we talked about them, they want to win with their four guys up front. And they often do. But they might be blitzing a tad bit more often now and showing a couple packages. They'll sugar the A gaps in subpackage football, Sometimes they'll rush, sometimes they'll drop. Here's the latter, with a stunt from the left side of the defensive line.
They will often blitz their boundary safety either in obvious passing situations or even on some run blitzes. Usually don't try to hide it, rolling him up pre-snap, while dropping the away side end into zone coverage. Saw it a lot in the tape I watched.
Here it is as an overload blitz to the right with two DL dropping to the left.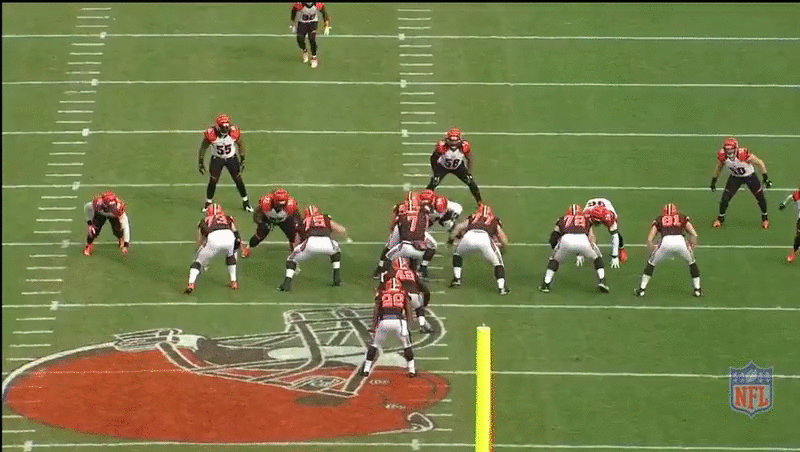 As a coverage unit, you get a lot of two high that can turn into quarters with the corners carrying #1 vertical. Some 2 Man and in certain blitz packages, even Cover 1, though that's more rare. Here's an A gap blitz, six man pressure from the Bengals with Cover 1 (man-free) in coverage.
Cincinnati Special Teams
Shaw and Hill started at gunner last week. Cedric Peerman continues to roll as the upback, doing a nice job being a field general and setting the protection. The Bengals have run one fake punt since 2013, a year ago against the Steelers. Peerman took the direct snap and the Steelers stopped him, Peerman fumbling the ball away.
Tyler Kroft, Shawn Williams, and Chris Carter all lead the team in special teams snaps. Kroft has 237 while Williams and Carter are at 227.
Kicker Mike Nugent typically likes to place the ball on the right hash and kick it to that direction. But there are enough tendency breakers that you can't count on that always happening. Mix it up well enough.