As we do every week, your scouting report for the Baltimore Ravens. Beginning with their offense.
Ravens' Rushing Attack
I want to start by noting that even though the Ravens' season is a bust, and some of the scores look ugly, they've been competitive for at least the first half. Only once this season, way back in Week 3 against the Cincinnati Bengals, have they been down by 14+ points at halftime. Even in their 35-6 blowout loss to the Seattle Sehawks, it was a one possession game at the break.
Their running game has struggled since the loss of Justin Forsett. Buck Allen has taken over him and is polished a rookie running back but is struggling behind that line. 3.8 yards per carry, just two runs of 20+ yards, and he's fumbled twice, including one returned for a touchdown last week versus the Kansas City Chiefs. It earned him a seat on the bench for the remainder of the game, replaced by Terrance West and Terrence McGee. West has done well in limited action, averaging 4.4 YPC. He wears #27 though and probably can't wait to change that number.
As a team, they are 25th in the NFL in 10+ yard runs with 32 on the season. Not an enthralling number for a team who had 63 a year ago.
Their running scheme hasn't changed much even after losing Gary Kubiak. It's a zone team, and they'll run it out of one and two back sets. Kyle Juszczyk is the do-all fullback. They do throw in some tendency breakers, blocking the fullback away from the run and running weakside. All to make it a little more difficult to predict their running attack and an effort to jumpstart a sub-par running game.
Here's an example of the handoff going away from the blocking scheme. Wasn't very successful, however.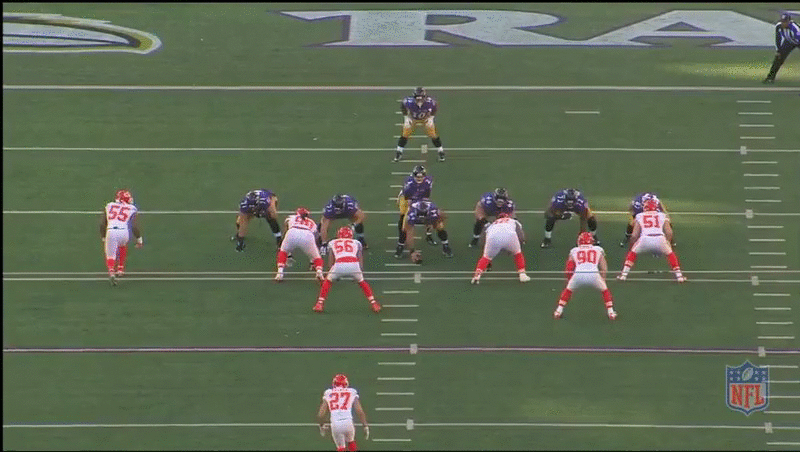 James Hurst has been benched as the starting left tackle, now a useful tackle eligible considering the team has had so many injuries at tight end. He played ten snaps there last week. Mostly as a blocker in the run or pass game, obviously, but I saw him run one route against the Seattle Seahawks, blocking and releasing down the left sideline. Very Mike Adams like. So can't forget about him, even as unlikely as it is that he does something.
They have started some series in 20 (2 RB, 0 TE) personnel. Notable because even though it was preseason, it's hard for me to forget about what the Green Bay Packers did to the Pittsburgh Steelers in the preseason, carving them up in 20 on their first drive. Puts you in nickel and forces you to defend the run, too.
Ravens' Passing Game
It's been, let's say…tough for this offense. Injuries have dismantled this team. Here is the Ravens' starting offense in Week One.
QB: Joe Flacco
RB: Justin Forsett
WR: Steve Smith/Kamar Aiken
TE: Crockett Gilmore
OL: Eugene Monre/Kelechi Osemele/Jeremy Zuttah/Marshal Yanda/Ricky Wagner
And here it is last week.
QB: Jimmy Clausen
RB: Buck Allen
WR: Kamar Aiken/Chris Givens
TE: Maxx Wiliams
OL: Kelechi Osemele/Ryan Jensen/John Urschel/Marshal Yanda/Ricky Wagner
That makes only two players – Yanda and Wagner – who have maintained their roles from the first week of the year. I don't think any other team has had it that bad, even the Steelers.
In all, they have 22 players who have played at least 10% of the team's offensive snaps this year. Kamar Aiken is the only active player to have participated in even half his team's snaps.
Check this stat out. By my count, they have 2170 rushing/receiving yards not playing Sunday. Compared to only 2370 actually playing.
It's unclear who will start this week, but if it were up to me, it'd be Jimmy Clausen. As big of a bust as he was, and as much as he struggled as recently as Chicago, I admire the job he's done in Baltimore. The stats aren't pretty, 57.6% and only 2 TDs to 3 INTs (one TD was a fluky Hail Mary), but this dude has been one tough hombre. Playing in Marc Trestman's offense has offered some quick comfort but his offensive line, uh, has not. Can't even begin to count the number of times he's gotten crushed. But he steps right back into the ring.
At the least, he's better than Matt Schaub. And probably Ryan Mallet, even if he doesn't have the arm talent Mallet possesses.
Maxx Williams is the only tight end who has seen a lot of playing time. Konrad Reuland is technically the #2 TE but Hurst has been playing over him. Reuland saw six snaps last week.
Aiken is their #1 wide receiver and has done a nice job. 62 catches for 802 yards. Playing beyond I think what most outside of Baltimore figured he was capable of. Steelers' fans remember him catching a touchdown in the first meeting. But he's the only active player over 20 catches and 315 yards.
Chris Givens was traded from St. Louis and has been as expected, a nice vertical threat in a vertical passing attack. Averaging 17.7 YPC and has six grabs of 20+ yards, despite only 17 total receptions. The fact he has just those 17 catches on 45 targets illustrates the low-percentage routes he runs.
Juszczyk has been a checkdown and goal line option with 34 catches. Toss in a struggling Willams and that's about all you have in terms of weaponry. No one else notable. Sorry state of guys.
Just as they have been in the past, they are a vertical attack. Maybe even moreso now. Win vertical, draw a penalty. It's sure better than trying to nickel and dime down the field with a penny-worthy collective group.
That worries me given the Steelers' struggles to stop them over the last three weeks. It was less prevalent against the Chiefs but I saw it time after time the week prior against the Seahawks, who also are a Cover 3 base team like Pittsburgh. See it as straight verticals or switch vertical routes. These went for 31 and 23 yards, respectively. RB motion to empty is an alert for verticals.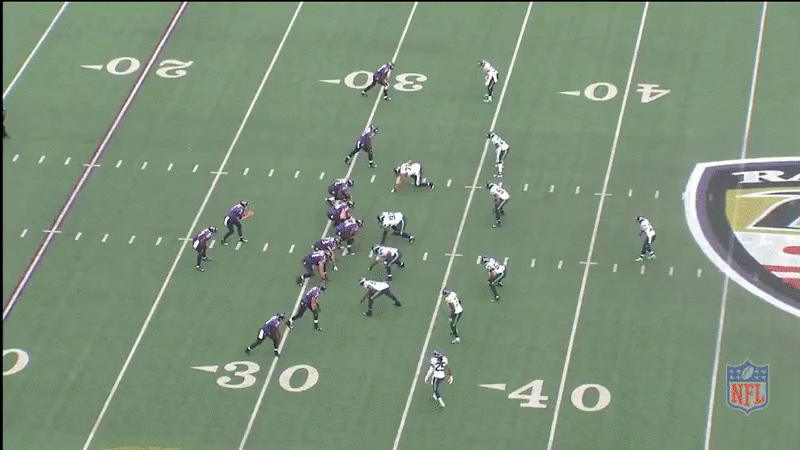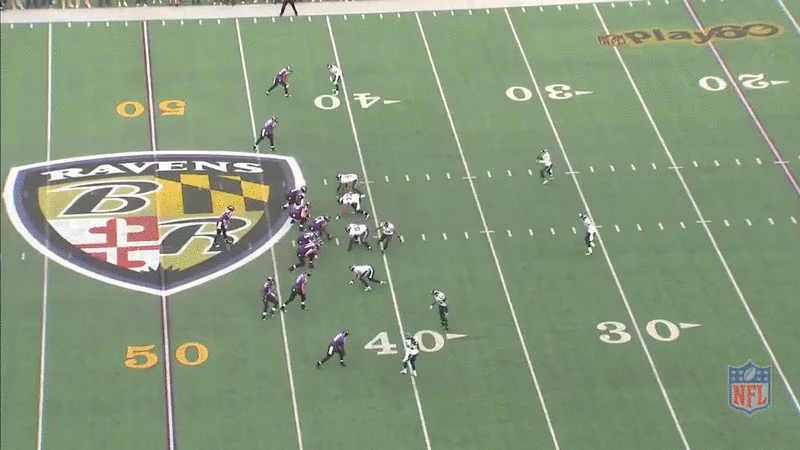 It's no surprise the Ravens rank 8th in the NFL in 20+ receptions with 50. That's only three behind the Steelers.
Also will get a dose of playaction and some sail concepts off it.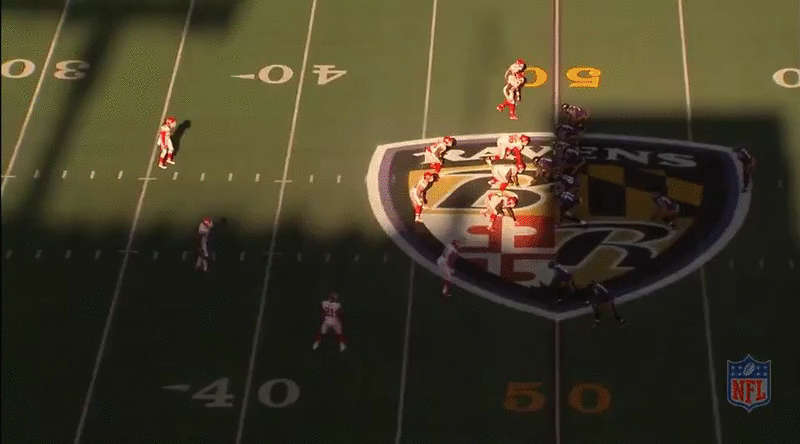 If I'm Pittsburgh, I'm playing two high to protect against the deep ball. Trust your front seven to stop the run. Too much of a risk to play single high against this vertical attack.
Use an elongated run game consisting of bubble screens. If to the open side, look for the tackle to try and cut the end.
Overall, they have a strong tendency to throw out of 3×1 and run out of 2×2 formations.
Ravens' Special Teams
Kaelin Clay might be one of their most dangerous players, an electric returner who already has an 82 yard punt touchdown on his resume. He's averaging 24 yards per kick return and 14.4 per punt. He's aggressive on punts and has yet to call for a fair catch in any of his 16 attempts.
Baltimore uses a 6-1-3-1 formation on kick returns.
They have an array of jammers including defensive backs Jumal Rolle and Terrence Brooks.
Justin Tucker is having another good season and boasts a big leg but hasn't been that reliably from 50+, relatively speaking. Just 2-8 from long distance.
Sam Koch is the holder on field goals. Their punter, he's thrown just one pass, back in 2010. This doesn't count his "attempt" against the Steelers this year, his shovel to Nick Boyle that was unsuccessful. Special team's coach Jerry Rosburg is a sneaky one.