Though it'll be buried on the extensive list of issues following the Pittsburgh Steelers' 39-30 loss to the Seattle Seahawks, Martavis Bryant showed why he is still a second-year player. He struggled to catch the football, either cleanly or in contested situations, and as it was obvious on tape, confirmed he ran the wrong route at least once Sunday.
The play I'm referring to came on third and five late in the first quarter. You'll see it in the GIF below but Bryant doesn't do a good job clearing out for Antonio Brown's wheel route. The play became sloppy and the pass fell incomplete, forcing the Steelers to settle for a Chris Boswell field goal. After the play, the CBS broadcast caught Ben Roethlisberger pulling Bryant aside to talk to him.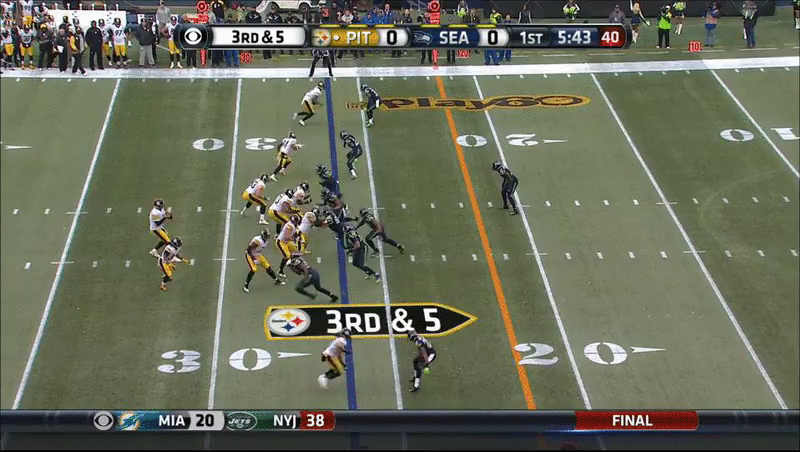 Jacob Klinger of Pennlive.com talked to Bryant about the whole sequence.
"I didn't fully get the call, so when we were on the sideline he just talked to me and told me if I didn't get the full call to just come up to him and ask him," Bryant told Klinger, confirming the suggestion the receiver didn't know the play.
We have seen the highest of highs from Bryant in 2015 and there's no question he was the skillset to be a top receiver in this league. But plays like that offer a reminder that there is a reason why Bryant was billed as a raw receiver coming out of Clemson. He's a mentally tough player who made some bounce-back plays, and that should greatly encourage you, but he's still very much a work in progress.
Bryant finished the day with five catches for 69 yards. He also took a reverse in for an 11 yard touchdown. On the year, he's up to 27 grabs for 509 yards and five touchdowns.