By Alex Kozora
Throughout the rest of the offseason, we'll examine specific plays from the Pittsburgh Steelers 2013 season. We won't be focusing so much on individual play, though that inevitably comes with any breakdown, but instead, we will focus on concepts used in the pro game to show not just what happened, but why it happened.
This will be an X's and O's series focusing on both sides of the ball. The good and bad of the Steelers of last season.
Previously in this series, we've focused on the positive plays. Not so much here. Breaking down Ben Roethlisberger's second interception against the Cleveland Browns Week 17.
Personnel: Ace (1 RB, 2 TE)
Defense: Base 3-4
Coverage: Cover 1
Result: Tashaun Gipson INT
First and ten for Pittsburgh early in the 4th quarter. Fairly complex look for the Browns. Cross fire their inside linebackers while dropping both OLBs into coverage. Despite rushing just four, the Browns get a favorable matchup of an inside linebacker solo on Le'Veon Bell. Schematically, it has Roy Horton's – and by extension Dick LeBeau's – fingerprints all over it.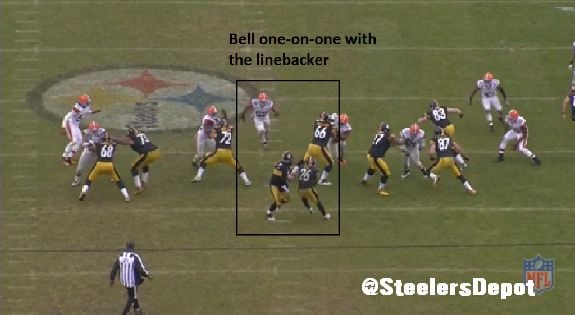 Cover 1 man in the secondary. Strong safety T.J. Ward in a "sky" look, covering the strong side flat. In Cover 1, cornerbacks are typically taught to funnel receivers to the inside om the vicinity of the single high safety.
Ben's target is at the bottom of the above picture, Derek Moye, running a "go" down the numbers. It's a pass he shouldn't have attempted. With Moye lined up in a "nasty" split, a yard removed from the tight end, there isn't as much of a window.
Since it's a single high look, the safety is in the middle of the field and can get inside leverage on the ball, allowing him to make a play. Seam routes and deep inside breaking routes (posts, deep digs) should only be attempted with the middle of field (MOF) open.
If my math is correct, the free safety has to cover less than 15 yards while the ball has reached its peak arc. With the excellent angle Gipson takes – that fact shouldn't be ignored either – he records the interception.
But if Ben wants to even consider this throw, he needs to do a better job of looking the safety off. He does for a brief moment but it isn't enough. Really though, just a throw he shouldn't make in the first place. Hindsight is obviously 20/20, but the dig to Heath Miller would have been a preferred option on this three man route.
There are mitigating factors that led to the pick, Moye not fighting for the ball and Bell trying – and failing – to cut block the blitzing linebacker, but it all starts with the read. Versus single high, stay away from the middle of the field.