Below are the defensive player play counts and the participation chart for the Pittsburgh Steelers week 15 loss to the Dallas Cowboys. We also are including down, time of play and yards gained to better help you identify the play.
The Steelers were in the nickel for 18 non-penalty plays in this game with Robert Golden and Curtis Brown both working at times as the nickel back. Jason Worilds spelled LaMarr Woodley on two separate drives. Keenan Lewis was unable to finish with his hip injury.
Thee of four linebackers once again played every non-penalty snap as did Troy Polamalu and Ryan Clark.
Click on the image below to see the full PDF version of the participation chart.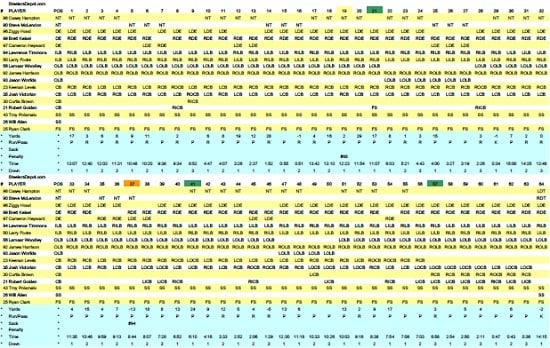 | | |
| --- | --- |
| 64 | Lawrence Timmons |
| 64 | Larry Foote |
| 64 | James Harrison |
| 64 | Troy Polamalu |
| 64 | Ryan Clark |
| 63 | Josh Victorian |
| 60 | Brett Keisel |
| 56 | Keenan Lewis |
| 54 | Ziggy Hood |
| 54 | Lamaar Woodley |
| 33 | Casey Hampton |
| 17 | Robert Golden |
| 14 | Cameron Heyward |
| 13 | Steve McLendon |
| 10 | Jason Worilds |
| 9 | Curtis Brown |
| 1 | Will Allen |