From now until the 2023 NFL Draft takes place, we hope to scout and create profiles for as many prospects as possible, examining their strengths, weaknesses, and what they can bring to an NFL franchise. These players could be potential top ten picks, all the way down to Day Three selections and priority undrafted free agents. Today I'll be looking at Liberty wide receiver Demario Douglas.
#3 Demario Douglas, WR, Liberty University (R-Sophmore)- 5077, 179 LBS
East-West Shrine Bowl Invite
Measurements
Player
Ht/Wt
Hand Size
Arm Length
Wingspan
Demario Douglas
5077, 179
8 3/4
30 3/4
N/A
40-Yard Dash
10-Yard Dash
Short Shuttle
3-Cone
4.44
1.54
4.29
DNP
Broad Jump
Vertical
Bench Press
11'2″
39.5
DNP
The Good
— Has good speed, ran a 4.44 40-yard dash, runs past his defenders often
— Used in motions and sweeps and screens
— YAC ability is there, he's both shifty and fast which makes him effective in the screen and wheel route game
— Above average route running specifically on out routes, had his defender lost a few times
— His speed sells go routes really well, comebacks are super effective as defenders have to respect his speed
— Is willing to block and despite being smaller has some tape of tossing players to the ground
— Returns kicks and punts, shows good ability in doing so and can cause enough fear in other teams that they refuse to kick to him
— Despite small frame doesn't go down right away, can take some contact
— Adjusts well to passes that are outside his frame despite being only 5'8″
— Go-to target in end of the game situations, came up clutch specifically lay in end of the game against Wake Forest this past season
The Bad
—Didn't play against the best competition consistently
— Small, only 5'8″, which would make him one of the smallest receives in the NFL
— Can struggle on jump balls/tight coverage due to lack of strength/size; if he doesn't beat his man or find the soft spot in the zone you can't really throw it to him or you risk an interception
— Majority of routes are go routes because he can beat defenders with speed, not sure if he will be able to consistently due that in the NFL
— Didn't face much press coverage due to his speed and fear of college defenses of him taking the top off them, in the NFL he may face more which could limit his impact
— Worked primarily in the slot, PFF has him down for only 54 snaps out wide so he likely will be stuck to playing in the slot in the NFL
— While he has great speed for college, especially a non-Power Five school, I worry how his speed will look on an NFL field against the best of the best athletes.
Bio
— Born December 8, 2000 (22-years-old)
— Redshirted freshman year in 2019 after four games
— Redshirt sophomore but played college ball for four seasons
— Senior year recorded 79 catches for 993 yards and six touchdowns
— Finished collegiate career with 172 catches, 2,193 yards, and 16 receiving touchdowns
— Two career punt returns for a touchdown
—According to 247 Sports was unranked coming out of high school
— Was on the Biletnikoff Award Watch List in 2022
—2021 Phil Steele Postseason All-Independent second team (wide receiver and punt returner)
— 2023 East-West Shrine Bowl Invite
— 2020 Freshman All-American Team Member as punt returner
— From Jacksonville, Florida 
Tape Breakdown
Demario Douglas was an unranked high school prospect according to 247 Sports who now has a chance to play in the NFL. A big reason for Douglas' rise to a possible NFL player is his speed. He ran a 4.44 40-yard dash at the combine but when you watch his tape it really pops out. Defenders rarely line up close to him and even with cushion Douglas often will burn defensive backs on deep routes. In addition to being a speedster, Douglas showed good ability on tape to run routes. While he doesn't have the most expansive route tree, Douglas was consistently able to get open on out routes due to his quick cuts and good hip movement and on comeback routes where defenders have to defend against the go route.
To start the breakdown, let's look at Douglas' best attribute, his speed. In the clip below he is in the slot on the right side. UMass is playing man coverage here, and despite the cornerback giving a lot of cushion, Douglas just speeds right past him and makes a big play. If the ball isn't under-thrown this is a walk in touchdown for Liberty.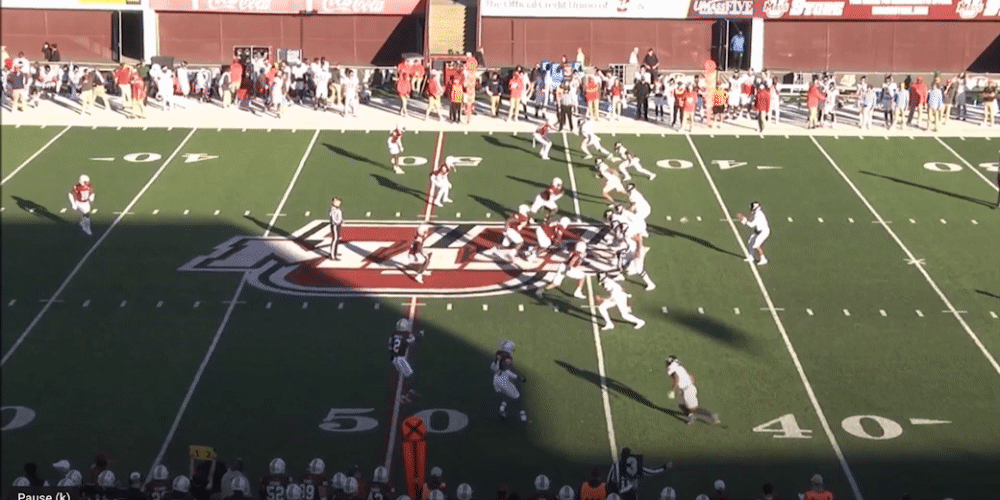 You can't teach speed and it is something Douglas has an abundance of. What is also great about Douglas is the variety of ways you can use his speed on offense. He isn't a one trick pony who can only be utilized on go routes, as he also is very effective in the screen game and wheel route game, showing that there are multiple ways to use his speed.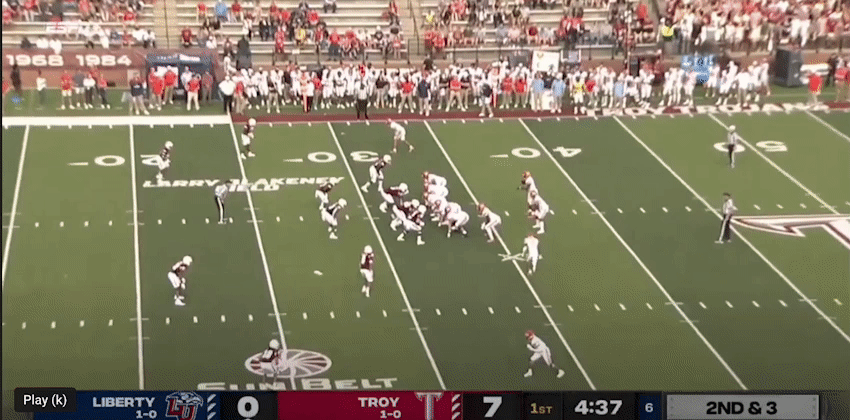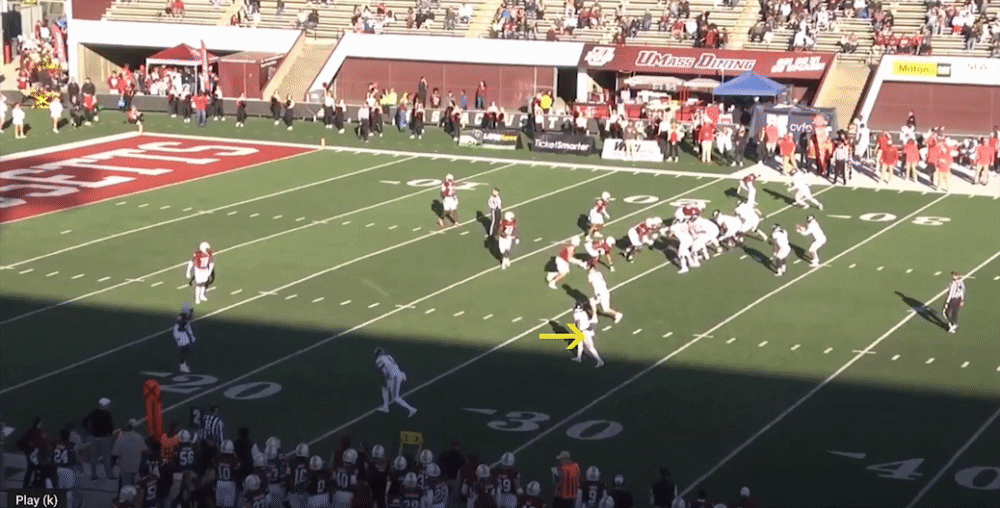 Although this screen play got called back for holding, you see Douglas read the block well, get to the outside, make one man miss and score easily. For a 5'8″ player who isn't effective in contested catch situations being useful in other areas such as the screen game is really important for him.
Speaking of not being great in the contested catch game, it does make sense given his smaller frame. Given Douglas' incredible output at Liberty it makes sense why their quarterback would target him often, but because of his small size he isn't someone you can really just throw a ball up to and ket him "go make a play." In this game against Wake Forest below, on a 3rd and 17 the QB tries to find Douglas who is double covered. It certainly isn't a great throw, but given the lack of size Douglas has, he can't really even make a competitive play on it or even play defense on the ball.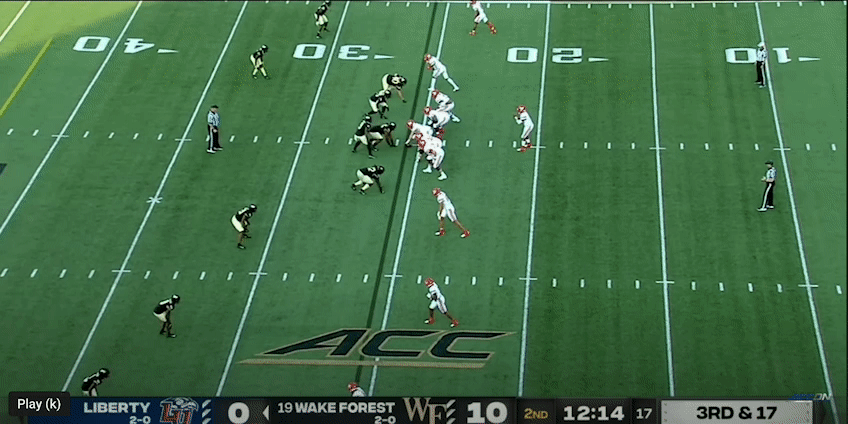 There is a lot of good with Douglas, but overall his size truly is a big limitation. While he can get open due to his speed and route running ability, getting open in the NFL is much harder than in college, especially at Liberty where the isn't consistently going up against the best college athletes. Douglas just isn't effective in 50-50 balls which is a big knock on him.
Moving to more good on Douglas, he is an effective route runner. This is something that is very important due to his lack of size. Watch this play below against UMass where Douglas sends the defensive back covering him to another zip code.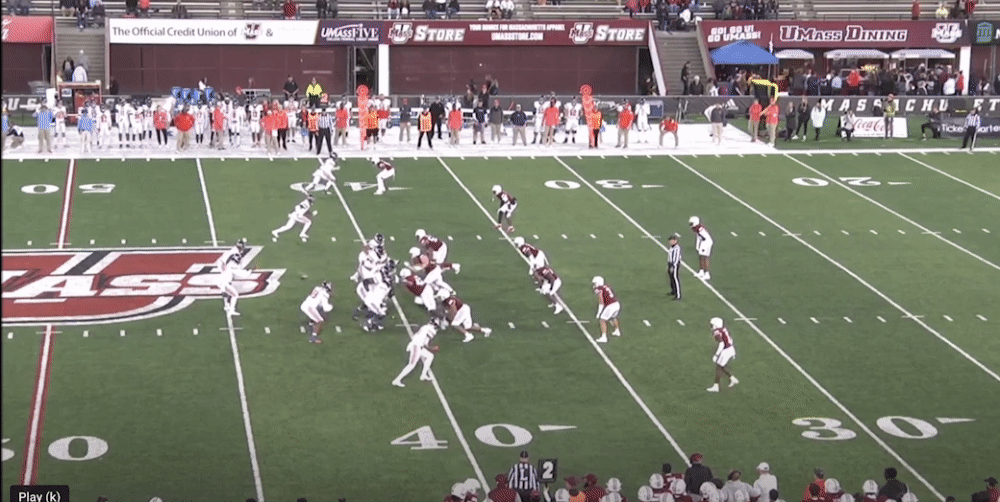 Yes it is against UMass, but Douglas still has a sharp cut to create space that would have gotten him open even if he is playing better competition.
Another aspect of his game that is impressive is his willingness and ability to block. At 5'8″ 179 pounds and playing mostly in the slot I wasn't expecting going into his tape to see him throwing defensive backs to the ground but that is what I found. Watch this play here against Wake Forest where he legitimately toss a defender to give room for his quarterback who is running for yards.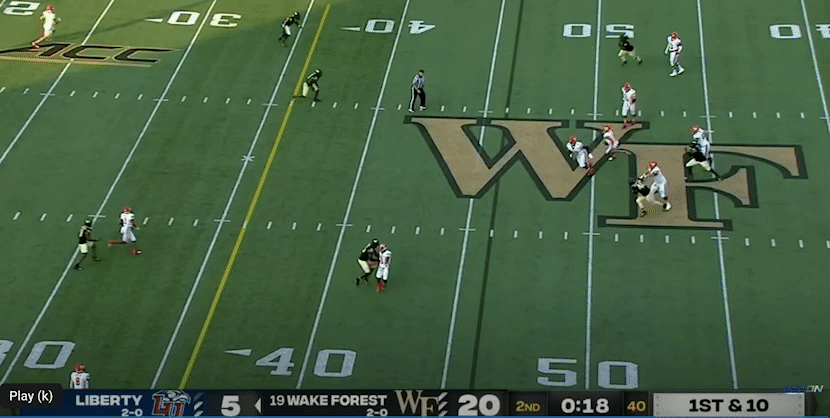 Douglas shows the ability throw blocks and hold them for a while too. Watch him hold his block and drive the defender back for a long time.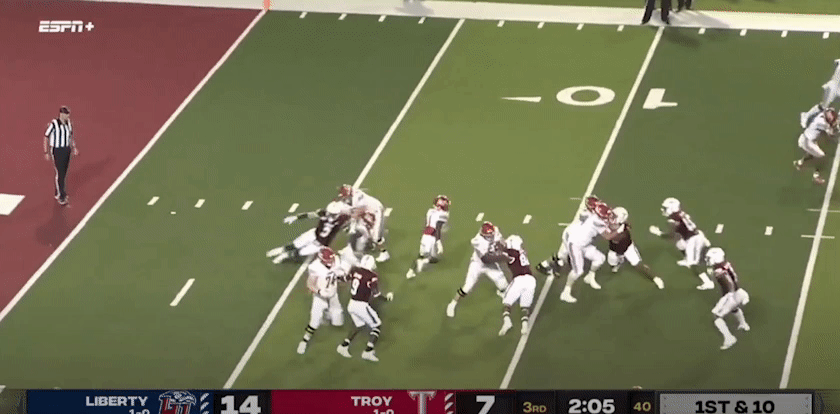 While his lack of height may hurt him in jump ball situations, it certainly doesn't limit his ability to block.
I'd also be remised if I didn't talk about Douglas' ability in the return game. When watching the game against Wake Forest, the Demon Deacons were so afraid of his ability to return kicks they simply stopped kicking it to him as the game went on. Why you ask? Well because he was killing them all game.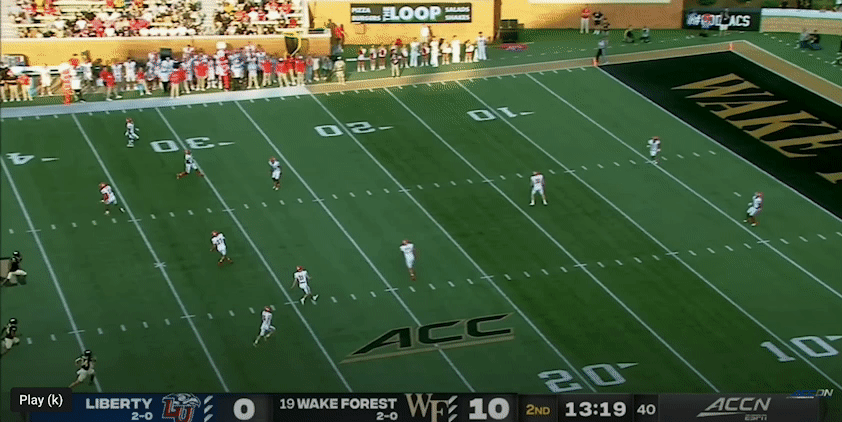 Also evident in the clip above his how Douglas doesn't go down easily. Despite being a smaller player he isn't always going to go down when he first feels contact a la Dri Archer. He is going try and fight through the contact even if he isn't always successful in doing so.
Conclusion 
I really liked watching Demario Douglas on film. He really showed he is more than just a speedster and his success and willingness to participate in the return game will help him when it comes to possibly finding a home in the NFL. Despite his good speed and 4.44 40-yard dash I do wonder how he will do in the NFL with that being his calling card given that it is still fast but not top end speed like other have in the NFL. 4.44 speed against UMass is one thing, but running that against defensive backs who also run 4.4's is another thing and may limit his output. That is a big reason I see him being a sixth or seventh round pick, while he showed good ability in college, his lack of size and good not great NFL speed is going to knock him.
My NFL comparison for Demario Douglas is a slower but more physical Tavon Austin. If Douglas is going to stick around in the NFL, at least in his first few seasons, it is going to have to be for his ability in the return game.
Projection: Late Day 3-Undrafted
Depot Draft Grade: 6.4 – End Of Roster/Practice Squad (6th/7th R0und)
Games Watched: at UMass (2022) at Troy (2021) at Wake Forest (2022)