From now until the 2020 NFL Draft takes place, we hope to showcase as many prospects as possible and examine both their strengths and weaknesses. Most of these profiles will feature individuals that the Pittsburgh Steelers are likely to have an interest in, while a few others will be top-ranked players. If there is a player you would like us to analyze, let us know in the comments below.
# 1 Quartney Davis/WR Texas A&M – 6'2", 200 lbs
The Good
Excellent start-stop suddenness in his routes

Quick, twitchy releases off the line

Does a nice job to rise up and high point the ball

Has some really impressive speed

Good YAC ability with solid contact balance

Body control is fantastic

Fluid, sharp cuts executed with ease

Diverse route tree

Versatility — can be used in slot or on the boundary
The Bad
Needs to become a way better hand fighter

Wish he would use physicality more in his game

Tie those previous two points together, he must improve against press coverage

Some issues with drops 

Would like to see him secure the ball into his frame after catching it away from his frame

Some durability concerns
Bio
2019: 54 receptions, 616 receiving yards, 4 TD

Career: 99 receptions, 1201 receiving yards, 11 TD

Tore his ACL in 2016 forcing him to redshirt

Works with and is trained by Rischad "The Footwork King" Whitfield

Senior Bowl Invitee

Former Track star
Of all the players I was excited to see going into Mobile, Quartney Davis might have been the one I was most excited about seeing. His crisp, fluid style of running routes was suited almost perfectly to the one-on-one environment that the Senior Bowl creates for these wide receivers during the week. However, he had a lot more issues than I expected. 
For one, when corners got up in his face and pressed him, he really was not able to do his thing, plus he had some drops. But still, he showed off his crisp routes and his actual Senior Bowl game was rock solid. Add onto the fact that his tape all year was pretty good and while I would not say he is a big winner from Mobile, he was not a loser either. And those guys that can separate are incredibly valuable nowadays in the NFL.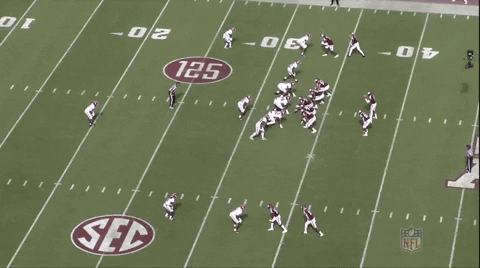 Davis is one of those guys that you can really not let have a free release off the line of scrimmage because of his quickness and ability to really read the defensive back's hips. I love his eyes here. They are pointed as if he is going to come back on this and the buzz steps allow him to read the defensive back as well. All he needed was a little shoulder and head jerk off of the cut and then he had him beat deep and stacked him. If this was on target, he likely has a touchdown due to that.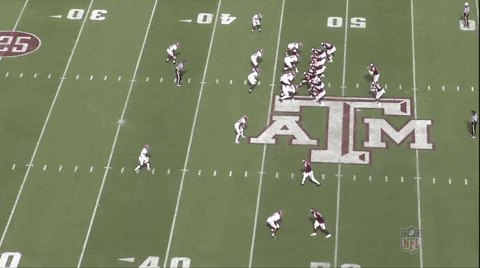 Again, the massive cushion simply allows Davis to win this thing with his crisp, fluid cuts over the middle of the field. As long as it carries it in between the two-high safeties, he is going to catch this thing. This is also a nice job to extend outside of his frame and snag it, even though he still does not really tuck the ball into his frame, which he needs to begin doing.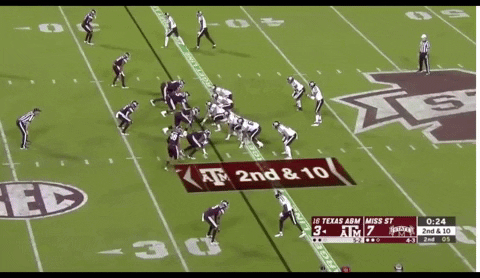 This is where you can see Davis has been of a second level to his speed and acceleration. It is a rocket screen that Davis is able to house due to two things — one, it is clear the blocking on the play is great and Davis works really well off his blockers in open field, but two, he also has the speed and burst to get around the edge and into the end zone. There have been some rumors about Davis running a 4.3 40 yard dash, and as a former track star, he has legitimate shot to run in the 4.3s.
This is all reaction and suddenness by Davis on this play. To see the defender taking a hard angle towards the sideline only to stop on a dime and cut back inside is some awesome reaction time ability in the open field, which is truly an underrated trait nowadays in terms of yards after catch ability.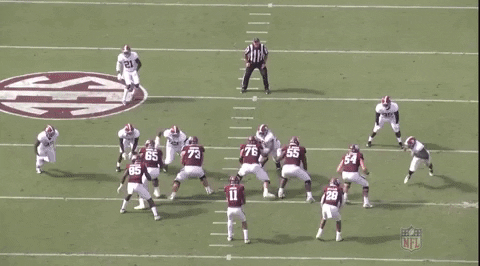 This play is so much fun to watch. There are two guys on Davis and he completely just skies over both of them as he makes an awesome catch. His ability to make those catches away from his frame comes in handy here and he has a bigger catch radius than you would expect for a guy his size. He does a really good job of high pointing the ball but still keeps his feet in bounds as well. Contested catches really are not an issue for him at all.
Projection: Late Day Two / Early Day Three
Games Watched: at Alabama, at Clemson, vs Mississippi State, vs Auburn, vs Arkansas