As we have been for several years now, we'll break down the Pittsburgh Steelers' opponent each week, telling you what to expect from a scheme and individual standpoint. Nick Farabaugh and I will cover the opposing team's offense. I will focus on scheme, Nick on the players.
Today, checking out the Arizona Cardinals' defense.
Alex's Scheme Report
Cardinals' Run Defense
The run defense, like all aspects of this side of the ball, has been leaky. Just average in YPC allowed, 4.3, but they allow chunk plays. 40 carries of 10+ yards, which is tenth most in the league.
Their leading tackler is LB Jordan Hicks, an every down player full of talent but hampered by injuries throughout his career. He has a whopping 116 of them this season, second in the NFL only trailing the Packers' Blake Martinez, who has registered 118. Box safety Budda Baker has 110, 5th in football.
Power will be a strong concept to use against them, especially since it's very much within Pittsburgh's wheelhouse of what they do well. Overall, I'd prefer to run the ball inside as opposed to getting it out on the perimeter. Cardinals' interior line is weak and they have some speed at the second level. Easier to block Terrell Suggs and Chandler Jones with the ball between the tackles, too.
Arizona employs a 3-4 front under DC Vance Joseph. In base, ILB Joe Walker (#59) is on the field. When they want to use their 2-4-5 nickel with the NT removed, Walker comes off for ILB Hassan Reddick (#43), their former first round pick billed as an ultra-athlete, though his career so far has been underwhelming. He's their new Deone Bucannon.
Some other defensive stats. They are one of the worst 3rd down defenses in football, allowing teams to convert at a 47.2% clip. Which is good for a struggling Steelers' third down offense, 25th in the league. Arizona's red zone defense falls just shy of average, ranked 18th at 58%.
Teams have scored at will against them. Ranking 31st in points per game allowed, they've allowed 30+ points in four of five games, 28+ in all five, and have given up 20 points in every game this season. Of the last stat, they're the only defense to do that in 2019. Pittsburgh, by comparison, has allowed 20+ in just six games.
Cardinals' Pass Defense
Pass defense numbers aren't a whole lot better. In many ways, they're worse. No pass D has allowed more completions of 20+ yards than Zona, a whopping 60 of them, though to add some context, they have the third most pass attempts against. It's also worth pointing out they seem to do well getting guys on the ground and not allowing the disaster players. Only seven completions of 40+ yards, which is squarely in the middle in football.
Their sack numbers aren't terrible, thanks to Chandler Jones' 13. That's third in the NFL, trailing Shaq Barrett and Cameron Jordan. Jones know how to get after the football too, tied for 2nd with five forced fumbles. Terrell Suggs is a ball magnet too. 5.5 sacks but more impressively, he's forced four fumbles on those sacks. They blitz at a high rate, third most in the NFL (40%) but their pressure rate is poor, tied for 21st at just under 22%.
Defense has picked off six passes in 2019. Half of those have come via Hicks. Of all LBs, only Cleveland's Joe Schobert has more (4). #58 is a real threat to account for Sunday and Devlin Hodges can't lose sight of him when trying to throw intermediate routes. Hicks will sit in zone and rob crossers.
If I'm Randy Fichtner, at some point on my first drive, I'm coming out in an empty set. Cardinals seem to have one clear check, man or zone, to empty, and they don't deviate throughout the game. In Week 11 against the 49ers, they checked to Cover 1 with a five man pressure. Last week against the Rams, they checked to zone, mostly Cover 3.
They have a tendency to play man coverage between the 20s and then switch to zone on the red zone fringe and red zone.
One reason why their pass defense looks so horrid are all the blown coverages. Defense can't get out of their own way. Routinely see wide open receivers on tape.
Nick's Individual Report
The Cardinals defense has been a story of coaching malpractice at the hands of defensive coordinator Vance Joseph. This defense has talent along it, especially in the secondary, and yet it comes in ranked as the worst pass defense in all of football. Sure, there needs to be more talent in some areas but they should not be this bad. So, let's go through the talent they have on this exploitable unit.
The defensive line has some notable holes on it. Jonathan Bullard has come on with some flashes on power and a bull rush that can get him some pressures and sacks. But his pad level swells too much and he does not have the pass rush plan yet. Corey Peters is a name that could be familiar. On the interior of this defensive line, he is the best player. A set of violent hands and good explosiveness combining with a hot motor makes him a problem. Michael Dogbe has some really impressive strength. Rodney Gunter was injured last week, but he did not do all that much this year. He has far more playing time than he should as a rotational guy with good gap discipline in the run game and good strength. Terrell Suggs is still kicking it out there in the desert even now. The former Raven has seen the Steelers many times, and at this age, Suggs wins through his hand usage and pass rush plan. He knows the ins and outs of this game, and he plays like it. But there is not the athleticism that Suggs used to have. This year he does not look the same. Cassius Marsh gets rotational work in his relief and has incredible length. He is raw, but he has some really awesome traits, especially his get off.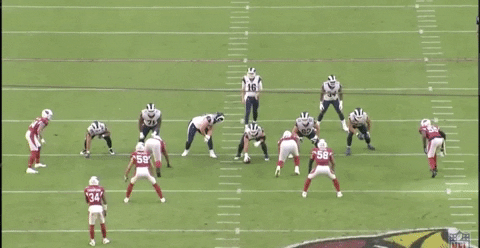 Chandler Jones is a monster. There is no way around it, he is one of the most underrated players in the NFL and he can wreak havoc. Jones has a great blend of athleticism, hand usage, power, high football IQ, and bend to win around the edge. He is one of the league's best and will test Alejandro Villanueva. 
The second level of this defense is kind of an enigma. Hasson Reddick has never lived up to expectations that were cast upon him when he was drafted. He misses tackles and is not there mentally, even with all the physical traits he has. Joe Walker and Dennis Gardeck get some roationial time. Both are somewhat athletic and can cover, but the seam is open in this offense due to the lack of good coverage linebackers.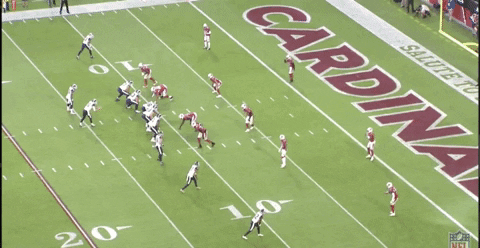 Jordan Hicks, who came over from the Eagles, is their best linebacker. Hicks is injury prone but he plays with good burst off the ball and has really good range. He might not be at the level he once was, but Hicks is a solid linebacker in this league and will make a lot of tackles. 
The secondary is a bit weird, because this team gives up so many yards, but they are not bad. Patrick Peterson is obviously a household name, but he has not been good since returning from his suspension this year. Whether that be because he is disinterested or whatever, Peterson looks lackadaisical out there. Rookie Byron Murphy has been really solid this season. He plays with that same physicality he had at Washington but has also flashed his ball skills. Murphy is not a guy to test frequently. Safeties Jalen Thompson and Deionte Thompson have both gotten playing time this season. Jalen Thompson has great measurables and can be a playmaker. They often rotate him around the field. Deionte Thompson works in the slot and can work in the single-high mold. However, his lack of range and suspect tackling ability make him a potential nuisance.
The crown jewel is the versatile Budda Baker, who plays center field, box safety, slot, and even linebacker at times and he does all of them incredibly well. Baker is a ballhawk, no doubt about it. He gets heavily involved in the run game and makes great run fits. He is as sure of a tackler as you will find and a great athlete to boot. Baker is a guy to watch if the Cardinals are to force turnovers, Baker could be that guy.