Three sacks to check out from Sunday's win over the Arizona Cardinals.
1. 2nd and 9, 9:46 1st. 11 personnel. Five block vs five rush.
Decent bit of coverage here from the Cardinals. Devlin Hodges tries to step up and take off but Rodney Gunter is able to work off David DeCastro's block, who got turned a bit too much, and make the stop before Hodges can get what he could.
Looks like James Washington was open and in Hodges' line of sight so not sure why he didn't dump it off. Probably wouldn't have gone for a lot but a better choice than trying to maneuver the pocket and take off.
Ultimately, I'll put half on Hodges for passing up the underneath throw to Washington and another half on DeCastro, who had good initial protection but lost his block at the end.
Blame: Half on Hodges, half on DeCastro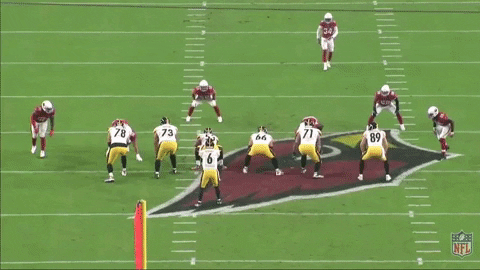 2. 2nd and 7, 8:30 2nd. 13 personnel. Seven block vs five man rush.
Max protect here from Randy Fichtner off playaction. Dual curl routes to Vance McDonald and Johnny Holton, not exactly the Steelers' most dynamic skill players this season, and predictably, nothing is open. McDonald's doing the splits on his break, the field conditions didn't look good Sunday, which only makes matters worse.
Hodges smartly looks to take off here and ends up diving back to the line of scrimmage for no gain. NFL still counts it as a sack. If it were me, I would tweak the rule to only have sacks apply when there are yards lost.
Either way, hard to love the playcall here. I'll put half on Randy Fichtner for this super conservative approach, if you're going to run playaction, at least have someone run deep and hope the defense bites – perhaps Holton has a sight adjustment here – and half on the strong Cardinals' coverage.
Blame: Half on Fichtner, half on coverage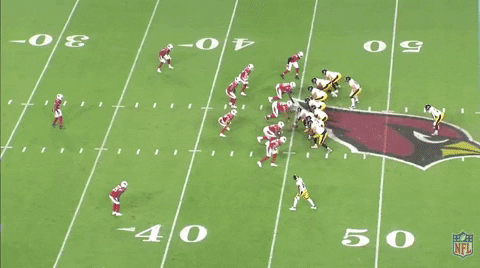 3. 1st and 10, 1:08 2nd. Seven block vs four man rush.
Disappointing two of the three sacks came against seven man protections. LDE Chandler Jones with his really lone impact play of the day, working around the top of Matt Feiler to strip sack Hodges just as he was about to fire the ball to James Washington, trying a double-move that didn't really work.
Feiler missed with his punch. Hands too high and outside. Jones gets into his chest and sheds. Hodges does take one step back after his drop and there's room to climb too, a recurring issue that isn't as egregious here as some others but still worth noting.
Ultimately, will put half on Feiler, his bad punch got him beat, and half on Hodges for drifting just enough and not climbing when he could've hitched up, especially with how long it took from snap to throw.
Blame: Half on Feiler, half on Hodges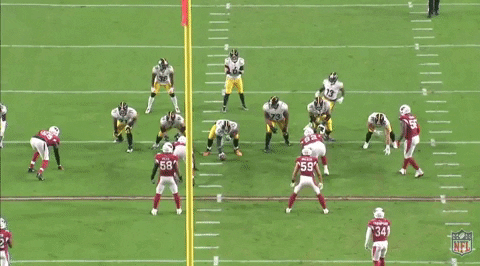 Sack Breakdown (Game)
Devlin Hodges: 1
Matt Feiler: 0.5
Coverage: 0.5
Randy Fichtner: 0.5
David DeCastro: 0.5
Sack Breakdown (Season)
Devlin Hodges: 3.5
Mason Rudolph: 3
Alejandro Villanueva: 2.5
Matt Feiler: 2.5
Ramon Foster: 1.5
Wide Receivers: 1.5
Coverage: 1.5
David DeCastro: 1.5
Chukwuma Okorafor: 1
Randy Fichtner: 1
Mike Tomlin: 0.5
Maurkice Pouncey: 0.5
BJ Finney: 0.5
Defensive Scheme: 0.5
Penalty Breakdown (Game)
Alejandro Villanueva: 1
Penalty Breakdown (Season)
Alejandro Villanueva: 6
Maurkice Pouncey: 4
Matt Feiler: 3
David DeCastro: 3
Zach Banner: 2
BJ Finney: 1
Chukwuma Okorafor: 1