As we have been for several years now, we'll break down the Pittsburgh Steelers' opponent each week, telling you what to expect from a scheme and individual standpoint. Nick Farabaugh and I will cover the opposing team's offense. I will focus on scheme, Nick on the players.
Today, our preview of the Los Angeles Rams' defense.
Alex's Scheme Report
Rams' Run Defense
Run defense has been stout this season. Opposing teams are averaging only 3.6 YPC, third best in the NFL. Defense as a whole have turned things around after a rocky portion earlier in the year, allowing 30+ points in back-to-back games, including a 55 point stunner in a loss to Tampa Bay. Over their last three games, they haven't given up more than 20 points.
Back to the run defense specifically. It should come as no surprise that given such a low yards per carry mark, they do a great job of keeping a lid on things in the run game. Just 18 carries of 10+ yards given up, tied for 4th fewest in the league.
Nick will discuss the heavy hitters up front but I have to talk about Aaron Donald. Not in his individual play, which is excellent, but in how they're using him. With so much attention on #99, they're working hard to move him around the front. He won't line up as the three tech all game and he'll log time on both sides. Long story short, all five starting offensive linemen will be seeing him at some point during the game.
Donald is tied first in the NFL with 11 tackles for loss. Since 2017, no one has more TFLs than his 51. Elsewhere, LB Cory Littleton, the only every-down off ball LB on their team, is the Rams' leader with 66 tackles. Run defense is a good mix of aggressive without playing out of control and they're a fast flow group that takes away the perimeter well.
With having just one competent LB in Littelton, the only other who plays any amount of snaps is UDFA rookie Troy Reeder like the Steelers of last year, they've turned to running plenty of sub-package football with a dimebacker. That role goes to rookie Taylor Rapp, #24, a hard hitter but certainly undersized. Attack him with interior runs and getting your big people covering him up.
Two more stats for you. Average third down defense (39.1% – 15th) and red zone TD rate (57.1% – 17th).
Rams' Pass Defense
A much better group, obviously, after trading for Jalen Ramsey. Like the run defense, they're a stingy bunch and don't allow many big plays. Only 18 completions of 20+ yards, fourth in football. Expect Ramsey to travel with JuJu Smith-Schuster and largely take him away, unless Randy Fichtner gets super creative.
23 sacks as a unit. 6.5 from Fowler, six from Clay Matthews, and five from Donald. No one else has more than 1.5. Only six interceptions, and two of those came from Marcus Peters (now with the Ravens) but the Rams know how to knock the ball out. 10 forced fumbles already by eight different players.
Pro Football Reference offers some really valuable advanced defensive stats. They have the fourth best pressure rate at over 28% and not needing to blitz to do it. They blitz just 25% of the time, 22nd overall. Meaning they can rush four and drop seven, letting rush and coverage go together. That's a challenge for any opposing offense.
Coverage wise, like most of the NFL at this point, you get a lot of man coverage. Especially versus 3×1. Expect a lot of Cover 1/man-free.
They tend to show more Cover 3 against balanced, 2×2 looks.
And they play a lot of 2 Man on 3rd down. Man-under to take away inside breaking routes with a two deep shell to eliminate anything vertical.
Not a blitz heavy team though they will rush Rapp up the A gap and challenge backs in pass protection. Jaylen Samuels didn't do a good job in recognition last week and he's still raw in that area of his game. They will overload the line and run games off it though. Three to one side here against the Bengals. Check out the Rams left side/Bengals right side.
Nick's Individual Report
The Rams come into Pittsburgh after the Steelers pulled off a massive win over the Colts and the Rams, who have had their fair share of struggles earlier in the season, have turned it up recently and looked good against the Bengals in their first game after the Jalen Ramsey trade. With a defense stacked with marquee names, it would be expected that they would be a top team, but this defense has shown its cracks, especially in the secondary.
However, starting along the defensive line Michael Brockers is still an underrated force that is excellent at bull-rushing and resetting the line. He obviously does not get as much shine as someone such as Aaron Donald, but Brockers is a key piece along this line that is still solid. Sebastian Joseph-Day and Greg Gaines are the big fellas often stick themselves in at the nose tackles. Both are just massive human beings that take up space, but Joseph-Day has some nice power. Still, though, they are a group that could be taken advantage of. The edge rushers consist of Clay Matthews, if he plays, and Dante Fowler. Matthews is not the elite pass rusher that he once was, but he has been effective still this year with good hand usage and power to his name. Fowler is far jumpier and has some serious twitch in his first step. It is quick. But Fowler, after having a great season after coming to the Rams last season, has not found his footing as well this year. The issues of pad level and bend persist. Samson Ebukam and Ogbonnia Okoronkwo get rotational work. Okoronkwo is a good run defender who does a nice job of setting the edge while Ebukam is an athletic marvel who is still learning the technical portions of the game. The Steelers can exploit the pass rush on the ends.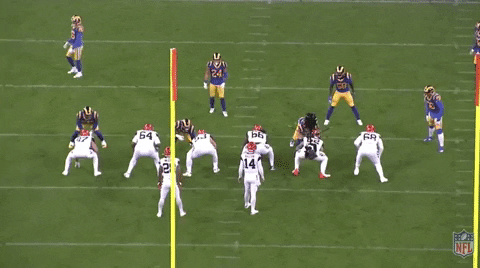 Of course, Aaron Donald, as mentioned earlier, is the best defensive lineman in the NFL and is going to be a terror to block. The Steelers offensive line is great, but it would be no shock to see Donald get his licks in and still control in some manner. He is dominant upfront and will command some scheming around in order to minimize his impact on the game. 
At the second level, the Rams have a new linebacker in Kenny Young. Young came over in the Marcus Peters trade and has been what he was in Baltimore. A great blitzing ILB with good speed and range, but his instincts are just lacking. He has been schemed against to death and has to do a better job of going through his keys and improving his route recognition. The Steelers can isolate him. Natrez Patrick and Bryce Hager have gotten their share of snaps, but they have not done much with them.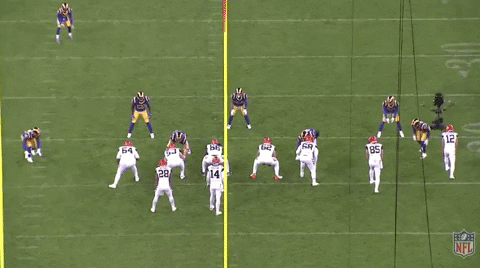 The kingpin in the second level of the Rams defense is Cory Littleton, who is a budding star in Los Angeles. Littleton has improved his instincts to combine with his range and athleticism and it makes him a rangy player with the ability to be around the ball every play. Add in some good ball skills and fluidity and Littleton is a complete 3-down linebacker in the NFL. He won't be easy to crack, but the rest of this second level is prone.
The Rams secondary has a leader of the back end in Eric Weddle. Weddle is well-known to the Steelers as a safety who used to play with the Baltimore Ravens. Weddle has lost some of his native athleticism, but he is as vocal as ever, but still, that lack of range can be taken advantage of, even with Weddle's elite instincts. The Steelers could push the ball downfield. Rookie safety Taylor Rapp has been solid as a hybrid strong safety and linebacker. His ball skills have not shown up, but he has the instincts and sure-tackling ability to mend some things. Troy Hill and David Long are splitting time where Marcus Peters and Aqib Talib formerly were on the defense. Nickell Robey-Coleman gets some slot work in there as well. Hill and Long are an inexperienced but hungry bunch, but I expect the Steelers to attack them. Both are ballhawks, though,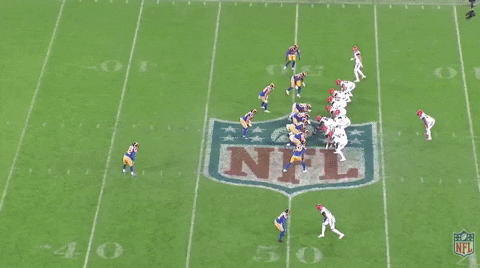 The crown jewel of this secondary is Jalen Ramsey, who the Rams traded for two weeks ago. JuJu Smith-Schuster is going to have his work cut out for him with Ramsey breathing down his neck all day, and if last year, where Ramsey had a heck of a game against the Steelers when he was with Jacksonville, is any indication, the Steelers will avoid the elite cornerback that Ramsey is all day Sunday.