As we have been for several years now, we'll break down the Pittsburgh Steelers' opponent each week, telling you what to expect from a scheme and individual standpoint. Nick Farabaugh and I will cover the opposing team's offense. I will focus on scheme, Nick on the players.
Heading into Week 2 with the Seattle Seahawks.
Alex's Scheme Report
Seahawks' Run Defense
One game sample sizes are impossible to learn much from but the Seahawks did a nice job, even minus interior run stuffer Jarran Reed (out due to suspension, he'll miss this week as well) of holding the Cincinnati Bengals in check. 14 rushes for 34 yards, only one carry over six yards.
The group will be tested all the more in the likelihood they are without 2nd year DT Poona Ford, making them light on the interior. But it's a deep defensive line as most 4-3 fronts are. Seven defensive linemen saw 20+ snaps in last week's opener, including DT Al Woods, a former Steeler who spent time with Tennessee before heading up the West Coast. Though no Ford and Reed is a noticeable loss, it's a run defensive that clogs and two gaps well, forcing backs to hit the perimeter. One good example of that below.
Because of how beefy the interior is, don't expect a lot of one-gap and penetration. But like a 3-4 defense, their goal is to force double-teams, make it hard for linemen to release on combo blocks, and free up those elite linebackers.
And those linebackers are awesome. Bobby Wagner, KJ Wright, and hey, don't forget about Mychal Kendricks. He was the one so many Steelers' fans wanted in Pittsburgh before his insider trading case. Wagner played every single snap while Wright saw 90%. Just don't come off the field, a rarity in the NFL.
While the defensive line will force runs outside, it's just as tough to run on the perimeter. Speedy, fast flow linebackers who don't let the ball get outside the tackles. Like here.
Steelers need to do what they do best in the run game but I still would focus on the interior. Sorta like playing Jacksonville in the 2017 playoff loss. Get the ball downhill and on the inside with your great guards and center, assuming Maurkice Pouncey plays (which is a bit up in the air as of this writing).
Seahawks' Pass Defense
It's a very young secondary. Far cry from the Legion of Boom with Richard Sherman, Kam Chancellor, and Earl Thomas. Here are the ages of all the Seahawks' DBs who logged at least one defensive snap last Sunday.
Tedric Thompson – 24
Tre Flowers – 24
Shaquill Griffin – 24
Bradley McDougald – 28
Ugo Amadi – 22
Leon Hill – 23
Thompson may not play due to injury but regardless, only McDougald is older than 25. Yes, the Steelers have a largely young receiving group but Ben Roethlisberger is a veteran future Hall of Famer. Should be able to manipulate coverage when they play zone.
And Seattle plays zone quite a bit. Under Pete Carroll, they are still using their tried and true Cover 3 shell. But they're flexible and don't spot drop, able to match routes and carry the seams. But C3 is what you see most of the time. Four under, three deep, often with late rotation, safeties buzzing to the flats to try and rob any out route by #2.
How to beat it? 10 yard out. Run the CB off with speed, they're always flipping to the middle of the field, then break on the out. Or curl routes as long as you don't get picked by an underneath overhang defender.
One interesting element of this defense is something Mike Tomlin spoke to during his Tuesday presser. They want to stay in their 4-3 base defense a lot. Even against 11 personnel, 3 WRs on the field. Shown here.
So if I'm Pittsburgh, I'm using that to my advantage. 11 personnel, spread the field out, use 2×2 stacked sets to displace the linebackers. Lightens the box for the run game, we know the Seahawks have a tough front seven so removing a defender sure helps, and puts those linebackers in space. I don't want to say they'll be uncomfortable, they've clearly done it before in this system, but it is going to stress them.
Let's round up with pass rush. Led by Jadeveon Clowney. Careful sliding protection away from him. He'll take advantage of the two-way goes he gets and can win inside. Alejandro Villanueva will be key.
Not afraid to bring pressure for a four man front too. Will bring their MIKE linebacker up the middle and if the TE gets isolated in 3×1, the corner to that side may blitz.
Nick's Individual Report
This Seahawks defense might not be the Legion of Boom defense that the league once feared, but this is still a Pete Carroll coached defense with lots of talent all over the field. The newly minted Seahawks defensive line is a great place to start simply because the defensive line is just one of the reasons why they can effectively control the line of scrimmage and get push into the backfield, even against some of the better offensive lines in the NFL. They have great hand usage and speed-to-power conversion no matter who you are looking at along the line.
Former Lion DE Ziggy Ansah is now a Seahawk and while he is not what he once was in Detroit, it does not mean Ansah is not still a threat. His hands have always been a strength of his and he can still get push on the line. The only question is if he's healthy for this Sunday's game. If not, Rasheem Green will be the main guy to fill his snaps, and with a lightning quick first step and good flexibility he is not an easy out. But it's clear that his field awareness is just not on par with Ansah's. Green's inconsistencies could make him a guy to take advantage of on the line. Jadeveon Clowney is now in Seattle. Seattle uses his standing up on the inside and as a DE in various alignments. Their spinner package allows Clowney to be a pass rush menace. He could be an issue for sure. First-round pick L.J. Collier will begin to practice this week and could bring some power if he plays, but there is no guarantee the Steelers see him.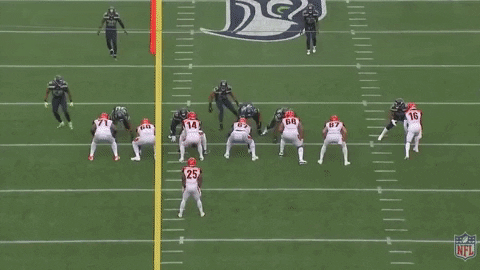 Poona Ford is the wild card of this Seahawks defense. He was a former UDFA but is now one of the most underrated IDL in the NFL. His quickness, vast arsenal of moves, and hot motor are great traits to have. Such as this play above, as he ranges over to the sideline to make a nice tackle on Giovani Bernard. Ford has a calf strain and would be a huge loss for Seattle should he miss the game. Byran Mone, his backup, is not bad at all, but he is simply not Ford. Adequate depth, but nothing overly special. Al Woods is a massive man who clogs run lanes well. He's been doing it for a while now. Just not necessarily a dynamic pass rusher.
At the second level is where the Seahawks really take a leap. K.J. Wright has been there since the Legion of Boom era and is one of the best WILL linebackers you can find out there. His coverage ability is good enough to where they are often comfortable isolating him in coverage. He has range and he is a fantastic blitzer on stunts. At times, Wright can get too antsy and be sucked into plays, though, so that is something to watch. Cody Barton, the 3rd round rookie out of Utah, is a rangy guy who plays with a ton of intensity. He had a really good preseason. Mychal Kendricks and Shaquem Griffin split time at SAM. Kendricks is exactly what he was in Philadelphia — a solid LB who is a smart player and sure tackler. Griffin has the hottest motor on the team and is always around the football.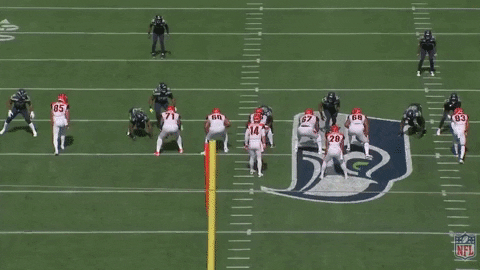 However, the best player on their defense is Bobby Wagner no contest. He might be the best ILB in the NFL and wears the Green Dot for Seattle. Wagner has seen everything and is one of the smartest ILBs in the NFL and pairs with some excellent range and coverage ability. He gave the Bengals fits last week and shut down Joe Mixon when he was out there. Snuffing out the screen and flying to the ball after reading his keys is just one of the things Wagner does well. He is going to be the main problem for the Steelers.
The Seattle secondary is where the Steelers might be able to take advantage. This is not the secondary of Earl Thomas, Richard Sherman, and Kam Chancellor. They certainly are not bad, but they are prone to big plays due to the loss of Thomas. 
Tre Flowers is a vastly underrated cornerback who was great last year. He is a converted safety and his length and athleticism translated incredibly well. He has all the typical Pete Carroll CB traits and will look to press guys like Donte Moncrief early and often. He is the big name to watch among the corners. Shaquil Griffin is as up and down as anyone on this defense. He can have some good games but some games he is just putrid. I expect the Steelers go to after him early and often. Griffin has good ball skills, but lacks some of the technical aspects it takes to be a good cornerback. Ugo Amadi is playing in the nickel for the Seahawks thus far. The rookie out of Oregon is feisty and a sure tackler, but is currently battling injury. Should he not play, Akeem King will fill in. King's footwork is smooth, but his aggressive style can get him into too much trouble.
At safety, free safety Tedric Thompson runs into a lot of trouble due to his lack of athleticism. The Seattle scheme requires an extremely rangy FS such as Earl Thomas, but Thompson lacks that. He has excellent instincts, but it is an exploitable part of the scheme due to Thompson's limitations. The third safety, rookie Marquise Blair, is a rocket that is shot out of a cannon on tape. He is fun to watch and will be all around the field.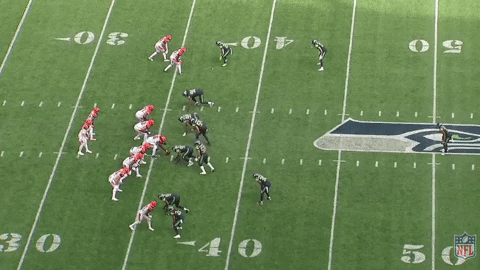 Former Buccaneer Bradley McDougald is really the star of that secondary no matter how you slice it though. His versatility and ability to be moved around in various is what makes him such a valuable piece to the Seahawks defense. He can play that overhang role and man up tight ends or slots. He has the best ball skills in this secondary, too. Watch out for McDougald. 
This Seattle defense isn't what it used to be. Everyone knows that around the league. However, this is still a defense that notably creates turnovers and has some top talent in various areas around the field. Sure, there are limitations and areas for the Steelers to exploit, but this defense is never going to be an easy out. That just will not occur with a Pete Carroll led defense.