As we have been for several years now, we'll break down the Pittsburgh Steelers' opponent each week, telling you what to expect from a scheme and individual standpoint. Nick Farabaugh and I will cover the opposing team's offense. I will focus on scheme, Nick on the players.
Our first preview of a familiar face, checking out the Cincinnati Bengals.
Alex's Scheme Report
Bengals Run Defense
Statistically, this unit has struggled as much as anyone in football. They're allowing 4.9 YPC, 27th in the NFL heading into Week 3, and a whopping 16 runs of 10+ yards. Only the Miami Dolphins have given up more.
But one reason is schematic, not just personnel. The Bengals' linebackers are still poor so they've almost exclusively rolled with just two on the field even against heavier personnel. In that 3rd linebacker's place has been SS Shawn Williams. Here's their 4-2-5 against 21 personnel.
Williams is a big hitter but they're prone to getting run on simply for not having as many big bodies up front.
In order to better combat that, the Bengals have made an interesting adjustment. And that's why I titled this report their "Friday night" defense. Not a slight at their competency, though yeah, they've certainly struggled, but they're showing a 5-2 look on early downs. Yup, five true and blue defensive linemen with two linebackers and four DBs.
Like most 4-3 fronts, they have the depth along the d-line to support it. Seven d-linemen have played 20%+ of the snaps. Nine are at at least 10%. But at the same time, it's a lot of big dudes up front, meaning the Steelers' offense should be able to wear them down with perimeter passes, screens/RPOs to get them to chase, and use playaction to slow them down.
This is a unit that's struggled against misdirection but we'll get more into that in the next section.
Bottom line for their run d? Steelers gotta be able to run on them. Use Zach Banner to match up against their big DEs. Guys like Carlos Dunlap (6'6 285), Ryan Glasgow (6'3 300), and Andrew Brown (6'3 290). Don't make poor Nick Vannett try to handle that. Get vertical, downhill, and control the line of scrimmage.
Two other stats for ya. Their third down defense is a little below average (41.2% – 18th), with a slightly worse red zone defense (63.6% – 20th).
Bengals Pass Defense
Five sacks this year, all but one of which came in the Week One opener against the playaction happy Seattle Seahawks. Four come from the defensive lien, Sam Hubbard leads them with a pair, while CB Dre Kirkpatrick has chipped in with one too. They're not afraid to blitz him but that's not a new element of their defense.
Conversely, just two interceptions. One of them comes from Darius Phillips, who has landed on injured reserve. Top flight corner William Jackson picked up the other one.
Both starting safeties, Williams and Jessie Bates, are the top two tacklers on the team. Both had over 100 tackles for the Bengals last year which…yikes. Not good when your safeties are around the ball so much, though as we mentioned up top, Williams is playing a lot of linebacker snaps. They've allowed 12 passes of 20+ yards, tied 21st worst in football, so you can hit the big play on them too.
They've played some tough offenses, Buffalo, Seattle, and San Francisco, all of which throw a lot of misdirection and have a clear identity, but playaction and misdirection have worked well against the Bengals' D. Hit the flats with the backs and Vannett coming across the field. Maybe even someone like Diontae Johnson or yes, even Ryan Switzer. Bills' WR Cole Beasley had 8/48 against them last week.
Hard to identify their coverages. They mix things up pretty well. Little more man coverage against trips 3×1 looks so they don't get overloaded by playing zone. Get them playing Cover 2 on 2nd/3rd and 7+ and sometimes they'll drop eight (or even nine) into coverage. Against a young, mostly immobile QB like Mason Rudolph, I could see them drop eight and force Rudolph to make a tight-windowed throw against receivers who haven't been making big plays.
Nick's Individual Report
The Steelers offense comes off a sluggish game against a rather underrated 49ers defense, and now they get to face a Bengals that shows a significant drop off from that complete 49ers defense. However, much like the 49ers, this is a Bengals defense that can create problems up front with a stout defensive line and they do have some ballhawks on the back end.
The defensive line has barely changed at all for the Bengals this year. Carlos Dunlap is still one of the most rock solid defensive ends you will find out there. He makes his presence felt week in and week out and has been a force in the Steelers-Bengals matchups for years. Expect to see his power and heavy hands on display. Andrew Billings, the much hyped up DT a few years back, has come into own this year. He looks much more impressive in the pad level department. It is allowing him to turn his power into splash plays. Sam Hubbard is another young guy on that line that is on the rise. He does everything a defensive end is taught well. He is a great slasher in the run game and his motor runs extremely hot. Carl Lawson is perhaps the second best pass rusher the Bengals have. His bend and quickness off the line make him a tough out. He has to be kept in check. Ryan Glasgow has gotten some rotational snaps as a one-gap DT up front and has been solid in those snaps.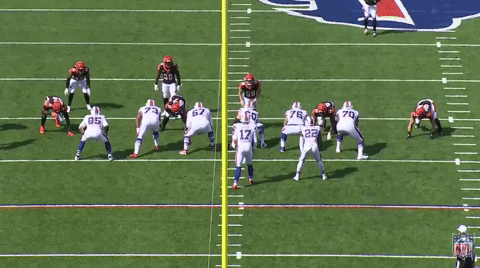 Geno Atkins has always been the leader of this defensive line, though. Atkins is one of the best DTs out there no matter how you slice it. Even long into his career, Atkins still has natural explosiveness and fantastic hand usage that consists of a vast toolbox to work from. If there is a game wrecker for the Bengals, Atkins has and will be the guy Monday night. He might see himself some double teams on Monday.
The Bengals inside linebackers are not something they can exactly write home about. Play action and misdirection have caused them to be eaten alive this year thus far. And the duo of Nick Vigil and Preston Smith has been about as rocky of a road as you can go down. Smith has shown off some nice range but his lackadaisical play and inability to key in on reads makes him exploitable.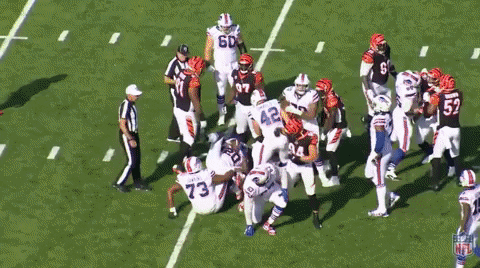 Vigil is a decent run defender and sometimes even comes off the edge to play a bit, as shown, but thus far, he has been a weak point on this defense. Vigil has never been particularly fast, and he has looked timid so far this year. The Steelers should be looking to attack the middle of the field this week. Rookie Germaine Pratt has gotten some looks and has far better athleticism and coverage ability than the struggling Vigil, but still has to mesh in with this defense and improve his football IQ.
This secondary is a polarization of talent and absolutely weaker players. Free Safety Jessie Bates is one of the best young safeties in the NFL. His playmaking ability on the back end is impressive, and his range is fantastic. His running mate Shawn Williams brings some serious heat and is an absolutely huge hitter, but when he is asked to be in man-to-man situations, he is clunky and certainly a weak point on this defense.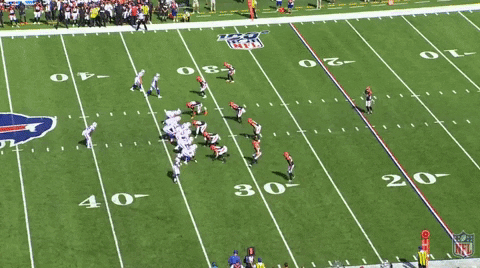 All Steelers fans know Dre Kirkpatrick. Kirkpatrick has lost a step seemingly over the past year. His long speed is not what it used to be, and counted with his flaws in his mirroring, Kirkpatrick can absolutely get toasted deep. He already has been beaten multiple times deep this year. That is a matchup the Steelers need to exploit this week. William Jackson III has not been as lockdown as he was a year ago and has shown some signs of being able to beat in press due to some ineffective jams. If Diontae Johnson gets matched up with him, we could see some wins for Johnson. Regardless, Jackson III is still one of the better young corners in the league. BW Webb has gotten some reps from the slot and has been okay at best. He has had some undisciplined penalties and is not the most technically sound player. He just reacts to his instincts and can get burnt a good bit. The Steelers can exploit matchups from the slot for sure.