With the departure of Antonio Brown and tight end Jesse James, Vance McDonald is going to be the man for the Pittsburgh Steelers' offense this season. Last Sunday's preseason game against the Tennessee Titans gave a glimpse into all the possible different ways the Steelers will utilize McDonald in both the running and passing game this season.
McDonald played 21 snaps last Sunday night but it only took four snaps to realize that the tight end will be a big part of the offensive game plan. While teams tend to be vanilla during the preseason, not wanting to put too much on tape for opposing teams, it was hard not to notice that McDonald lined up in a different spot on each of the team's first four offensive snaps.
1st & 10 at PIT 22 – (14:52 – 1st) (Shotgun) J.Conner left guard to PIT 25 for 3 yards (L.Ryan)
McDonald is lined up behind the right side of the offensive line in a two-point stance to open the game. Roethlisberger hands off to Conner and McDonald runs underneath to the left side of the line and acts as Conner's lead blocker.
2nd & 7 at PIT 25 – (14:26 – 1st) (No Huddle, Shotgun) B.Roethlisberger pass short right to D.Moncrief to PIT 29 for 4 yards (A.Jackson)
Hard to see here but McDonald is now lined up on the line of scrimmage on the left side of the line beside Alejandro Villanueva. McDonald and the rest of the offensive line drive off the line of scrimmage but Roethlisberger pulls back the handoff from Conner and hits Moncrief for four yards. Nothing fancy here but the next play is surely going to change that.
3rd & 3 at PIT 29 (13:45 – 1st) (No Huddle, Shotgun) B.Roethlisberger pass short left to D.Moncrief to PIT 36 for 7 yards (J.Brown)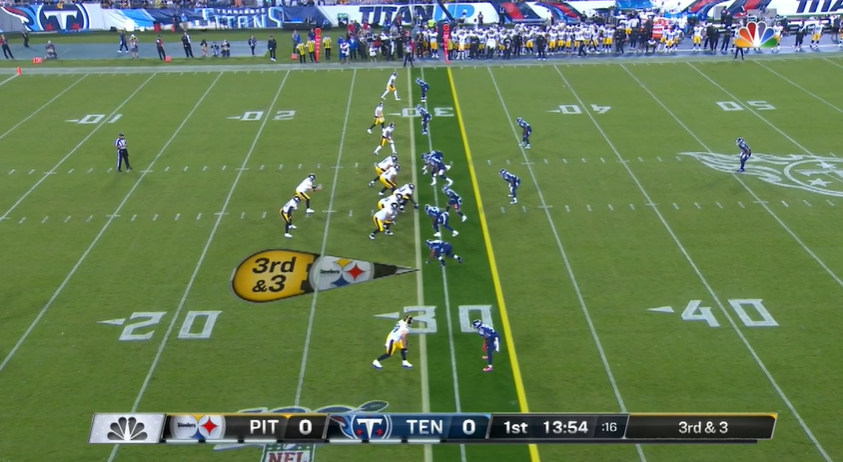 This is not a drill. McDonald is split out wide and isolated. Standing at 6'4 and almost 270 lbs, the veteran tight end is the biggest pass catcher on this team, so the Steelers would be wise to isolate him out wide, as it is a complete mismatch for the offense. McDonald does not get targeted on the play above but he gets a good release inside on a slant/flat route concept with James Conner. It will be interesting to see how much the Steelers plan on isolating McDonald out wide this season as his athleticism and size make it an intriguing possibility to explore further.
1st & 10 at PIT 36 – (13:12 – 1st) (Shotgun) B.Roethlisberger pass incomplete short right to R.Switzer
McDonald moves slightly inside on the following play, lining up just outside the right hash mark in trips formation with Ryan Switzer behind him and JuJu Smith-Schuster to the right of him. Roethlisberger targets Switzer for a quick screen pass with McDonald acting as one of the lead blockers but the play fails before it has a chance to begin.
That is four snaps and four different looks from McDonald and while not one of the four plays are going to make the morning edition of Sportscenter, it is the little details that give these plays meaning. Sunday night's game foreshadowed what could be in store for McDonald this season and it looks like there is a lot to be excited about.