Series we're bringing back to Steelers Depot that we began last year. A snapshot of the Pittsburgh Steelers 2018 season, a look at the singular best and worst play from each player on the roster. If I wanted to sum up a players season in 30 seconds, these are the plays I would look at.
We're rolling through the offensive line today by checking out RT Matt Feiler.
Best Play: Dart Block Against Baltimore
Feiler is a grown man with grown man strength. I could put together a highlight reel of him showing that power – teammates consider him the strongest linemen on the team – and pushing people out of the way. But I think this pull and block on Za'Darius Smith, who got paid a truckload by Green Bay this offseason by the way, sums it up.
Pull, power on contact, and Feiler records the pancake. Yeah, some pretty terrible technique by the defender here, I don't know what Smith was doing or thinking, but there's no better description of "bug on the windshield" than this one. Too bad this play went for a loss of one. James Conner needed to plant his foot in the ground and get upfield but that's another matter for a separate discussion.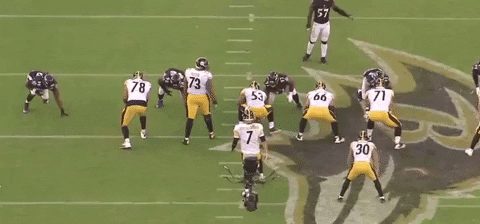 Worst Play: Sack Allowed To Julius Peppers
Not easy going up against a future Hall of Famer. But still, a poor rep from Feiler here against Julius Peppers. Poor punch, feet stop on contact, and Peppers easily rips through, the first man there to take Ben Roethlisberger down.
Vance McDonald got long-armed into the dust too but you expect them from a tight end who does very little pass blocking. From Feiler, even knowing the matchup, it's a worse play. He ended up allowing four sacks last season. That was second on the team, trailing only Alejandro Villanueva's 4.5, and Feiler started just ten games last year.
Feiler will enter camp as the starting right tackle and he deserves to get the initial nod. But it'll be a fierce battle between him, Chukwuma Okorafor, and maybe Jerald Hawkins if he's healthy and has a strong showing.