Series we're bringing back to Steelers Depot that we began last year. A snapshot of the Pittsburgh Steelers 2018 season, a look at the singular best and worst play from each player on the roster. If I wanted to sum up a players season in 30 seconds, these are the plays I would look at.
We'll flip over to check out TJ Watt's strong sophomore season.
Best Play: FG Block Vs Browns 
Going all the way back to Week One for this one. You could chose many, many plays from the year he had. Tons of them from the last six weeks where he took his game to another level. But here, we're not choosing a defensive play. We're going special teams. This field goal block preserved the Steelers' tie, disappointing, I know, but it's still an awesome play. The power to shove the Browns' left tackle back and still have the awareness, timing, and placement to extend his left hand out and block the kick.
Incredible play. Saved the game. The Steelers finally – smartly – removed him from the punt coverage team last year but he's still finding a way to contribute on special teams. Check out the play in slow-mo below.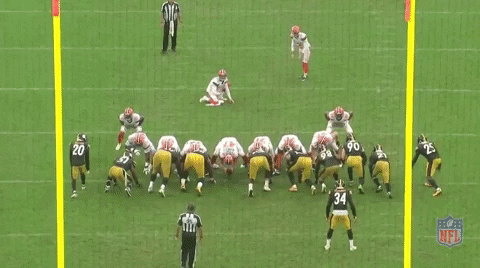 Worst Play: Run Defense Against Ravens
Most of Watt's tape is good. But there were momentarily lapses, as you'll get with any player who logs as much time as he did (903 snaps). His run defense here in Week 4 against Baltimore was a lowlight though. Poor technique from a normally good technician. Doesn't stay square down the line, spinning off the tight end's down block, but putting his back to the football. Overruns it, helps allow the cutback, getting out of his gap, and then has to spin around again.
Some good effort here, I'll give him that, but he's too easily controlled. If you don't use your hands, you're screwed in the NFL. Luckily, his hand use developed throughout the year – like I said, his last six weeks were his best – and overall, it's certainly a strength of his.