Bringing back a series I had a lot of fun exploring the last several offseasons. Every player wants to improve, to elevate his game in all areas from one season to the next. Understanding that, we're going to isolate just one area, one faction of a player's game. The biggest area for improvement.
Stephon Tuitt – Finish The Play
Unfortunately, this feels a bit like Groundhog Day when it comes to Tuitt. The talent is there. The effort is there. Health? Maybe not quite as much but even still, he's found ways to be impactful and productive. But he's always left fans wanting more, especially after inking that fat contract similar to Cam Heyward's, whose gone on to be an annual All-Pro snub and one of the game's best interior defensive linemen.
Tuitt is really good at getting close to the quarterback. But he habitually seems a half-step away from finishing the play and recording the sack. Two stats that really illustrate that point.
1. In 2018, Tuitt registered 20 QB hits and 5.5 sacks. Of the 28 players with 20+ hits, only one – the Jets' Leonard Williams – had fewer sacks.
2. From 2016 to 2018, Tuitt has 46 quarterback hits. Of the 52 players with at least 40, only Tom Johnson has fewer sacks than Tuitt's 12.5.
Tuitt is clearly a talented pass rusher capable of winning one-on-one. He's even more of a finesse player than Heyward, which in theory, should allow him to win cleanly more often and pick up more sacks.
Some of the issue is luck, naturally. There are times where Tuitt is barreling down and the QB knows it, chucking it away to avoid the sack. But that happens to every pass rusher. It's tough to pinpoint exact issues but clearly, he isn't winning early enough in the rep against the offensive linemen to close on the QB before the ball comes out. Couple of examples.
Running a stunt with TJ Watt against the Chargers. Works pretty well, the right tackle a little late to recognize it, and Tuitt is able to rip through. But a slight stumble at the end, I know the tackle is reaching out into him, marks the difference between the hit and the QB getting the ball out, which turns into a first down completion to Mike Williams.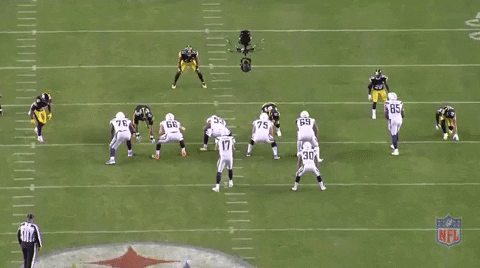 Earlier in the season against Cincinnati. Tasty matchup against RG Alex Redmond. Beats him clean, the guard loses his footing a bit too, but can't reach Andy Dalton in time. Should've been another big completion but Cody Core dropped the football. Those fractions of a second mean everything in the NFL.
Tuitt's yet to even match his career high of 6.5 sacks set in his sophomore season (he only appeared in 14 games that year, too). He's a quality player and one I'm glad that's in black and gold, but 2019 has to be the year where he's able to break through that wall and finish with 7-8 sacks.