2018 wasn't Mike Hilton's best year. And by season's end, Cam Sutton began to siphon snaps and the Pittsburgh Steelers strayed away from their traditional 2-4-5 nickel defense almost entirely, playing just three such snaps over the final three games. In the regular season finale against the Cincinnati Bengals, they swapped out their nickel package for a "big" nickel, a 3-3-5 that included an extra safety, not cornerback.
All that, plus the additions of Steven Nelson and Justin Layne in the offseason, made it fair to wonder about Hilton's role moving forward. And when Mike Tomlin suggested a move to safety? It was hard to be optimistic.
But in speaking with PennLive's Jacob Klinger, Hilton explains last years struggles on an elbow injury he suffered early in the year. Per Klinger's report:
"He's playing at the UPMC Rooney Sports Complex with an extra seven pounds of muscle – up from 180 pounds of playing weight last year – in response to the elbow injury that kept him at what he estimated was 80 percent health for much of the 2018 campaign."
Hilton suffered the injury in Week 3, making this tackle on WR Adam Humphries on the first play of the fourth quarter. You can see him land hard and immediately clutch his his elbow.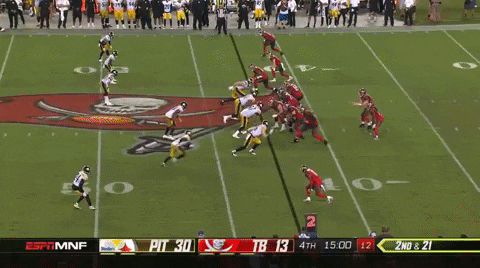 After the game, Tomlin described it as a "significant" injury.
"He had a significant elbow and wasn't able to come back into the game. He's being evaluated and I'm sure Ill have more for you tomorrow."
He missed the following week against Baltimore but returned in Week 5 against Atlanta and finished out the season. It does explain some of his struggles and a healthier – and evidently, heavier – Hilton is good news for himself and the Steelers' secondary desperate for some interceptions.
Prior to the injury, he had played well, with a great performance in the Week One tie against the Cleveland Browns.
According to Klinger, Hilton has "exclusively" run as the first team nickel corner. He figures to remain in that role unless Layne plays really well and compels the team to move Nelson to the nickel spot, where he played throughout his career prior to last year when the Chiefs kicked him to RCB.
As we passed along yesterday, Hilton is practicing without a contract. The team has tendered him, a deal Hilton has yet to sign, angling for a long-term extension just as Alejandro Villanueva did a couple years ago. It's unclear how much interest the Steelers' side has in hammering a deal out. Villanueva's deal wasn't completed until shortly before training camp.