Josh Dobbs might not be the smartest man in the Pittsburgh Steelers' locker room anymore. But if there's a new teammate to nerd out with, he should hit up Matthew Wright.
Wright, a kicker from UCF and fellow aerospace engineer, was one of ten initial undrafted free agents the Steelers signed last Saturday. That gives Pittsburgh three kickers on the roster, one of two teams in the league with that many (Chicago the other), as part of Art Rooney II's mandate to straighten out the kicking game. Literally.
Wright wasn't ranked high on anyone's draft sheet, 19th by Draft Scout and 31st via Draft Countdown, he carved out a successful career for the Golden Knights. A starter all four years after redshirting in 2014, he made 77.5% of his career field goals. That included going 12/14 as a senior (one attempt was blocked), while missing just three career extra points and again, a couple blocks made his numbers look worse than they should've. He finished holding practically every kicking record in program history: points, field goals made, PATs, and is tied for 1st in field goal percentage. Heck, the dude even recovered a fumble – he held kickoff duties throughout his career, too – last season.
When Wright wasn't in special teams meetings, he was working at Lockheed Martin as part of the school's Work Experience program. Football is his reality. Outer space is his dream.
"Astronaut…go to Mars. Wouldn't that be cool?" he said of his ideal job in an episode of The Quest, a series produced by UCF to give an inside look at the football program.
He graduated with a 3.8 GPA and one of 22 students awarded the Order of the Pegasus, the highest honor a student can obtain Central Florida. Some of the classes he took I can hardly pronounce.
Aerothermodynamics of Propulsion Systems
Analysis and Design of Aerospace Structures
Flight Mechanics
Fluid Mechanics
Modeling Methods in Mechanical and Aerospace Engineering
Teammates joke he nerds out over anything NASA. On the football field, special teams coordinator Nick Toth, in that same video, praised Wright's demeanor.
"He's the same guy everyday. Very consistent human being, very level-headed, highly intelligent guy. You can feel that when you talk to him…his calm demeanor. It brings a good ying to the yang for the room."
Kickers are unpredictable, that's been evident enough with Chris Boswell, but Toth pointed to Wright's consistency and ability to bounce back from misses as one reason why he rewrote the record books.
"The kid doesn't miss two kicks in a row, back-to-back. He hasn't missed two in a row."
That's almost literally true. In his four-year career, only once did he miss consecutive kicks, his first year, hitting each upright on 34 yard attempts against Cincinnati. Beyond that blip, he was automatic recovering from a mistake. UCF won 25 straight games from 2017 to 2018. You don't do that without a reliable kicker.
It's difficult to know exactly how strong of a leg Wright has. He's only attempted a handful of kicks from 50+ yards, nailing one from exactly that distance against UConn in 2016.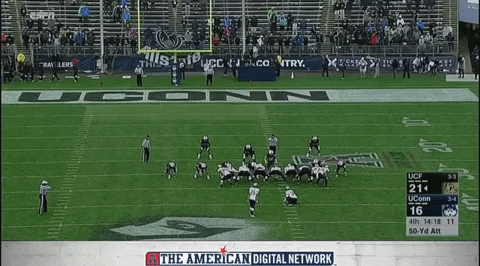 A pair of 50 yard tries have also been blocked; 50 against Michigan and 54 versus SMU. He didn't have an attempt from 50+ as a senior. But he flashed his leg leading up to the draft, working out in Buffalo, hooking this try to the inside of the right upright from 57.
Boswell is coming off a horrendous season, one that nearly cost him his job, before suffering an injury Week 16 and being placed on IR. That led them to Matt McCrane, awarded a game ball for potting home three field goals in the offensive-challenged 16-13 win over the Cincinnati Bengals, including the go-ahead 35 yarder with 90 seconds left.
But McCrane has a weak leg, evident on his kickoff attempts, and it's difficult to envision him being a serious option to enter the season as the starter. Range at Heinz Field is limited enough before even considering his kick power.
So it's possible the team dumps McCrane before training camp and even if not, Wright would seem to be Boswell's toughest battle.
Kicking at Heinz Field will be much different than the warm Florida winters but that won't be completely foreign to Wright either. Born in Lancaster, PA, he twice made his Section's 1st Team kicker. Consider Pittsburgh a homecoming.
Is Boswell the favorite to win the job? Probably. Is Boz kicking well in the preseason the best case scenario for the Steelers? You better believe it. Maybe he does. Maybe he doesn't. That's a kicker for you.
Wright might not be a name anyone outside of Lancaster knows but again…kickers, man. Boswell was a total unknown from Rice who shined in a tryout. Shaun Suisham was signed by the Steelers as a UDFA in 2005, bounced around the league, and then became a fan favorite in black and gold five years later. Heck, Jeff Reed was working on a North Carolina farm when Pittsburgh came calling to replace an injured Todd Peterson way back in 2002. A "conventional" path to the league is hardly the norm for the position.
We'll see what happens in camp. And if Wright doesn't make the team, I fully expect him and Dobbs in NASA's command center when the first men walk on Mars.