As we have done for several years to bide our time during the offseason, we're looking back on Pittsburgh Steelers you may have forgotten…or not remembered at all in the first place. Our "blast from the past" series, with a new, dumb name, highlighting players who have long hung up their cleats.
If you have a player you'd like to see profiled, leave it in the comments below.
Josh Victorian/CB (2012-2013)
Wanted to go a little more recent with our first edition of this series of 2019, though you'd be forgiven if you had forgotten Victorian was a Steeler. It's easy for any fanbase to search the recesses of their mind to remember he was on their team. There's no other way to put it. Victorian has been on a TON of rosters.
Since breaking into the NFL in 2011, a smaller school corner out of Louisiana Tech, he's been on twelve teams, including two stints with the Baltimore Brigade. He broke into the league with the Baltimore Ravens, getting the call from then-GM Ozzie Newsome, lasting through training camp before being cut outright. That was about as stable as life got for him.
New England did their famous yo-yo'ing in 2011. Victorian was added to their practice squad in mid-September and then signed or cut nine times over the next two months.
Cut on October 5th. Signed October 7th.
Signed October 28th. Cut November 4th.
Signed November 23rd. Cut November 24th. Dude didn't even get his playbook back.
After spending a few weeks with the New Orleans Saints, he landed a deal with the New Orleans Voodoo of the AFL. Pittsburgh came calling in early August of 2012 following an injury to cornerback, and fellow La Tech teammate, Terry Carter. He spent most of the season on their practice squad but was elevated to the 53 man roster that December after the team dumped QB Brian Hoyer (a future candidate for this series?).
And the dude played, too. Some of his first action came in Week 16, filling in for Curtis Brown, who I believe rolled an ankle earlier in the game. Victorian made one of the best plays by a Steelers' DB on a wide receiver since, well, ever, batting the ball back in play to be picked by Cortez Allen.
Someone bring him to camp. Teach the current group how to do this.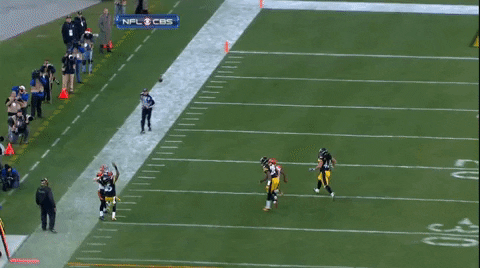 Josh Victorian to Cortez Allen? The nostalgia is real. Somebody play Gangnam Style, stat.
But that highlight was short-lived with the regular season coming to an end and the Steelers limping to the finish line, failing to make the playoffs. He returned for camp the next year but released at final cutdowns, even after 5th round pick Terry Hawthorne was cut outright.
The cycle began again. Houston signed him to their practice squad a month later and promoted him in mid-November. Again, he made an impact right away, though limited to special teams. Here he is tracking down Patrick Peterson to create an outstanding 50 yard net punt.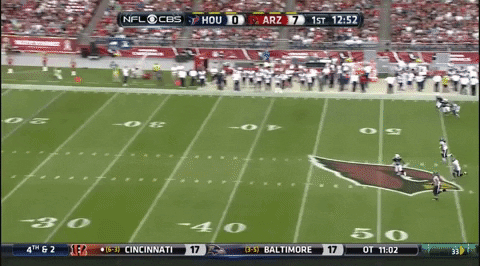 Still, the same story played out as it did in Pittsburgh. Carried through the summer of 2014, released at cutdowns. It was his last real taste of the NFL life. Detroit and the New York Giants signed him but his time with each was brief. After being waived by the latter in April of 2015, he fell back into the AFL with the Los Angeles Kiss. Here he is making a house-call in one of those games.
He picked off five passes in 2016 before moving on forhis first stint with the Baltimore Brigade. Victorian intercepted another five passes in 2017, earning 2nd team All-AFL honors.
2018 proved to be a year full of frequent flier miles. In March, he was assigned to Albany. Two weeks later, he was traded to Washington and less than a month after that, he wound up back with the Brigade. I'm not exactly sure why there was so much turnover. Maybe chalk it up to the contraction and issues the AFL has gone through.
He earned "Play of the Week" honors with this one-handed, off the wall pick last year.
Victorian's INT is the "@Shinola Timeless Moment Play of the Week' for last week's first round of playoff games!!

There's been a lot of good plays so far in round two…and there still another half to play!! pic.twitter.com/wGfJJfyP09

— Arena Football League (@OfficialAFL) July 22, 2018
He's still with Baltimore too, the league in the middle of their season, coming full circle to where he began his pro football career with the Ravens closing in on a decade ago. He briefly spoke about his experience in training camp with Press Box Online last summer.
"It was a great experience. It was my rookie year. Coming out, I grew up idolizing Ed Reed. We went to the same high school, I played with his younger brother, so I always had a kind of relationship with him. So when I got the call from Ozzie (Newsome) to come to the Ravens it was kinda surreal for me. I was very excited, very humbled. Just training around with those guys, it taught me a lot, it eventually helped me to get to where I am today."
Unfortunately, he wasn't asked about his time in Pittsburgh but I'm sure he still remembers it fondly, the most NFL experience he got in his career. And clearly, this is a dude that loves football. He's 30, bounced around every team, every league, and still playing the game for probably not a lot of money. Gotta respect the heck out of that.
Josh Victorian, your blast from the past.