Last week, the Pittsburgh Steelers tested out OLB and 6th round pick Sutton Smith at fullback. It's unclear, and right now, unlikely to be a full-time switch but with it being the offseason, as good a time as any to look back at some of the most well-known Steelers' position switches. We're talking drastic changes, not a linemen moving from tackle to guard or corners to safety(big changes, sure, but you get my point). These are all changes made by the team too once the player got in the NFL, not a switch made in college. So that excludes names like Hines Ward and T.J. Watt.
If I'm missing any notable ones, and I feel like I am, remind me in the comments below.
Larry Brown – 1971 to 1984 (tight end to offensive tackle)
Brown came to Pittsburgh as a tight end and 5th round pick in the 1971 draft. He left as a tackle with four Super Bowl rings, making the switch in 1977. Chuck Noll regarded him as one of the more underrated players from the dynasty era. I couldn't find the exact quote but here's an excerpt from a 2013 NFL.com article, included Brown on the Steelers "all-underrated team."
"Chuck Noll once was asked this question: Of all the great players who contributed to those four Super Bowl championships during the 1970s, who among those not enshrined in the Pro Football Hall of Fame most deserves to be? Noll's response was instant. Larry Brown."
Here's a fun bit of trivia. Brown was the first Steeler to catch a Super Bowl touchdown in franchise history, the final points in hoisting their first Lombardi, a 16-6 win over Minnesota.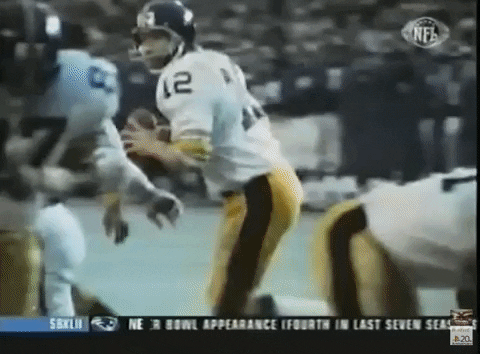 He moved to tackle a few years later, now blocking for Franco Harris and protecting Terry Bradshaw as the offense became a much bigger component to the team's final two Super Bowl victories of the decade.
Stan Savran recently made the case for Brown – and bookend tackle Jon Kolb – to be inducted into the team's Hall of Honor.
"He was just one of those guys that was like a pillar," Savran said. "He was a tower of strength. And just one of those guys who, there are a lot of good terms to use, he was flat out reliable. He was a reliable guy. You could count on Larry Brown, you could trust Larry Brown."
At tackle, he made 85 starts in his career, all with Pittsburgh. He even went on to catch one more pass after donning the #79 tackle jersey, reporting as tackle eligible for this score in a blowout win over the Kansas City Chiefs in 1979.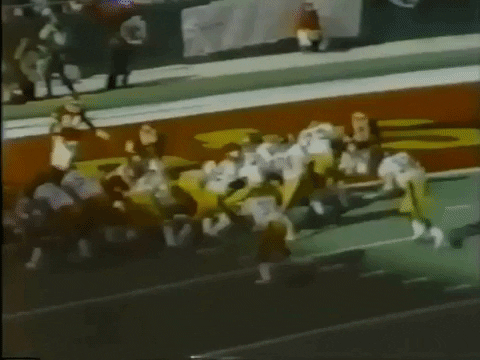 Antwaan Randle El – 2002 to 2005 & 2010 (quarterback to wide receiver)
Randle El was a successful, though far from elite, quarterback at Indiana, the Hoosiers' starting QB all four years. But he was never going to succeed there in the NFL. Too slight of frame, too short, and he never managed to lead his team to a winning record.
Despite catching only seven passes in college, the Steelers asked him to switch to receiver, selecting him in the 2nd round of the 2002 draft. Bit of a bold move for the then-unproven Kevin Colbert but he turned out to be a gem, and one of the names who should be lumped into the Steelers' strong record of receivers selected.
"The wheels are spinning right now," offensive coordinator Mike Mularkey told the PPG on draft weekend. "You can do a lot of things with him."
In that same article, Ed Bouchette noted Randle El was third on their wish list. They wanted to draft safety Michael Lewis or defensive end Ryan Denney but both were taken within five picks of them turning in the card. Had Pittsburgh taken Lewis, maybe they never trade up for Troy Polamalu the following year. Just a thought.
Randle El didn't have a long Steelers' career but certainly a successful one. He finished his rookie year third on the club in receptions, yards, and touchdowns and became a dynamic return man. Of course, his most memorable play came in Super Bowl 40, leaning on his days as a QB and hitting Hines Ward for a long touchdown to win their 5th ring.
Following a stop in Washington, Randle El circled back to end his football career in black and gold, catching 22 balls in 2010.
Roosevelt Nix – 2015 to Present (defensive tackle to fullback)
Nix dominated offensive lines while playing in the MAC, ending his time at Kent State with a whopping 65 TFL and 24 sacks. But his squatty body made him a less than ideal fit for the NFL. Undrafted, he signed with Atlanta but infamously became the first player cut during camp, as captured by Hard Knocks. Pittsburgh scooped him up, initially trying him at inside linebacker, but soon flipped him to fullback. He excelled there and on special teams and has been cracking skulls ever since.
Alejandro Villanueva – 2014 to present (defensive end to offensive tackle)
Another gem of a find and conversion by the front office in recent years. Much of the credit, of course, goes to Mike Munchak and Shaun Sarrett for helping him switch. Villanueva's own talent, willingness to learn, and perfectionist attitude played key roles too in flipping sides of the ball.
Villanueva has bounced all over throughout his football career. A wide receiver at Army, playing DE in his first NFL stint and again with the Eagles before the Steelers took a flier on him. Replacing Kelvin Beachum following a torn ACL, Villanueva has held down the blindside ever since, played at a high level, and earned a long-term deal with the franchise.