Zach Gentry might not be much of an NFL tight end right this second but Kevin Colbert is confident there's ample room to grow. Joining Pat Kirwan on Sirius Radio to recap his draft class, Colbert believed Gentry's future is bright.
"Gentry is a lot like Justin Layne," Colbert said. "He's still learning the position. He was recruited there as a quarterback. Played a little receiver his freshman year and then they quickly made the transition to try and make him a tight end. He grew, he's 6'8, he's probably right around 255. He ran 4.85 at the Combine I believe it was. At his Pro Day, he dropped five pounds and ran 4.73."
As Colbert noted, Gentry initially came to Michigan as a quarterback. At Eldorado High School in New Mexico, he threw for over 2000 yards and 17 touchdowns as a sophomore and then won New Mexico Football Player of the Year in 2014. Initially, he committed to Texas before deciding on Michigan. Here's just one clip of him at quarterback, breaking four tackles before racing en route to a 80 yard TD.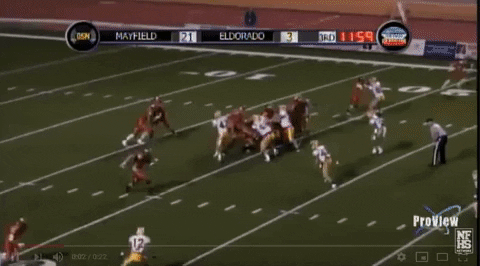 While Pro Days times are almost always favorable to the player, it's encouraging to hear Gentry improve on that sluggish Combine 40 yard dash. Tight ends coach James Daniel referred to him as a better receiver than blocker, as evident by his position switch and college stats. Gentry averaged over 16 yards per catch each of the last two seasons.
Colbert likes his frame and ability to line up as the classic, in-line tight end. Something he noted you don't see much from college tight ends these days.
"He was very impressive. He's smart. He's still learning but he has the prototypical Y-type tight end body. They're few and far between. When we took Jesse James a few years back, Jesse was one of the guys who could fit that mold and play that Y. Because in today's college game, a lot of tight ends are the 6'3, 240 guys who play in the slot because they block on perimeter passes. But few guys play attached as tight ends. At the University of Michigan, Zach did."
Gentry figures to be the Steelers' #3 tight end this year, his rawness unlikely to challenge Xavier Grimble out of the shoot. But as Dave Bryan has mentioned on the podcast, and as Colbert alludes to here, the team hopes to find its replacement for Jesse James.
"We don't think we're getting a finished product by any stretch. We're getting a very good-sized, very athletic guy who can catch. He's going to learn how to block and he's going to learn to block a little differently because he's 6'8. There's a lot to work with. Again, the attraction was the ability to be a Y-type tight end was very important to us."