From now until the 2019 NFL Draft takes place, we hope to showcase as many prospects as possible and examine both their strengths and weaknesses. Most of these profiles will feature individuals that the Pittsburgh Steelers are likely to have an interest in, while a few others will be top-ranked players. If there is a player you would like us to analyze, let us know in the comments below.
#88 Drew Sample/TE Washington – 6'4/6 255
The Good
– Nice size and frame overall, good length (33 3/8 inch arms)
– Above average run blocker with experience and comfort playing out of a three point stance
– Creates power on his drive blocks when he's able to bring and pump his feet, strong upper body able to expand defensive ends/outside linebackers to create run lanes
– Sets his hips in the run game and uses his leverage well
– Plenty of work in pass protection, shows effort and tenacity, and will vary his attacks, even throwing in a chop that surprises pass rushers
– Takes pride on his combo blocks, wants to create a push on the initial down block
– Technical route runner who doesn't round them off and gets to his spot
– Tracks the ball well downfield and can make over-the-shoulder receptions in contested situations
– Works really hard in scramble drills and when the play is extended
– Quality starting experience, durable player who didn't miss time
– Productive senior year relative to the rest of his career
The Bad
– Limited threat as a receiver who didn't create many impact plays
– Struggles to create separation at the top of his route, doesn't burst away and declares his intentions too early, easily locked up against man coverage
– Will occasionally lose focus and drop/double-catch targets
– Can get overextended in the run game, use his hands before his feet, causing him to drop his head on contact, lunge, and fall off his blocks
– Needs to come off down blocker on combo blocks a bit quicker to climb to the second level linebacker, can be a tad overzealous about creating that initial burst
– Lacked even average production overall considering his experience and was barely even a secondary option in their offense
Bio
– 40 career starts in Huskies career
– Career: 46 receptions, 487 yards (10.6 YPC) 5 TDs
– 2018: 25 receptions, 252 yards (10.1 YPC), 3 TDs
– Combine workout: 4.71 40, 33.5 inch vert, 9'7″ broad, 7.15 three cone
– Won several team awards for his toughness and work ethic
– Team captain senior year of high school
– Played basketball and football in HS
Tape Breakdown
Savage is the last player profile I'll be submitting before tomorrow's draft. Wanted to get to him because I knew his overall profile was one of a blocker, something that can be hard to find at the college level and a trait the Steelers still hold in high regard.
That report mostly matches up with what I see on tape. Sample, unlike a lot of "move" college tight ends who are just glorified receivers, spent plenty of time with his hand in the dirt. Much more than he did aligning in the slot and playing upright. So he's going to be experienced and comfortable getting into a three-point stance, an area that some tight ends really struggle at, explaining why the position can have such a steep learning curve.
At his best, he's an impactful blocker able to move defenders out of the way with solid upper body strength and leg drive. Looks to crack the Ohio State ROLB (#2) but does a nice job adjusting and driving through the block when the defender runs outside of him. Back follows behind for a good gain.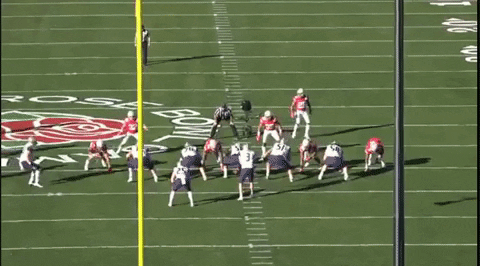 He's also the rare tight end who saw extensive work in pass protection. And generally held his own, even if he predictably lost a couple matchups against pass rushers. He shows this chop in pass protection that reminds you of one of Alejandro Villanueva's best moves. I never see this from a tight end so it's really cool he's got it in the arsenal already. Most edge rushers aren't expecting this from a tight end and it can put them in the ground. Left side of th eline.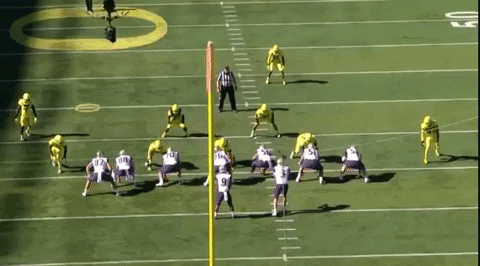 As a receiver, Sample is able to track the football downfield and sometimes make the impressive play but as his numbers suggest, he was largely an afterthought when Jake Browning dropped back to pass. He really struggles to create space in man coverage, lacking the bust or deception to gain separation. Easy to lock him up in man coverage. Bottom of the screen, getting no space on this 7 route.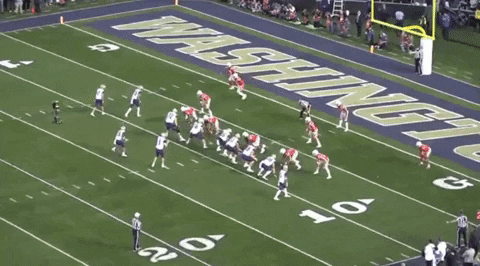 And his hands aren't quite as good as I hoped too, though with how few passes thrown his way, maybe he was just surprised to be targeted. Can't finish the play here.
Sample can stick as a capable blocker but he won't become your starter. Wish I could've watched a little more tape on him but simply ran out of time. I think it's pretty easy to get a feel for him though.
I'd compare him to Ben Koyack, a 7th round pick of the Jacksonville Jaguars in 2015 who has managed to stick despite 24 career catches.
Projection: Mid-Late Day Three
Games Watched: vs Auburn, at Oregon, vs Ohio State