From now until the 2019 NFL Draft takes place, we hope to showcase as many prospects as possible and examine both their strengths and weaknesses. Most of these profiles will feature individuals that the Pittsburgh Steelers are likely to have an interest in, while a few others will be top-ranked players. If there is a player you would like us to analyze, let us know in the comments below.
#92 Maxx Crosby/EDGE/Eastern Michigan/6'5" 255
The Good
-Long-limbed pass rusher with impressive bend and athleticism in space
-Consistently produced at Eastern Michigan as a pass rusher and run defender; plays with a clear chip on his shoulder
-Refined hand fighting techniques; quick, efficient swipe to keep himself clean early in the battle
-Really good motor coming off the edge; runs hot consistently; takes pride in tracking down ball carriers from backside
-Able to read and react quickly to what offense is trying to accomplish against him
The Bad
-Lacks explosiveness out of his stance, forcing him to play catch-up coming off the line
-Can be tight in the hips a bit, especially early in his pass rush
-Plays with a relatively high pad level on the edge, especially when playing the run
-Needs to develop strength at POA; body looks like he can still be filled out
-Struggles with functional strength and overall balance as a defender
-Strength issues show up as a tackler most often; allows quarterbacks and running backs to get out of his grasp far too often
Bio
-Ended his EMU career with 41.0 career TFL and 20 career sacks, both ranked second in the Eastern record books
-Named first team All-MAC in 2018, marking back-to-back seasons he was named first team All-MAC
-Was suspended for 2018 season opener for violation of team rules
-Invited to the 2019 NFL Scouting Combine, where he ran a 4.66 40-yard dash, a 6.89 3-cone, a 4.13 20-yar shuttle, and jumped 36.0 inches. Crosby did not bench at the combine.
Tape Breakdown
 As we get closer and closer to the draft, analysts start to wrap up their individual reports. Right around that same time, you'll hear a lot of names that you're unfamiliar with, yet somehow their tape jumps out at you.
That's what Eastern Michigan's Maxx Crosby did for me.
The Eastern Michigan edge has some really good tape and tested really well at the 2019 NFL Scouting Combine, catching the eye of NFL front office executives and draftniks.
Once I popped on the tape of Crosby, I came away feeling very, very good about his NFL prospects.
While at Eastern Michigan, Crosby made a name for himself as a pass rusher, but I liked the way he defended the run for the most part. Yes, I said earlier that he lacks strength and is inconsistent holding up at the point of attack, but against Purdue in 2018 he really popped off the tape as a run defender.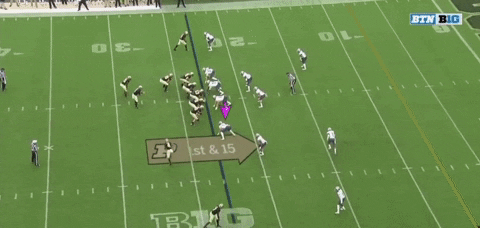 Playing the wide 9 role here, Crosby is able to keep his eyes in the backfield and see the pulling guard coming at him. I love the quick dip underneath the block for the tackle for loss. Some people will say they want their defensive ends to take on the block head on and let another defender clean it up, but I love what Crosby did. He's showing off his athletic traits right away.
In short yardage situations, Crosby really ratcheted up his game. Facing a double team here against Purdue on 4th and 1, Crosby works through it and makes the huge TFL to force the turnover on downs, cleaning up a couple of missed tackles by teammates.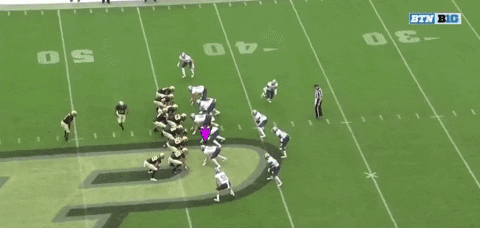 As a pass rusher, Crosby has some good bend and is really refined in close quarters combat as a hand fighter. I'd like to see him have a bit more burst around the edge, but that can be worked on at the next level. His hand usage is really good for a small school guy, so that should play right away.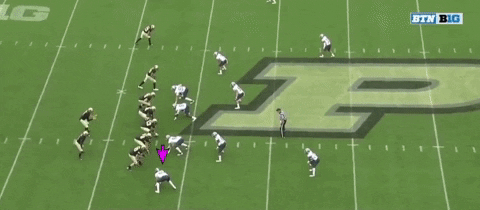 This is a simple chop/wipe against the Purdue tackle. Watch how easily he beats him and turns the edge for the sack. They're not all going to be that impressive, but he has a plan of attack coming off the edge, uses his hands very well, and has a nose for finding the quarterback.
Crosby really impressed me with his ability to quickly decipher what's happening around him, and is able to shift his weight without losing ground, allowing him to make plays others can.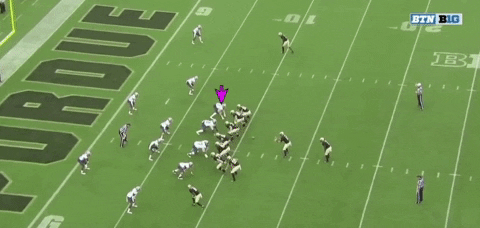 Here in the red zone against Purdue, Crosby sees the tight end coming across the formation for a potential kick-out block. That doesn't faze Crosby though as he realizes quickly that he's not coming to him and instead shifts his weight and explodes toward the quarterback, who is just coming out of his play-action fake.
Crosby's quick reaction causes a quick throw and a short completion, allowing Eastern Michigan to live for another down in the red zone.
Finally, Crosby is really athletic for the position, both on tape and in his testing numbers. Watch this play against Akron late in the season.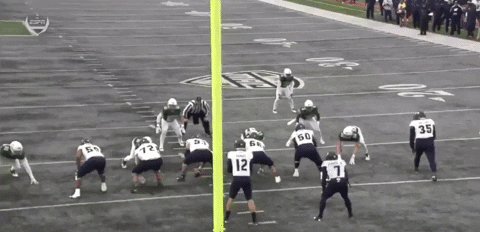 You'll rarely see plays like this from a defensive end, but it encapsulates Crosby's athleticism moving forward. He's far from a finished product and will need at least a year in an NFL weight room to add bulk and strength to his long, lanky frame, but you can't teach the athleticism, instincts, hand fighting, and overall want-to.
I'd call Crosby's name early on Day 3 and be very excited that I got my hands on a moldable edge prospect with his athleticism and career production.
Projection: Early Day 3
Games Watched: Purdue (2018), San Diego State (2018), Toledo (2018), Akron (2018)