As we've done in previous offseasons, we're taking a look at those Pittsburgh Steelers under futures contracts for the 2019 offseason. We'll focus this on the players who weren't on the team's practice squad last year, the mostly unknown players that fans don't know much about.
First up is one player the team signed yesterday. Wide receiver Ka'Raun White.
Ka'Raun White/WR – 6'1 206
There's something about the White family that apparently has every athlete take the same path. Ka'Raun is the brother of Kevin White, the former first round pick of the Chicago Bears, and lesser known Kyzir White, a safety drafted by the LA Chargers in the 4th round of last year's draft.
All three attended West Virginia. Before that, they first attended Lackawanna College, tucked away in tiny Scranton PA but serving as one of the country's most popular junior colleges, molding talent like Bryant McKinnie.
But Ka'Raun's story isn't as cookie cutter as those big names. Unlike 99% of players lucky enough to make it to the NFL, even on a longshot basis, White wasn't the standout star at high school. He was hardly a football player. Buried on the depth chart at safety, he suffered a low back injury his senior season and missed the entire year. When he graduated, football wasn't even on the menu. What was, literally, was his job at McDonalds.
From the Charleston Gazette-Mail, who wrote a fantastic feature article on him in 2015.
"He was too busy working at McDonald's — two years after graduating from high school.
White made all the sandwiches on the menu. He started at $7.25 an hour and earned a nickel raise during the four-plus years he spent under the golden arches. It was 2012, and Kevin was two grades older and making a splash as a redshirt sophomore at Lackawanna when Ka'Raun decided he wanted to be a college football player, too."
Not having the grades to walk on anywhere, Ka'Raun spent two years at Lackawanna. Redshirting the first, making the switch to receiver, and bulking up after leaving high school as a scrawny, 5'10, 160 pound tackling dummy. White's development accelerated and by that second year, he finished third in his conference in reception and yards per game while finding the end zone three times. Bursting onto the scene making plays like this.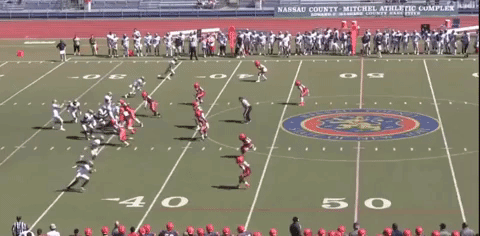 That got him the invite to West Virginia, one year after Kevin graduated and began his NFL career. Things clicked at the end of the 2015 season, putting in a four catch, 116 yard effort in the bowl game, and he ran with it from there. 2016 was cut short by a late-season leg injury but he found the end zone five times for the Mountaineers and finished second on the team in receptions and yards.
He became one of the team's top playmakers in 2017, notching his first 1000 yard season and finishing with 12 touchdowns, one of the top assets for Will Grier, making his name known for the first time. Making tough plays like these sure help the QB look good.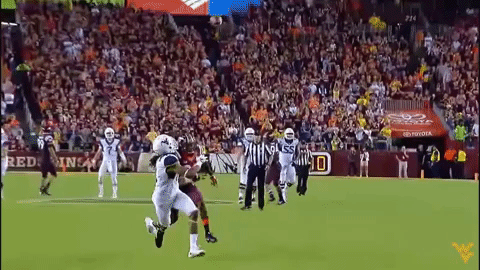 That late career surge earned him an NFL Combine invite where he posted average to below average numbers across the board: a 4.52 40, 33.5 inch vert, and 7.16 three cone. Far less impressive than his brother, where the comparison were easy, even if they weren't valid, and it caused White to fall out of the draft entirely. Limited college production and meh measurables? That's gonna happen.
Seattle scooped him up as a UDFA but released him three days later. Cincinnati jumped on him the next day, where he remained throughout training camp. As far as I can tell, White played each game, but didn't register anywhere on the stat sheet. The Bengals didn't even bother to sign him to the practice squad, keeping WR Kermit Whitfield and former WR turned corner C.J. Goodwin instead.
Aside from an early September workout with Washington, White spent his rookie year out of football. Now, he's back in the mix with the Steelers. He'll look to stick long enough to catch his first preseason pass in the NFL. Instead of flipping burgers like he did all those years ago, he'll try to flip the field for Randy Fichtner.