As we will do every Saturday to get you ready for the week's game, our X Factor of the week. Sometimes it's a player, unit, concept, or scheme. What will make or break the Pittsburgh Steelers for Sunday night's matchup as they look to take down the New Orleans Saints.
X Factor: Vince Williams
It was a surprise, to me at least, seeing Vince Williams as "the guy" at linebacker against the New England Patriots. The only snaps he missed came when he got earholed and missed three plays getting checked out by the trainers. For a good chunk of the season, they've trusted L.J. Fort to handle those passing down duties. And with good reason. He's their most athletic linebacker and played well, as long as Keith Butler isn't telling him to lockdown wide receivers.
Mike Tomlin explaining it after the game made a lot of sense. Williams' comfort in the defense and the trust they have in as a communicator was the driving factor. To beat the Patriots, and the same holds true with the Saints, you need volume. That's literally the word Tomlin used before last Sunday's game and I can't think of a better choice of words.
"What he's talking about with two plans, it's not two distinctly different plans," Tomlin said. "What he's saying is that you need volume. And volume is potentially uncomfortable for us coaches from time to time, because the more volume you have the less time you have to hammer out really intricate details within those calls. You can't run out of calls against a guy like Tom Brady, you just can't."
Just sub out Brady for Drew Brees and I promise you Tomlin will say that idea holds true for tomorrow's game. The Saints weapons might be more concentrated than the Pats but you know Brees is capable of getting the ball in anyone's hands. After all, this is an offense that found the end zone with four UDFAs in the same game this year.
Maybe it's not Michael Thomas or Alvin Kamara who beats the Steelers, should they lose. Maybe it's Austin Carr, Keith Kirkwood, or something called a Dan Arnold.
Playing Brees means having the ability to go deep into the playbook. Disguise coverages, which Butler did beautifully last weekend, play every type of scheme, every type of personnel groupings. The Steelers showed their "big dime," a 3-2-6 defense with three down linemen, one inside linebacker, one outside linebacker, and six in the secondary. That's a new look that I'm sure hasn't been repped much during the year. And it falls on a guy like Vince Williams to get everyone in the spots they need to be.
Want proof of Vince leading this team right now? Check out the role he played when the Patriots ran their punt team on the field, leaving the Steelers defense to field a punt for the first time all year.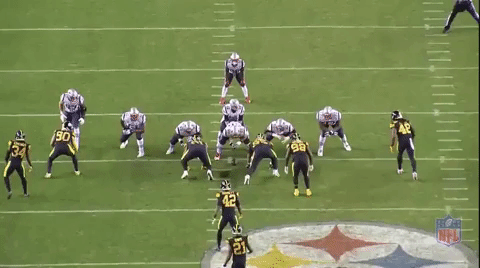 So will you sacrifice a little bit of athleticism for that communication? Every day of the week and, in this case almost literally, twice on Sunday.
Moving beyond communication, he's still going to be an important cog after the ball is snapped. Few offenses get the ball in their back's hands like Kamara, entering this matchup with 77 receptions. They'll run routes at all levels with him. Short game with screens and dump offs, medium game with angle/option routes, the deep ball with wheels on divide routes. They're going to challenge Williams time and time again. No doubt about it. If he can answer the call though, the Steelers will have walked away with another win.