There's still a bitter taste in the mouth of Steelers Nation following Sunday night's brutal 33-30 loss to the Los Angeles Chargers at Heinz Field, and that taste won't get any better, considering the Pittsburgh Steelers utterly collapsed in all phases of the game in the second half.
One week after tying a season-low with 2 missed tackles in a loss at the Denver Broncos, the bad Steelers talking team showed up on Sunday, putting up 11 missed tackles, including 8 in the second half on the way to blowing a 23-7 lead.
As I've said time and time again with this team, missing a high number of tackles usually correlates with a loss, and that rang true one again on Sunday.
Let's take a look.
Total missed tackles vs. Chargers — 11
Sean Davis – 4
Marcus Allen – 1
Mike Hilton – 1
TJ Watt – 1
Terrell Edmunds – 1
Tyson Alualu – 1
Darrius Heyward-Bey – 1 (special teams)
Roosevelt Nix – 1 (special teams)
Total missed tackles through 13 weeks  (12 games) — 111 (9.25 misses per game)
Sean Davis – 16 (one on special teams)
TJ Watt – 11
Terrell Edmunds – 10
Joe Haden – 9
Vince Williams – 7
Mike Hilton — 7 (one on special teams)
Bud Dupree – 5 (two on sack attempts)
LJ Fort – 5
Stephon Tuitt — 4
Cam Sutton – 4 (one on special teams)
Coty Sensabaugh – 4
Tyler Matakevich – 4 (two on special teams)
Artie Burns — 3
Anthony Chickillo – 3 (one on special teams)
Jon Bostic – 3
Roosevelt Nix – 3 (all three on special teams)
Tyson Alualu – 3
Cam Heyward – 2
Jordan Dangerfield – 2 (one on special teams)
Daniel McCullers – 2
Nat Berhe – 1
Javon Hargrave – 1
Marcus Allen – 1
Darrius Heyward-Bey – 1 (special teams)
I'm sure Sean Davis would like to hit the reset button on the last month or so of action, because he's been downright dreadful again in the tackling department. After playing so well to start the season at free safety, Davis has reverted back to his freelancing ways both against the pass and the run, leading to some woeful misses and blown assignments.
Sunday night was arguably the worst game of his Steelers career as he broke up an interception for Joe Haden, leading to a Keenan Allen fluke touchdown, missed a game-high four tackles, and really wasn't a positive factor in any phase of the game.
TJ Watt missed his tackle on the second-to-last play of the game where he was trying to getJustin Jackson down on the ground of a big loss, but he took a bad angle in the backfield and allowed Jackson to spin out of the TFL.
Terrell Edmunds had a fine game up until Jackson's rushing touchdown where he was absolutely undressed in the middle of the field by his fellow rookie, while Marcus Allen joins the group, missing a tackle in his first career NFL game.
Take a look at the two guys who missed tackles on special teams. Those are veteran guys that are on the team mostly for their ability to play in those situations. You simply can't have guys like Darrius Heyward-Bey and Roosevelt Nix miss tackles on special teams, especially Nix with three of them on the season. More on that later.
Overall, it's clear to see why the Steelers collapsed defensively in the second half, aside from Keith Butler putting them in positions to fail. Eight of the Steelers' 11 missed tackles came in the second half, three of which came against Jackson, who was a dynamo in relief of Austin Ekeler.
Let's take a look at some of the guilty parties.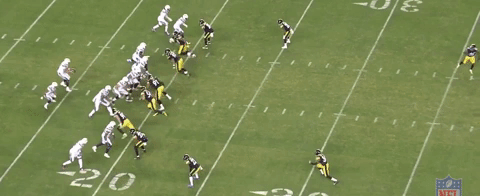 Right away you can see the breakdown in coverage as Coty Sensabaugh and Mike Hilton both go with Mike Williams, leaving Allen wide open short left.
Davis has to cover nearly 20 yards just to get into position to tackle Allen, but he wastes the good effort of closing ground by taking a sloppy angle and flying in out of control on Allen in the open field. Allen sets him up with a hesitation move and then is able to easily jump over his arm tackle attempt in space, leading to an additional 5-6 yards.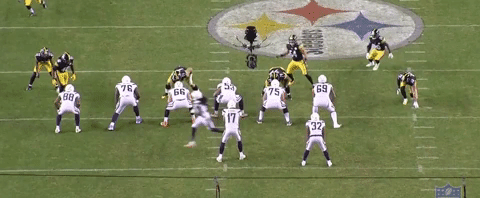 This is the play that really started to get Jackson going against the Steelers. Running out of shotgun, Jackson is able to step out of a Tyson Alualu tackle in the backfield, picking up 9 yards on what should have been a 3-yard loss when Alualu made contact.
Alualu did a nice job of getting through Mike Pouncey at the snap, working free into the backfield for a clean shot on the Chargers' rookie running back. Instead, Jackson gets through the tackle attempt, runs through an arm from Bud Dupree (who is engaged against a lineman and is falling backwards, so no miss) and nearly picks up a first down on what should have been a negative run.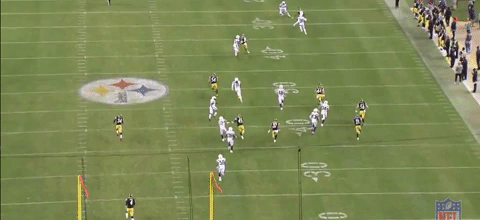 The dreaded punt return for touchdown by Desmond King…sigh.
Heyward-Bey is still one of the fastest guys on the field at any given time, and he does a great job of getting downfield quickly as the gunner. The good vibes end there though as DHB's attempt is poor as he barely gets a hand on King. Then you obviously have the missed block in the back call on Brian Allen, leading to Nix's miss near midfield.
If you watch Nix, I'm not sure what he's doing. It appears that he's leaning left into his blocker like he's trying to bait him into a block in the back. By doing that, Nix gets out of his coverage lane, leaving a gaping hole for King to burst through. Nix realizes it too late and that leads to a diving arm tackle attempt that King easily steps over on his way to the 73-yard return for the score.
Offensively, the Steelers forced just 3 missed tackles, meaning they lost the battle by a mark of -8. Not great, Bob.
James Conner didn't force a single miss on the night, nor did Antonio Brown or JuJu Smith-Schuster.
Total forced misses vs. Chargers – 3
Vance McDonald – 2
Ryan Switzer – 1
Total forced misses through 13 weeks (12 games) – 121 (10.1 forced misses per game)
James Conner — 62
Antonio Brown — 15
Ryan Switzer — 15
Vance McDonald — 14
Stevan Ridley – 4
Ben Roethlisberger — 3
JuJu Smith-Schuster — 3
James Washington — 1
Xavier Grimble  — 1
Jaylen Samuels – 1
Jesse James – 1
Nine of Switzer's 15 forced misses have come as a kick or punt returner. He's not the most elusive guy as a receiver, but when the ball is in his hands as a returner he makes a defender miss more often than not, especially on punt returns.

Simply put, Vance McDonald is a wrecking ball. Wide open in space, McDonald runs through an arm tackle attempt by Michael Davis and lowers the boom on Jatavis Brown before Kyle Emanuel cleans up McDonald.
It's hard not to love a guy like McDonald with the way he competes after the catch.