While it's easy – and in a lot of ways, true – to blame the refs for the Pittsburgh Steelers' stunning 33-30 loss Sunday night to the LA Chargers, most players aren't willing to do so. At least, no publicly.
Several Steelers were asked about the officiating from last night. Most – smartly – punted, deflecting the question with a non-answer or taking responsibility for what happened.
"I'm not going to say anything," T.J. Watt told reporters after the game. "The officials can talk about it. But the film can speak for itself."
Watt repeated that "film can speak for itself" multiple times when pressed though he did acknowledge he saw a false start on the Chargers' first touchdown. Everyone did. Except for the guys in stripes.
We showed it to you last night but here it is from the reverse angle, a clearer view of how badly missed it was.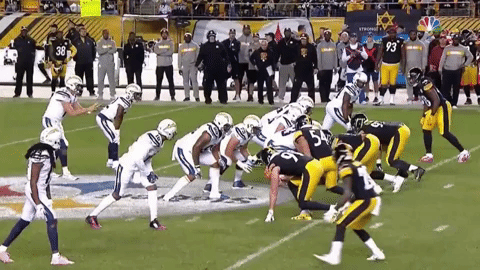 Instead of the obvious five yard infraction, it resulted in a 46 yard TD to Travis Benjamin.
Ramon Foster took a diplomatic approach, declining comment and taking the blame for their own, controllable mistakes.
"Yeah, absolutely, but that's no excuse," Foster said when asked about the false start. "They made a play, we didn't. On both sides of the ball, offense and defense, and it's honestly special teams, man. They deserve the win. We didn't do enough."
Foster was also subject to a questionable holding call that negated a James Conner 22 yard run. A promising drive that ended in a punt, not points.
"That's your call, I don't want to get fined for that. I'll just leave it at that. I don't want to get fined for referee calls," Foster said.
Reporters also caught up with CB Brian Allen, seemingly pushed in the back on Dez King's 73 yard punt return touchdown. Allen basically admitted it was a missed call but hoped to move on and try to find a way to beat Oakland.
"It was definitely a block in the back that they missed…it was definitely a big play that was missed but it's over with, we can't do nothing but get back in the lab and keep working."
While the Steelers are obvious, heavy favorites over the Oakland Raiders, success out West has been fleeting. Pittsburgh hasn't beaten Oakland at their place since 1995. They've lost the last three, most recently a 21-18 defeat back in 2013.