As we have been for several years now, we'll break down the Pittsburgh Steelers' opponent each week, telling you what to expect from a scheme and individual standpoint. Like last year, Josh Carney and I will cover the opposing team's offense. I will focus on scheme, Josh on the players.
Today, we're breaking down what you should expect from the Oakland Raiders.
Alex's Scheme Report
Raiders Run Game
When you're 2-10, it's hard to rely on the run game. When it's been available, it hasn't been terrible, and the backs have done a good job behind a line with rookie starters and guys playing hurt. As a team, they're averaging 4.4 YPC (15th in the NFL) with Doug Martin and Jalen Richard leading the way. However, the run game hasn't been used/hasn't been effective near the goal line, their six rushing TDs is tied for 27th and they aren't generating big runs off it. 17th in gains of 10+ yards, 23rd in 20+.
The run scheme is mostly based off their inside zone, which they'll run out of one and two back sets with FB Keith Smith. Smith has played the 6th most snaps of any FB in the league, though he's also on the roster for his special teams work.
Examples of their inside zone.
Jon Gruden also works to get some extra bigs in there. Multiple tight ends and tackle eligibles. David Sharpe (#68) and Jon Feliciano (#76) have been used there. So has DL Clinton McDonald for goal line work (#97). They also have tight end Lee Smith. He's their version of Matt Spaeth – eight catches this year on 222 snaps. Essentially an extra tackle, he's a big part of their blocking game and will even get into a tackle's stance and kickset.
The offensive line has been rough. Two rookie tackles and the guy on the left side, first rounder Kolton Miller, has played hurt for large parts of the year. Here's their projected starting five:
LT – Kolton Miller
LG – Kelechi Osemele
C – Rodney Hudson
RG – Gabe Jackson
RT – Brandon Parker
Parker, a rookie from NC A&T, is the dude you want to go after. He's always on the ground though honestly, you can say that about most their guys sans Hudson. The d-line and outside linebackers should eat, notably T.J. Watt. Could be another three sack game. I'll be kinda disappointed if they don't though you know Oakland will try to control the game with the ground, facing a team that is leading the league in sacks as the Steelers are.
Couple more stats. Oakland is having a heck of a time trying to score, 28th in the league at 18 points per game. They're below average on third down and in the red zone, 21st and 24th respectively. Their turnover ratio is better than the Steelers at -5 which for the record, is still bad.
Raiders Pass Game
Derek Carr's season sure got off to a bumpy start. Even now without Amari Cooper, Carr is finding his stride. On the year, he's completing just below 70% of his throws with 16 touchdowns and eight interceptions. That ratio doesn't look the best but he hasn't thrown a pick in seven straight games. Only Aaron Rodgers has a longer streak this year.
The sacks however, have been unrelenting. Another streak Carr holds? Five straight games of being taken down 3+ times, the longest in the league this year. Only in three games this year has he been taken down two times or less. Ouch. Literally.
Tight end Jared Cook is having a career year, the clear #1 target with Cooper shipped to Dallas. He's their leader in targets, yards, average (of those with 20+ catches), touchdowns, and 20+ yard receptions. He has 14 of the latter, trailing only Travis Kelce league wide. Basically the only category Cook doesn't lead in is receptions. Those honors go to RB Jalen Richard. He has 56 of them, the 6th most by any back, and he's only played 39% of the time, 32nd for the position. Obviously, when he's on the field, he's getting the ball.
Jordy Nelson is the leading wide receiver on this team. Age might be catching up to him. So are injuries. He is coming off a big week but only twice this year has he gone over 50 yards. He's not the same dude as he once was. One sleeper at receiver to watch out for is rookie Marcell Ateman. A big body (6'4, 216) who played next to James Washington at Oklahoma State, they've been lining him up as the "X" and letting him run either vertical, comebacks, or backshoulder fades. Usually a sight adjustment based on how the corner/coverage is playing him.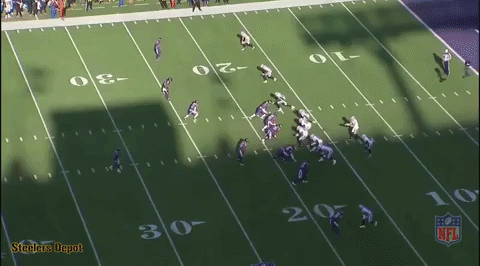 Could see a lot of Coty Sensabaugh. With his poor ball skills, that's not ideal. I can see Ateman having a career day, to be honest.
As Keith Butler pointed out speaking to reporters, the Raiders do a nice job of mixing up their route trees. It's hard to find tendencies. When the X receiver has a reduced split on 3rd down, alert mesh.
And this Yankee concept, a post/over combination to put the safety in conflict.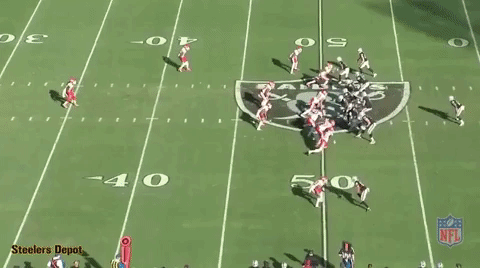 In 2×2 sets, they will mirror routes too, the same concept to each side. Oakland is big on using the middle of the field too, similar to what I saw from the Chargers last week.
Josh's Individual Report
It's Raiders week, Steelers fans!
Coming off of two straight losses to AFC West opponents, the Pittsburgh Steelers get a crack at the divisions' worst team – and arguably one of the worst teams in the entire NFL – in the Oakland Raiders.
Despite sitting at just 2-10 on the season, the Raiders have been a bit frisky as of late, giving the Kansas City Chiefs quite a scare last week, as well as the Los Angeles Chargers and Baltimore Ravens in recent weeks before each team was able to create enough breathing room against the Raiders.
Offensively, Oakland is hitting its stride as Derek Carr hasn't thrown an interception in 29 quarters and has ten touchdowns in that same span, while Doug Martin and Jalen Richard have formed quite the duo at running back, giving the Raiders some semblance of balance offensively in a trying season.
However, this offense is still No. 22 in the NFL in total offense (346.9 yards per game), 29th in points per game (18.3), 22nd in turnover margin (-5), 22nd in third-down percentage (38), 15th in passing yards per game (241.6), 5th in sacks allowed (39), and 15th in yards per carry (4.4).
The Week 13 game against the Chiefs at home was by far the best offensive performance of the season for the Raiders as Carr threw for 285 yards and three touchdowns, while the Raiders rushed for 171 yards (6.1 yards per carry).
Under Jon Gruden, this is a classic pro-style offense that sees Carr set up quite a bit under center. However, Gruden likes to move tight end Jared Cook around a lot, adding that move tight end element to the passing game, which has opening things up for the Raiders through the air down the stretch.
Carr has taken a beating this season. Everyone remembers the London game against Seattle where he was beat into submission. TV cameras appeared to catch him crying after a huge hit in the pocket, but he's denied it and fought through a lot of adversity this season.
He isn't able to push the ball down the field as much this year with a depleted receiving group and an offensive line that turns into a group of turnstiles once the Raiders decide to throw the football. But Carr is always right there standing and delivering.
Carr likes to use his tight ends quite a bit, especially Cook, who sits fourth in the league for tight ends in yards (709), and fifth in catches (54). The Raiders will move Cook all over the formation, but he has his most success in the middle of the field.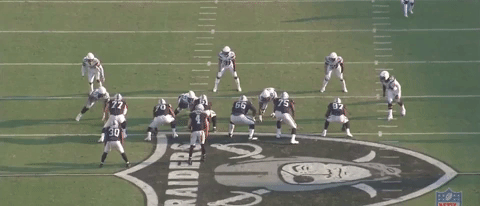 Lined up in line here, Cook runs a go route up the seam, splitting the Chargers' linebacker and safety combination before receiving a dime of a throw from Carr for a 31-yard gain.
When Oakland moves him around, Cook has really developed his route running abilities as a tight end, allowing him to play as a wide receiver at times.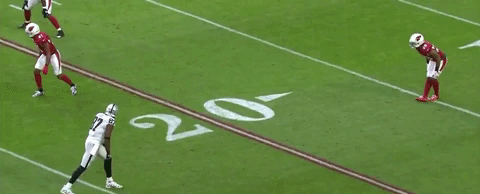 Split out wide against the Arizona Cardinals, Cook has a nasty double move against the Cardinals' cornerback, toasting the defender for the score. You won't see many tight ends run routes like that.
I mentioned earlier that Oakland really likes to use its tight ends. Outside of Cook, Lee Smith is a very tight end that is your more traditional tight end. He's a blocker first, often serving as an extra tackle most times. Smith has just 8 receptions this season, but he can catch teams off balance.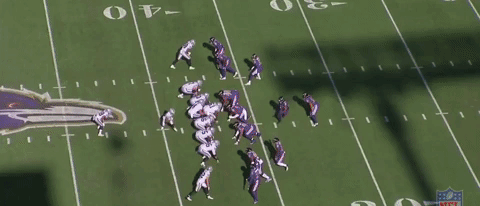 This looks a lot like the Xavier Grimble play from the loss at Denver, sans the fumble doesn't it? Obviously there's no play-action here, but Smith sells the block and the Ravens pay no mind to him as a receiving threat.
Look at how wide open Smith gets.
Pittsburgh could see something like this again on Sunday.
At running back, Martin, Richard, and DeAndre Washington is a solid trio for the Raiders, even if all three fumbled last week.
Martin appears to have some serious burst back in his game after battling a number of knee injuries in Tampa Bay. Now relatively healthy, Martin has turned into a strong lead back for Oakland. He can run between the tackles with power, but he's really taken off as an edge runner.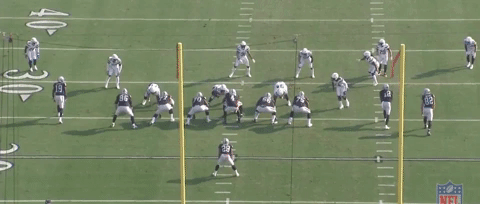 This is a simple stretch run off of left tackle, but look at the way Martin gets up to top speed so quickly with the ball in his hands. One thing I've noticed with Martin this season is his ability to hit holes hard with burst and power behind his pads after being a bit indecisive in Tampa Bay as a runner.
The offensive line struggles to pass protect, but they're bullies in the ground game.
It helps that they have running backs with speed and some elusiveness, especially with Richard.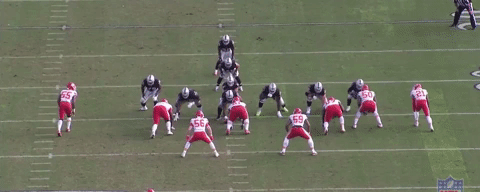 Richard is more of the pass-catching threat for the Raiders, but he can make defenders miss with the ball in his hands as a runner. Look at the way he's able to stop on a dime and slide left to avoid the Chiefs' defensive back in the backfield. Once he makes the defender miss he's able to get his balance back underneath him, allowing him to get back up to speed in a hurry. After that, he runs away from the Chiefs for the explosive run.
At receiver, Jordy Nelson is the headliner for the Raiders after coming over from Green Bay in free agency. Carr and Nelson really haven't established a strong connection yet due to Nelson battling injuries this season, but the veteran receiver is still a strong possession weapon that is a technical route runner and can win often at the catch point.
Behind Nelson, the Raiders are very thin after Brandon LaFell tore his Achilles. Seth Roberts is the slot receiver that Carr really trusts, but he's not much of a threat to break things open out of the slot. He struggles with drops and doesn't create a ton of separation against nickel corners and linebackers.
Rookie Marcell Ateman is the big-bodied weapon for the Raiders at receiver, but he's still trying to develop a rapport with Carr. Lately, Ateman serves as the screen and bubble receiver. That's hindering his abilities.
Up front, the Raiders allow a ton of sacks, but the interior of the line is loaded like it has been the last four years.
Here's how they'll line up left to right on Sunday:
LT — Kolton Miller (rookie)
LG — Kelechi Osemele
C — Rodney Hudson
RG — Gabe Jackson
RT — Brandon Parker (rookie)
Miller and Parker are high-end athletes at left and right tackle, but both have sloppy technique and struggle with nuanced pass rushers. Parker really excels in the run game where he's able to reach the second level with his athleticism. Miller latches and runs well in the ground game, but when it comes to pass sets he's a step slow and doesn't have much power to anchor with.
Osemele is still one of the top guards in football, but he's had to cover up for Miller quite a bit, which has caused his own individual play to suffer some. He's a monster in the ground game though.
Hudson and Jackson are bad, bad men with Osemele along the interior. This offensive line gets bagged on a lot this season, but it's a talented group, especially inside.
On special teams, it's an interesting group. The Raiders brought in rookie kicker Daniel Carlson from the Minnesota Vikings after he was cut early in the season. Carlson has a monster leg and seems to have found a home in Oakland. So far, Carlson is 10-for-14 on the season with three of his four misses from 40-49 yards.
Punter Johnny Townsend has a huge leg as well, but he struggles with directional punting, which has caused him to see his average sit below 43 yards per punt on the season. He's gotten a ton of work this year (51 punts) and has dropped 10 punts inside the 20-yard line. He's usually punting from his own end.
Dwayne Harris serves as the kick and punt returner. He has a lengthy history in that role with the Dallas Cowboys and the New York Giants. So far this season, Harris is averaging just over 22 yards per kick return on 19 returns with a long of 31 yards, adding 10.2 yards per punt return on 15 returns. He has a long of 49 yards. He's not as explosive as he once was with the Cowboys and Giants, but he's reliable back deep, which has closed a hole for the Raiders.