As we have been for several years now, we'll break down the Pittsburgh Steelers' opponent each week, telling you what to expect from a scheme and individual standpoint. Like last year, Dan Vasko and I will cover the opposing team's defense. I will focus on scheme, Dan on the players.
Today, we're here to check out the Oakland Raiders.
Alex's Scheme Report
Raiders Run Defense
I usually focus on the challenges and strengths of the opposition but yeah, it's been tough to find them in lowly Oakland. The run defense has struggled They're allowing 5 YPC, 28th in the league, partially because of all the big plays allowed on the ground. Tied for the 11th most runs of 10+ yards (42) and 8th most gains of 20+ (11).
The defensive line is a mix of young and new. Rookie Arden Key is the "Leo" end, sorta like Bruce Irvin has been in his career, with vet Frostee Rucker opposite. On the interior sits the beefy rookie P.J. Hall and the ex-Giant Johnathan Hankins, signed in mid-September. Maurice Hurst is one of the best performing players on that defense but doesn't log a ton of time, letting him play fresh in their rotation. 47 snaps over the past two weeks. Clinton McDonald will also rotate along the interior.
As has been case across the entire roster, there's a ton of turnover. Last week, they were playing Fadol Brown and Shalique Calhoun along the d-line. Calhoun landed on IR, Brown got released (then claimed by Green Bay) and the team signed Kony Ealy for the second time this year. He'll wear #96. So if you're the Steelers, it's tough to even do tape study because you're seeing new faces on a weekly basis. Justin Ellis is likely one of the in-house guys to see more snaps this week.
The same story exists as linebacker. Credit to Tahir Whitehead for being basically the only stabilizing force on this entire defense. He's the only Raider defense to play 86%+ of their snaps this year, rarely coming off the field at a 99.6% snap count. Only one other defender is at 70% and just nine have played half the snaps. The Steelers have three, seven, and eleven such players respectively.
Whitehead will be their ROLB (they seem to play sides, not strengths) in their base 4-3. He's far and away their leading tackler with 94 of them – the next closest has just 52. Given the snap count, that's pretty intuitive. Rookie Jason Cabinda is the MIKE with Marquel Lee the LOLB. In nickel, Whitehead remains and Nicholas Morrow – a college safety – subs in as the other LB.
Couple other stats. They've allowed 30+ points in six games this year, including their last two, tied for the second most such games this year. Only the Bucs have been worse. Oakland is struggling mightily on 3rd down, 30th in the league at 45.9%, only ahead of the historically bad Falcons and Bengals. The red zone defense is better but only relatively speaking, 14th overall at 57.5%.
Overall, while Oakland has some size and strength on the interior, I'm running between the tackles. Force the ends to play physical, not use their speed and length to defend the perimeter, and the linebackers are definitely small. Work out of 11 personnel, get Morrow on the field (he's listed 6'0 224) and pound it up the gut.
Raiders Pass Defense
Now it gets pretty ugly when you look at the numbers. They're 31st in points per game, 32nd in YPA, 32nd in passing TDs allowed, and 32nd in sacks. Only ten QB takedowns on the year and three of them come from Bruce Irvin, released and no longer with the team. Only Hurst has more than one sack, the team leader with four. Just one from the linebackers and secondary combined.
There's been a ton of movin' and shakin' in the secondary this year. But I expect Daryl Worley at LCB, the improving Gareon Conley at RCB, and Nick Nelson in the nickel. Both of the outside corners are 6'0 so they do have some size. Like Conley, Karl Joseph is improving at safety with Marcus Gilchrist opposite. Cal (PA) alum Erik Harris has seen some action in their 3-2-6 dime package.
Despite a total lack of pressure, they do have nine INTs on the year. Not a great number but better than the Steelers and higher than I expected. Five come from safeties, four by corners. Oakland is prone to the deep ball. They're tied for the most 40+ yard completions in the league with 12.
Not a super aggressive front or blitz scheme, they will send the SS off the edge against closed sets with the TE backside, but they will change up the alignment of their pass rushers. Get some DEs lined up inside on third down, some DTs out on the edge. Here, Key is the 3T, Hurst the RDE.
The Raiders mix and match a good bit of coverages. Definitely more zone than man, not a surprise given how much the corners have struggled all year. On early downs and short-yardage situations, you get plenty of single high (Cover 3). On 2nd/3rd and long and two minute, expect more Cover 2 and Cover 4. Some examples of the latter.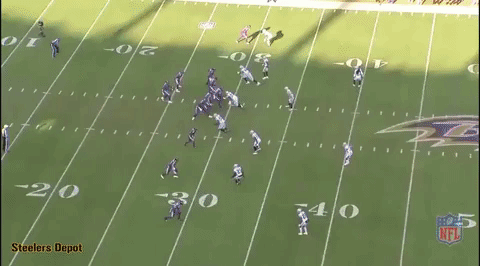 One thing they haven't done well is take away dig/over routes. Linebackers don't "robot" and carry those across the field so the Raiders' zone coverage can get flooded. Hasn't killed them in the games I watched but it's there. And the Steelers run a ton of over routes, especially with JuJu Smith-Schuster.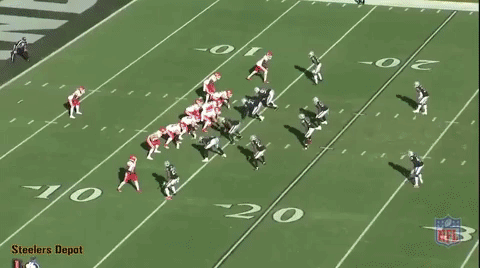 Dan's Individual Report
Defensive Line
RDE Frostee Rucker, LDE Arden Key, and defensive tackles Maurice Hurst & Jonathan Hankins.
P.J. Hall (DT) will be involved in the rotation as well.
With just ten sacks on the year, worst in the league, this defensive front doesn't bring much in terms of the pass rush. In fact, those ten sacks rank dead last by almost double (New England is 31st in NFL with 19).  If that weren't bad enough, the defense is giving up over 153 yard rushing per game (31st in the NFL). This defense is in rough shape, and while I certainly don't put these stats all on the defensive line, in a 4-3 scheme you've got to be better than that.
A standout in this group, however, is the rookie Maurice Hurst. Drafted in the 5th round, Hurst has been performed well above expectations. He's a bit undersized for an interior lineman, but what he lacks in size he makes up for with speed and hand movement.
Hurst uses his hands very well allowing him to disengage at a moments notice. And because of his speed he can run down the ball-carrier in instances where other lineman may be limited. A quick example of his ability to disengage comes here against Baltimore.
Hurst is taking on the right guard and moving to the right following the block. Using both hands, he almost gives the guard a swim move shoving him to the right while engaging the running back in the gap. It's a simple play, but not always easy to accomplish. And you can see the leverage he creates in the situation, as the guard is taken off-balance with Hurst's feet firmly planted and squared up with the backfield.
Here's a good example of his speed, which also shows his hand movement as well.
Hurst (#73) fires into the backfield, but over-pursues the play as David Johnson goes right up the middle past him. Hurst uses both his hands to chop the left guard and turn to chase down the back. AT this point Johnson has already cut inside with a couple yards of separation, but Hurst takes a great angle (almost a 180-degree turn) and is able to avoid what could've been a bigger run. Hurst has the hustle and athleticism to turn potential big plays into modest gains. Unfortunately for the Raiders, his playmaking seems to happen when the running back has already gained 4,5,6 yards etc. And with having some undersized linemen, these guys are relatively easy to gain a push on.
Linebackers
Jason Cabinda is the Mike, Marquel Lee the Sam, and Tahir Whitehead is the Will. This is their traditional setup, but Nicholas Morrow comes in in sub-package play. Whitehead takes over the mike in the nickel packages.
This unit doesn't have a standout outside of edge rusher Khalil Ma… oh wait, nevermind.
It's been tough sledding for this group, which is culpable for the team's struggles against the run, and also their 46% third-down completion percentage. Lee has solid size for prototypical linebacker (6'3" 240 lbs) and will be thrown in as the mike on occasion as well, usually in goal line situations. HE can play the run well, and is violent with his hands.
Whitehead is the best of the backers, with the speed to move laterally and make plays, while also exhibiting solid awareness. But they all struggle in coverage. This team runs a lot of zone to help mask some of these weaknesses, but beyond an initial chip to re-route, Whitehead and the rest of the unit don't offer a whole lot in this category.
Defensive Backs
Daryl Worley at RCB, Gareon Conley on the left side, Karl Joseph is the strong, and Marcus Gilchrist is the free safety. Nick Nelson is the nickel/hybrid defensive back. Rashaan Melvin will rotate in on the outside. Reggie Nelson will see plenty of time as the hybrid safety as well.
Worley has good speed and instincts, but can get thrown off balance on occasion. He is their most dangerous weapon in the secondary. Won't give up the 50/50 balls very often. Conley is a press-corner with good size. He can bump and run, shows great ball skills. The second-year pro is coming into his own, but is still working on his ability to jump routes and read the quarterback.
This group, particularly when running man, can be beat fairly easily for some big gains. This was especially evident last week.
Not to pick on Nelson here, but this team can be beat from the slot. In this play against Kansas City last week Nelson (#23) has a good 6 yards on the slot receiver pre-snap, and even turns his hips quickly in anticipation of the route, but as you can see he gets burned even with a beat on the receiver initially. It results in a pass interference call leading to a touchdown.
But it's not just Nelson, of course. They struggle mightily against tight ends (Travis Kelce burned them for 12 receptions, 168 yards and 2 touchdowns in week 13). Yikes! Look for Vance McDonald and/or Jesse James to have a big outing.