The standard is the standard.
Next man up.
Injuries won't be blamed.
Ask any Pittsburgher who is even remotely a Steelers fan and they'll know those are the most common Mike Tomlin phrases and sentiments. "Standard is the standard" is nearly as well-known in the Steel City as "Won't you be my neighbor?"
I know, it's a little hackey sounding but Tomlin has always meant it as head coach. He's shown just as much confidence in the next dude on the depth chart. At one point, Ramon Foster and Alejandro Villanueva had to be "next man up." Ditto Vince Williams, James Conner, and a dozen other names. That belief, that trust is very real, and to Tomlin's credit, has helped further a strong, tight-knit locker room.
That made comments during his Tuesday press conference all the more disappointing. For that moment, he seemed to turn back on all the mantras he's spoken.
Naturally, he was asked several questions about the objectively terrible matchups the Steelers' defense found itself in Sunday night. Too often, Keenan Allen matched up on a linebacker, including the final third down that pushed Los Angeles into field goal range to win as time expired. Repeatedly, Tomlin cited not having DBs Morgan Burnett and Cam Sutton as the reason for it, limiting flexibility and creating those hold-your-nose matchups.
"It was no secret we were without Morgan Burnett and Cam Sutton, two of our core interior sub-package defenders."
"You know, playing without Morgan Burnett and Cam Sutton really kind of limited us in some of those things, and I think as the game went on, he pushed [Allen] inside and took advantage of some of those opportunities. Such is life."
Wait, what?
Standard is the standard. Next man up. Such is life? 
One of these ain't like the other.
There's no getting around it. That's a poor explanation from Tomlin, using injuries as a figurative crutch and reason for why the team struggled. He's punting, admitting defeat and saying, yeah, they're gonna beat us. A defeatist attitude uncommon from a normally optimistic head coach.
Here's the other other problem with Tomlin's explanation. It's not really even all that accurate. For a couple reasons.
Burnett and Sutton are the Steelers' dime defenders. And of Keenan Allen's 15 catches Sunday (including the two point conversion), only twice did that come against the Steelers' dime defense. Neither of those came against a linebacker.
Even if Burnett or Sutton had been available, odds are, they wouldn't have been playing in those situations anyway. Sure, you can try to argue not having either of them caused the Steelers to play dime less than they normally would. If Marcus Allen, appearing in his first game, played say, four or five snaps, I'd agree with you. But he didn't. He saw 17 of them, about in-line for what you'll see Pittsburgh do on a typical week with their dime package. He was their next man up.
And there were moments where Keith Butler solved the issue of the Chargers moving Keenan Allen to the slot, aligned as the #3 receiver, by getting Marcus Allen on the field. Two examples of it from late in the second quarter. Steelers in dime. Joe Haden, in this first clip, travels with Allen across the field while Marcus Allen lines up on Antonio Gates.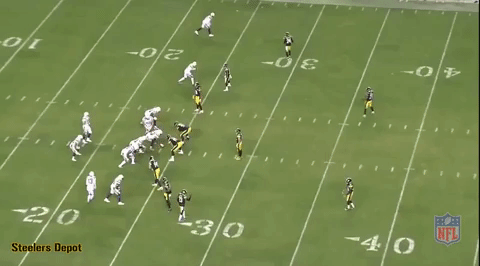 Allen on Gates again with Hilton taking Allen, the #2 receiver to the bottom, here, and Coty Sensabaugh over #3.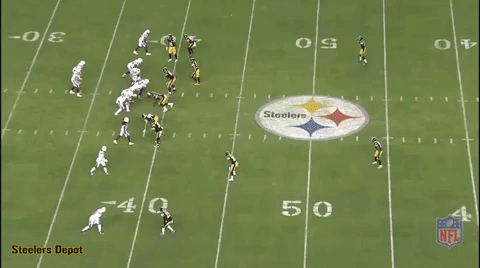 Both plays ended incomplete, though aided by defensive linemen batting passes down at the line. Still, on paper, it's an infinitely better solution than what the Steelers most often let happen, a linebacker on receiver. That's what this defense needed more of.
So if the Steelers wanted to go dime, they still could – and did. And if they didn't want to, if it was 1st and 10, then not having Burnett and Sutton is irrelevant. They wouldn't have been out there.
I'm sure there's some level of truth to what Tomlin is saying. The Steelers were more limited without those two and Allen was in his first game. There's ten different elements to this I'm sure I'm not considering because I'm on the outside; I didn't even know Sutton would sit until they announced inactives.
But to blame the injury bug? That's not who Tomlin is, what Tomlin does. The problems were still solvable even without those two. Keenan Allen wouldn't have been shut down if the Steelers properly adjusted – I get that. The secondary would've still had their hands full, no question about it.
If that's how you get beat, I can live with it.
I can't live with what the Steelers chose to do instead.
I can't live with the lame, sorry excuses.