Sunday night's 33-30 loss to the Los Angeles Chargers as time expired was a bad loss for the Pittsburgh Steelers, but there might not be a game where a handful of plays helped shape the game this season more than the Sunday night clash at Heinz Field.
Missed penalties, questionable penalties, and missed throws all factored into the loss, but 5 plays really stand out to me after this one.
Let's take a look.
Play 5 — 2nd & 4 at LAC 48 (11:40 – 3rd) J.Conner right tackle pushed ob at LAC 26 for 22 yards (J.Addae). PENALTY on PIT-R.Foster, Offensive Holding, 10 yards, enforced at LAC 48 – No Play
There are clear holds, and then there are ones like Ramon Foster's on James Conner's 22-yard run that don't even factor into the play, and really aren't even holds.
Foster's hold on the backside of the play wiped out Conner's 22-yard run, taking the ball back from the Los Angeles 26 yard line to the Chargers' 48 yard line, taking the Steelers well out of scoring position. Two plays later the Steelers punted the ball away, resulting in the Chargers driving down the field for their second score of the game, busting things wide open on Sunday night.
If that flag isn't thrown there (full stop: it shouldn't have been) the Steelers at the very least probably get a field goal on the drive, pushing the lead to 26-7.
Play 4 — 4th & 6 at LAC 30 (2:40 – 2nd) (Field Goal formation) C.Boswell 48 yard field goal is GOOD, Center-K.Canaday, Holder-J.Berry
This has more to do with the drive than the scoring play, but following LJ Fort's punt block on Donnie Jones that gave the Steelers possession at the Los Angeles 34, Pittsburgh went 3-and-out with Ben Roethlisberger missing Justin Hunter wide open in the end zone.
Conner then went off left tackle for 4 yards before Roethlisberger missed Vance McDonald near the sticks, resulting in the Steelers settling for Chris Boswell's 48-yard field goal that gave Pittsburgh a 16-7 lead.
The Steelers scored a third touchdown later in the half on a 28-yard strike from Roethlisberger to Antonio Brown that made it 23-7, but the Steelers missed an opportunity to step on the Chargers' throats by settling for a field goal after starting out in great field position following the punt block.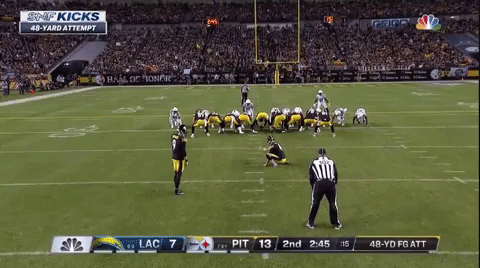 Play 3 — 3rd & 14 at PIT 35 (3:13 – 3rd) (Shotgun) P.Rivers pass deep right to M.Williams to PIT 17 for 18 yards (C.Sensabaugh, L.Fort) [S.Tuitt]
The Steelers appeared in position to get a stop and force the Chargers to settle for a field goal with the game knotted up at 23-23 late in the third quarter after a holding call Russell Okung.
Okung was called for holding after the Chargers converted a 3rd and 4, pushing them back into a 3rd and 14 from the Steelers' 35 yard line.
There was no settling by Los Angeles as Philip Rivers found Mike Williams in traffic for an 18-yard pickup, moving the chains. It was a perfect throw from Rivers to Williams in between three defenders.
Two plays later Keenan Allen caught a break on his touchdown, catching a deflected pass for the score after Sean Davis blew up Joe Haden's attempt at an interception in the end zone, giving the Chargers the lead.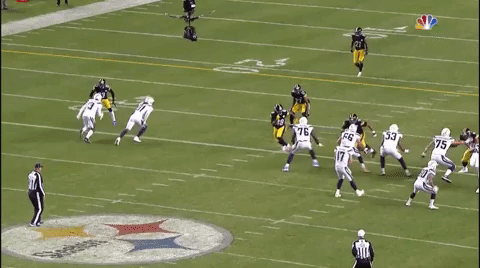 Play 2 —1st & 10 at PIT 46 (1:04 – 1st) Travis Benjamin Pass From Philip Rivers for 46 Yrds M.Badgley extra point is GOOD, Center-M.Windt, Holder-D.Jones
For the second time this season, the Chargers were the beneficiaries of a missed false start penalty, resulting in a Los Angeles touchdown.
On the road against Cleveland earlier in the season, Okung moved early but no flag was thrown. The play continued and Rivers found Tyrell Williams for a touchdown. An official was fired after that game due to the missed call, so we could see the same thing happen after this one, but the Chargers were gifted a touchdown on a play that should have been blown dead. This made it a 13-7 lead and got the Chargers back on track for a bit.
Play 1 —4th & 24 at PIT 16 (12:52 – 4th) Desmond King 73 Yrd Punt Return (Pass formation) TWO-POINT CONVERSION ATTEMPT. P.Rivers pass to K.Allen is complete. ATTEMPT SUCCEEDS
It seems like NFL officials throw a flag for a block in the back 75 percent of the time on punt returns in today's game, but the Chargers got away with one here as third-year safety Rayshawn Jenkins clearly blocks Brian Allen in the back, causing Allen to fall to the ground keeping him from making a play on Desmond King's 73-yard punt return for a touchdown.
Granted, the Steelers missed two tackles on this return as well, but the missed block in the back is massive. Instead of a 73-yard punt return for a touchdown, the Chargers are likely backed up inside their own 20 yard line down a score.