Today, we're checking out the one sack allowed by the Pittsburgh Steelers in their Week Nine victory over the Baltimore Ravens. It's a pretty simple one to figure out so we won't spend a ton of time on it.
1. 3rd and 11, 1:45 4th. 11 personnel. Five block vs four man rush.
This is the best sack I'll ever breakdown on here. The Steelers were looking to close out the win over Baltimore and I like the aggressive playcall by Randy Fichtner in an attempt to salt the game away. Given how strong they had been on 3rd down, 10/15 up to that point, it was the right decision.
But the Ravens have everything covered up really well. No one open for Ben Roethlisberger. You could argue he can hit Vance McDonald in the right flat but that's a hospital ball with the safety having eyes on him and McDonald no ability to protect himself. A throw not worth making.
The sack ends up going to Matthew Judon, who ended up dropping out on the play after reading his pass key. So the offensive line didn't end up accounting for him. Right tackle Matt Feiler went to look for work inside instead and you can't fault him for that.
Roethlisberger has plenty of time but the Ravens' coverage plasters well. Throwing the ball away is a bad decision since it'll stop the clock, totally changing how Baltimore could approach the final drive. Monster difference between having 1:35 left versus :44 seconds, the latter of which happened following Jordan Berry's punt.
So he does the only play he has. Give up. Take the sack, go down, and let the clock roll. Field position suffers a bit but the sack is still inarguably worth it. After the game, Roethlisberger (joked?) it was the first time he's ever given up on a play.
The sack will go to coverage for the job they did. I'm not penalizing any Steeler for making the correct play here.
Blame: Defensive Coverage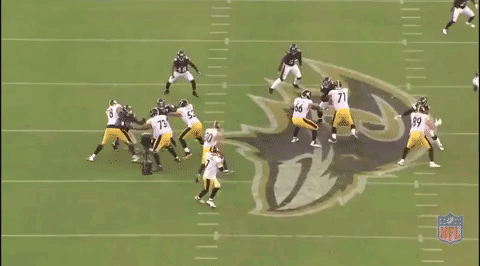 Sack Breakdown (Game)
Coverage: 1
Sack Breakdown (Season)
Alejandro Villanueva: 3
Marcus Gilbert: 2
Coverage: 1.5
James Conner: 1
Ramon Foster: 1
Maurkice Pouncey: 1
Matt Feiler: 1
Ben Roethlisberger: .5
Penalty Counter (Game)
Alejandro Villanueva: 1
Penalty Counter (Season)
Alejandro Villanueva: 4
Marcus Gilbert: 2
Maurkice Pouncey: 2
David DeCastro: 1
Ramon Foster: 1