It's becoming pretty apparently quickly that when the Pittsburgh Steelers tackle well defensively, they're going to hold opposing defenses in check, which in turns usually leads to a win.
That formula played out again on Sunday at M&T Bank Stadium in Baltimore as the Steelers matched a season low in missed tackles, resulting in Pittsburgh holding the Baltimore Ravens to just 268 total yards on nine drives (29.77 yards per drive).
Now that the game is in the review mirror, let's take a look at the missed tackles report from Week 9 at Baltimore.
Total missed tackles at Ravens — 7
LJ Fort – 2
Bud Dupree – 1
Coty Sensabaugh – 1
Sean Davis – 1
TJ Watt – 1
Jordan Dangerfield – 1 (special teams)
Total missed tackles through 9 weeks  (8 games) — 84 (10.5 misses per game)
Joe Haden – 9
Terrell Edmunds – 9 (three on special teams)
Sean Davis – 8
TJ Watt – 8
Vince Williams – 7
Mike Hilton — 6 (one on special teams)
Stephon Tuitt — 4
Cam Sutton – 4 (one on special teams)
Bud Dupree – 4 (one on sack attempt)
Coty Sensabaugh – 4
Artie Burns — 3
Anthony Chickillo – 3 (one on special teams)
LJ Fort – 3
Jon Bostic – 2
Cam Heyward – 2
Tyson Alualu – 2
Tyler Matakevich – 2
Jordan Dangerfield – 2 (one on special teams)
Roosevelt Nix — 1 (special teams)
Nat Berhe – 1
If you've been following along all season long, you'll notice that the Steelers' average misses per game as a team is steadily dropping week-to-week, meaning they're improving in the tackling department.
Sunday's rivalry matchup in Baltimore was yet another example of that as the Steelers matched a season best for missed tackles in the 23-16 win, tying their Week 5 win at home against the Atlanta Falcons.
Against the Ravens, LJ Fort missed a team-high two tackles while seeing the field quite a bit in dime once again. Neither miss was egregious, but he needs to clean up the two misses in the open field if he wants to continue seeing the field so much in sub package. He's a very good player for the Steelers in sub package, and I have no doubt that he'll improve in that area.
Sean Davis missed his first tackle in a few weeks, which happened to come in one of his best games to date. For Davis to miss just one tackle in 10 tries is remarkable. He's really improved from last year to this year in the tackling department, and is becoming a steady presence at free safety for Pittsburgh.
TJ Watt's missed tackle is a cheap one, as it came on Willie Snead IV on the Ravens' last-second jamboree, where they threw the ball all over the field.  It's hard to get on him for that one.
Aside from that, Sunday was a strong performance for the Steelers in the tackling department. Let's take a look at the top two misses from Sunday's matchup.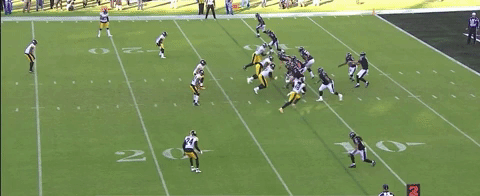 This came on the final play of the third quarter with the Ravens facing a 2nd and 27 deep in their own territory.
Looking to get the ball into the hands of a playmaker in space, Joe Flacco dumps this ball off to Javorius Allen just past the line of scrimmage. Fort and Cam Heyward are there to help make the play, but Heyward is engaged with a lineman, forcing Fort to try and make the play.
It's a tough one for Fort because he has to dip around Heyward and the Ravens offensive lineman to make it, but it's one he should make in space. He's obviously upset with himself for missing in space, allowing Allen to gain a couple of extra yards, but the Steelers defense did a nice job of rallying to the football, holding Allen to a short gain.
Ironically, on the very next play to start the fourth quarter, Davis records his lone miss of the game.
Facing a 3rd and long deep in their own territory, the Ravens have Flacco just get the ball out quickly in the middle of the field to see if the receiver can force a miss and pick up the first down.
Snead IV does his job of securing the football and forcing a miss on Davis, who comes in too high and a bit out of control, allowing Snead IV to slip out of his grasp. Much like the Fort miss though, the Steelers have bodies around the football, allowing them to get Snead IV on the ground before he can break anything big.
Outside of these two misses in the open field, the one standout tackle in space was Mike Hilton on Lamar Jackson in the second quarter that saw Hilton drop the rookie quarterback for a 2-yard loss on 3rd and Goal, forcing the Ravens to settle for a field goal. Baltimore tried to get Jackson in space on the read-option, but Hilton and two other Steelers defenders played it perfectly, stringing Jackson out towards the sideline before Hilton wrapped him up around the leg for the loss.
Offensively, the Steelers forced 10 missed tackles by the Ravens, meaning Pittsburgh went +3 in that department in the win.
Forced missed tackles at Ravens – 10
James Conner – 6
Antonio Brown  – 2
Ryan Switzer – 2
Total forced misses through 9 weeks (8 games) – 94 (11.75 forced misses per game)
James Conner — 52
Antonio Brown — 13
Ryan Switzer — 12
Vance McDonald — 8
Ben Roethlisberger — 3
Stevan Ridley — 3
JuJu Smith-Schuster — 1
James Washington — 1
Xavier Grimble  — 1
James Conner forced 6 total misses on the day, continuing a strong stretch of play where he's giving defenses fits when it comes to getting him on the ground. This run in the second quarter was one of his best runs on the day, and it came with him making a number of Ravens miss.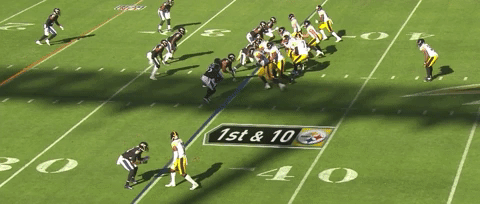 Guys were just grasping at air with Conner in space before he ran over a defender at the end of the run for good measure. He's not only transformed his body coming out of college, but also his running style. Sounds a lot like another recent Steelers running back, no?
Aside from Conner's magic, Antonio Brown made two defenders miss in a phone booth on his touchdown catch to put the Steelers up 14-3 on the Ravens.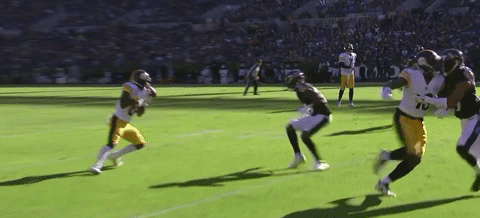 Look at the hesitation as he catches the ball, and then the lightning-quick explosion outside, leaving Tavon Young and Marlon Humphrey grasping at air along the right sideline.
Just watch that again in all its beauty.