Well, the Pittsburgh Steelers sure are making this one easy for me. We're taking a look at the lone sack allowed in Thursday's blowout win over the Carolina Panthers.
1. 1st and 10, 11:18 2nd. 10 personnel. Six block vs four rush.
Steelers use a four receiver set and go empty while the Panthers mug Luke Kuechly into the A gap. Steelers go man protection, putting Vance McDonald in an unfavorable matchup on their best pass rusher, RDE Mario Addison, while Matt Feiler is out on an island against future Hall of Famer Julius Peppers.
Peppers gets the pressure and sack here. One of those crafty veteran plays. Establish contact first and then quickly rip under and through Feiler, working him over like it's nothing.
Feiler's hands are a little low, his punch late, and he never establishes contact. Loses the battle immediately. Peppers rounds the corner and takes Ben Roethlisberger down for a six yard loss. Steelers have to settle for a field goal, one of the few times Carolina managed a stop Thursday.
Though not part of the sack, you can see McDonald getting trucked by Addison. So even if Feiler would've blocked up Peppers, Addison would've gotten home a moment later.
Obviously, a terrible matchup but sometimes that's how the protection goes. Without a running back in the backfield, the offensive line has to account for the possibility of Kuechly blitzing. That's why McDonald was pitted on Addison. I'm surprised though he wasn't aligned in the backfield, they've done that several times before in four receiver sets, but maybe the Panthers' alignment here couldn't allow that to happen.
If you're wondering, there wasn't anything available for Roethlisberger downfield anyway. Panthers playing man coverage, nothing available short or deep.
So we're putting the blame on Feiler. Pretty clear here. Still, hard to complain when your QB has only been taken down four times over the last six weeks. Life is good.
Blame: Matt Feiler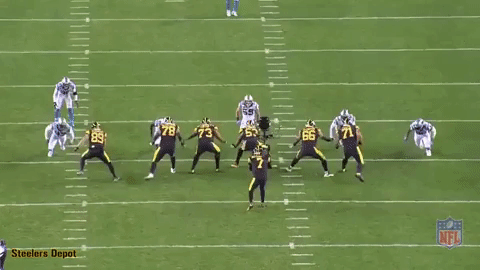 Sack Breakdown (Game)
Matt Feiler: 1
Sack Breakdown (Season)
Alejandro Villanueva: 3
Matt Feiler: 2
Marcus Gilbert: 2
Coverage: 1.5
James Conner: 1
Ramon Foster: 1
Maurkice Pouncey: 1
Ben Roethlisberger: .5
Penalty Counter (Game)
None.
Penalty Counter (Season)
Alejandro Villanueva: 4
Marcus Gilbert: 2
Maurkice Pouncey: 2
David DeCastro: 1
Ramon Foster: 1