Little more difficult of a sack breakdown this week. We're taking a look at the two allowed Sunday by the Pittsburgh Steelers against the Jacksonville Jaguars.
1. 13:37 4th. 3rd and 7. 11 personnel, four man rush vs five blocking + RB check/release.
Gotta admit, this one is tough. Lot felt like it went wrong on this sack. Jacksonville lines up in an overload front, three defensive linemen to the left of Maurkice Pouncey. That tells you there's almost certainly some sort of blitz and stunt coming.
The nose tackle loops around to become contain to the opposite side while the LDE crashes inside of Matt Feiler. You get a TEX stunt to the left, the tackle going first followed by the RDE behind.
In result, both tackles end up allowing pressure here. They get bull rushed and knocked back before losing the block. One key in stunt pickup are linemen staying on the same level. If you're not, it creates gaps for defenders to squeeze through. And that's what happens. Ramon Foster and Alejandro Villanueva aren't on the same level. Same with Feiler and David DeCastro.
Feiler's side initially allows the pressure, forcing Ben off his spot, the looping end keeps Roethlisberger in the pocket, before Villanueva's guy, Calais Campbell, cleans things up. Villanueva get off the same level on Campbell's bull rush.
So yeah. Lot going on here. Who is to blame? The only two linemen I can say with confidence I wouldn't put this on is Ramon Foster and Maurkice Pouncey. Foster does his job and while Pouncey didn't do a great job, he did enough.
DeCastro is a tough one to figure out without knowing the protection scheme. He knows pre-snap something is coming, totally uncovered to his side. So off the snap, he's looking for work. Should he have helped Pouncey like he did, pinching inside? Or should he have given more immediate help to Feiler, which would've prevented the crasher from getting initial pressure. If it's the latter, then Feiler would be expecting help, and that's perhaps one reason why he "lost" so easily.
Ultimately, I'll put half on each of the tackles. Villanueva definitely gets some of the blame for getting knocked back on the bull rush with his guy getting the sack. Feiler's situation is trickier but that's a tough spot for DeCastro. The crasher aligned wide and didn't dart inside initially and when DeCastro saw the looper, he did try to give help.
Blame: Half on Villanueva, half on Feiler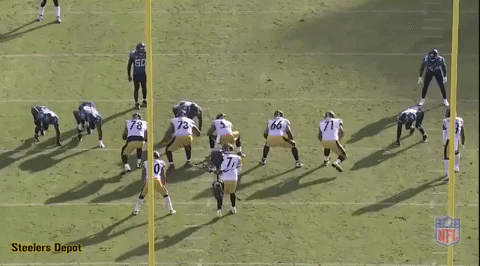 2. 8:29 4th. 2nd and 10. 10 personnel, four man rush vs five blocking.
This one is slightly easier to talk about what happened, though the blame is a little murky. Steelers are running a bubble screen to the top with a curl/flat concept to the bottom. The Steelers always have multiple options built into their screen passes. Roethilsberger wants to the flat but it's taken away. So is the bubble at the top.
So when both sides aren't available, you have the OL cut blocking (like Villanueva) and DeCastro releasing out for an anticipated throw. That leaves Feiler with no help inside and Yannick Ngakoue spins to beat him and sack Roethlisberger.
Tough spot for Feiler. He is trying to punch the end upfield to shove him up the arc and normally, that'd buy enough time for the screen to work. But ends are beginning to counter it when they feel a screen is coming. The same happened on Roethlisberger's INT against the Browns in Week 8.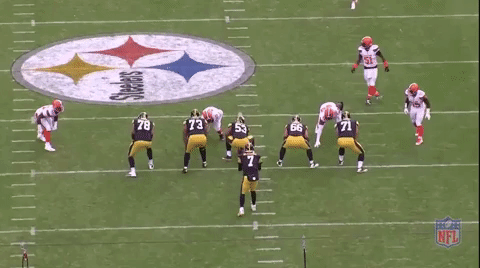 Normally, that'd be manageable because the ball is out of Ben's hand. It's a screen. But when the screen fails, as it does here, odds are high something bad will happen.
Good coverage by Jacksonville but I'll put half the blame on Feiler. Maybe they have to change his set for those screen plays. Maybe jump or vertical set on those plays, I dunno.
Blame: Half on Coverage, half on Feiler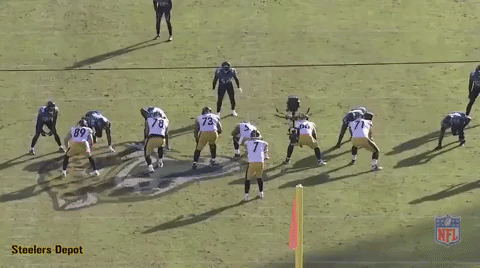 Sack Breakdown (Game)
Matt Feiler: 1
Alejandro Villanueva: .5
Coverage: .5
Sack Breakdown (Season)
Alejandro Villanueva: 3.5
Matt Feiler: 3
Marcus Gilbert: 2
Coverage: 2
James Conner: 1
Ramon Foster: 1
Maurkice Pouncey: 1
Ben Roethlisberger: .5
Penalty Counter (Game)
David DeCastro: 1
Penalty Counter (Season)
Alejandro Villanueva: 4
Marcus Gilbert: 2
Maurkice Pouncey: 2
David DeCastro: 2
Ramon Foster: 1