It certainly wasn't pretty, but a win is a win, and the Pittsburgh Steelers emerged with an important, come-from-behind 20-16 win Sunday afternoon at TIAA Bank Stadium over the Jacksonville Jaguars, exacting some revenge from the two losses suffered at the hands of the Jaguars last season.
The Steelers' offense was mostly a disaster for nearly three full quarters before waking up in the fourth quarter, while the defense got off to a slow start before buckling down big-time in the second half, sparking the comeback win.
One week after posting the best tackling performance I've tracked in four years with the site, the Steelers turned right around and put up a dreadful performance against the smashmouth Jaguars.
Let's take a look.
Total missed tackles at Jaguars — 12
Sean Davis – 3 (one on special teams)
Daniel McCullers – 2
LJ Fort – 2
Jon Bostic – 1
Javon Hargrave – 1 (sack attempt)
TJ Watt – 1
Tyler Matakevich – 1 (special teams)
Roosevelt Nix – 1 (special teams)
Total missed tackles through 11 weeks  (10 games) — 98 (9.8 misses per game)
Sean Davis – 11 (one on special teams)
TJ Watt – 10
Joe Haden – 9
Terrell Edmunds – 9 (three on special teams)
Vince Williams – 7
Mike Hilton — 6 (one on special teams)
Bud Dupree – 5 (two on sack attempts)
LJ Fort – 5
Stephon Tuitt — 4
Cam Sutton – 4 (one on special teams)
Coty Sensabaugh – 4
Artie Burns — 3
Anthony Chickillo – 3 (one on special teams)
Jon Bostic – 3
Tyler Matakevich – 3 (one on special teams)
Roosevelt Nix – 2 (both on special teams)
Cam Heyward – 2
Tyson Alualu – 2
Jordan Dangerfield – 2 (one on special teams)
Daniel McCullers – 2
Nat Berhe – 1
Javon Hargrave – 1
We have a new leader in the clubhouse after 10 games. Welcome back to the top of the list, Sean Davis. It's a real shame too, because Davis has been playing some terrific football as of late. He had a rough game against Jacksonville in the tackling department though, struggling to line up Leonard Fournette in space when coming downhill against the run.
TJ Watt moves into second place on the list despite continuing to be a real factor as a pass rusher. He's playing great against the run, but is usually good for one missed tackle a game. He cleans that up and he could start to be pushed into the elite category on the Steelers' defense.
Aside from Davis and Watt, LJ Fort missed another two tackles for the second week in a row, which correlates with him receiving an uptick in snaps. Daniel McCullers also missed his first two tackles of the season during a game in which he was really strong against the run.
Javon Hargrave also missed his first tackle of the season. It came on a play in which he should have had his third sack of the game. Instead, Blake Bortles was able to spin out of Hargrave's path before scrambling for a key first down in the second half.
Let's take a look at some of the most egregious misses from Sunday's game. Sorry in advance, Sean.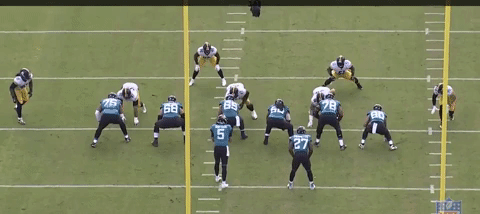 With the Jaguars up against their own goal line, Jacksonville turned to Fournette to create some breathing room.
The second-year running back does a nice job of being patient here running out of shotgun, allowing his linemen to open up a cutback lane to his right. Once he sees it and cuts back, Fournette gets to the second level where he sees Davis coming downhill.
Watch Davis' legs closely. As he closes downhill, his legs become too close together, throwing him off-center against a power back. Once he tries to recover, Fournette hits him with the spin move, causing Davis to grasp at air.
Fortunately for the Steelers, Vince Williams does a great job of backtracking to clean up the play, holding Fournette to a gain of 11 yards. This set-up by Fournette on Davis came into play in the second half as well.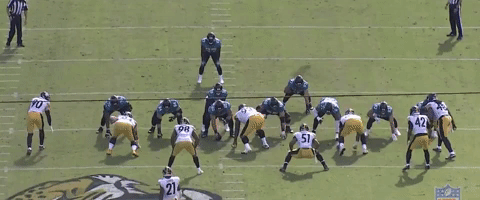 Once again, Fournette does a nice job of being patient, letting his linemen get on their blocks, opening a hole into the second level for the powerful back. Once Fournette gets moving downhill like this he's very tough to stop.
Watch Davis here again. He comes flying up out of control once again and whiffs badly, allowing Fournette to glide right through his arm tackle attempt in space. We haven't seen this from Davis since last season, so it was very frustrating to watch him return to this style of tackling in a game of this magnitude against a physical football team.
The final clip I've highlighted comes on Dede Westbrook's 25-yard punt return on Sunday, which shows him forcing two misses against the Steelers.
Roosevelt Nix is the first miss. The veteran fullback takes a sloppy angle and realizes it too late, resulting in a fly-by arm tackle attempt that Westbrook easily steps through. Then, Westbrook sets up Davis for his third miss of the game.
Look at Davis' attempt. His head is down so he clearly can't see what he's trying to hit, and he doesn't wrap his arms at all. Again, we haven't seen this poor of tackling from Davis since at least the midpoint of last season. Hopefully this game was just an aberration in this department, because he's been so darn good this season at free safety with his tackling.
Offensively, the Steelers forced just four misses, meaning they turned in an -8 performance in the tackling department. Seeing that number, as well as the time of possession deficit, it's truly incredibly that they won this game.
Total forced misses at Jaguars — 4
James Conner – 2
Antonio Brown – 1
Ryan Switzer – 1
Total forced misses through 11 weeks (10 games) –  111 (11.1 forced misses per game)
James Conner — 59
Antonio Brown — 15
Ryan Switzer — 14
Vance McDonald — 10
Stevan Ridley – 4
Ben Roethlisberger — 3
JuJu Smith-Schuster — 1
James Washington — 1
Xavier Grimble  — 1
Jaylen Samuels – 1
Jesse James – 1
Conner had a rough day on Sunday against a fast, physical Jaguars defense. But this 7-yard run was a thing of beauty from the second-year running back. He forced both his misses on this one run, picking up a first down in the process.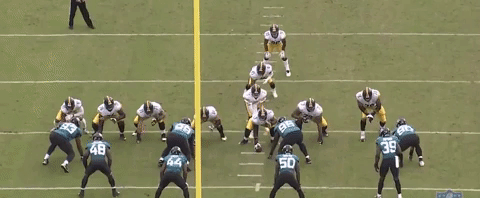 He forces a miss on Marcell Dareus in the hole, and then runs through an arm tackle attempt from Tashaun Gipson, before then barreling forward through two more defenders for the first down.
Based off of the mood on social media (mainly Twitter) a portion of the fan base is losing some faith in Conner after his struggles in Week 11. He's still a high-level running back in this league despite the drops on Sunday. Don't lose faith.
Antonio Brown's forced miss came on his 78-yard catch and run for a score. He was able to avoid Jalen Ramsey near the goal line for the forced miss. Ryan Switzer's forced miss came on his first punt return of the afternoon. Ten of Switzer's 14 forced misses have come on punt returns. What an investment that was by Kevin Colbert.