A good offensive line are like your bodyguards. They're job is to not let you, the quarterback, get touched. And if someone tries to rough you up, you take them down.
That was the message sent to Carolina Panthers' safety Eric Reid after nailing a sliding Ben Roethlisberger in the helmet late in the third quarter Thursday evening. Reid was ejected for the hit but before the refs could get him out there, Maurkice Pouncey and David DeCastro let him know about it.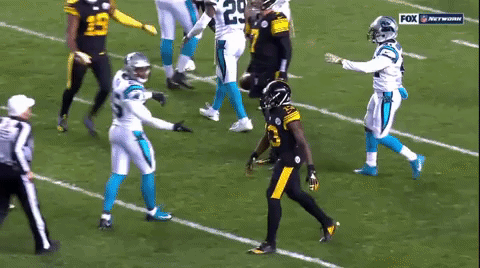 DeCastro was the first player to race over and get in Reid's grill. Pouncey soon followed, facewashing him and pushing him out. Refs and teammates separated everyone but DeCastro was still heated, jawing back at Reid as they got back together and started another dustup, though this one was quickly diffused.
After the game, per the Trib's Joe Rutter, DeCastro compared his job to being that of an NHL enforcer: defend your superstar.
These types of moments aren't rare around the league but it shows the tight knit relationship Roethlisberger has with his offensive line. Experience sure helps; Matt Feiler aside, the other four starting o-linemen last night have been protecting him for years.
And clearly, this is a unit taking a ton of pride in keeping their quarterback upright and healthy. Roethlisberger has been sacked just four times over the last six games. Two of those have come in the final two minutes; a mostly irrelevant sack allowed in the waning moments of the Ravens loss and then Roethlisberger's self-admitted "give up" play to burn clock last Sunday.
They already had to hold their breath after Big Ben literally lost his during a scramble against the Ravens. And they weren't going to tolerate that shot from Reid, which even if you grant as accidental, was still a nasty shot worthy of an ejection under the NFL's new rules. Reid, to his credit, apologized for the hit afterwards.
I don't think you'd find two players doing a better job at their position than David DeCastro and Maurkice Pouncey. Don't think you'd find two better teammates, either.