As we have been for several years now, we'll break down the Pittsburgh Steelers' opponent each week, telling you what to expect from a scheme and individual standpoint. Like last year, Dan Vasko and I will cover the opposing team's defense. I will focus on scheme, Dan on the players.
Today, we're checking out the Carolina Panthers' defense.
Alex's Scheme Report
Panthers Run Defense
The run defense has been average to a little above. They're ranked 15th in YPC, giving up 4.3 per attempt and again, average to above average in explosive runs allowed. Tied eighth in gains of 10+, tied 13 in 20+.
Carolina runs a 4-3 front and like any even defense, there are a lot of names to highlight up front. Eight defensive linemen have played at least 120 snaps this year while a 9th has logged 75. The Steelers, obviously different because of the scheme, have only six defensive linemen on their entire 53 man roster.
Starting up front should be Kawann Short as the three tech and Dontari Poe as the big nose tackle aligned between center and guard. Although Poe is a solid 350 pounds, he's a quality athlete and can beat you one-on-one with something other than power. So don't take him lightly. Vernon Butler and Kyle Love are wide bodies who rotate inside and have some sneaky athleticism to their name, too.
At end sits Julius Peppers, still going strong, while their best pass rusher Mario Addison is at RDE. Their ends do rotate a bit less than their interior guys but look for Wes Horton and Efe Obada to wiggle their way in. Obada is a super interesting story. He never went to college, growing up in London and playing American Football there before breaking into the NFL in 2015. Last year, he was part of the league's International Player Program, spending the season on the practice squad, just as Christian Scotland-Williamson is for the Steelers this year. Now, he's making a true impact.
Watch out for this unit looking to shoot gaps and disrupt the backfield, especially when guards start pulling (as the Steelers like to do). Kyle Love blows up this runs in the backfield, forcing a fumble the Panthers recover in their win over Baltimore.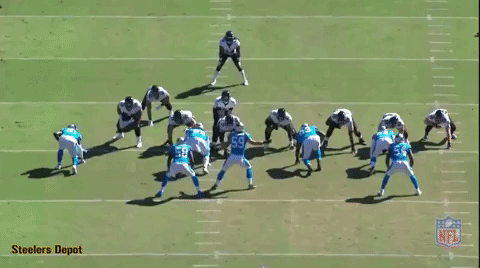 Linebacker includes some household names. Luke Kuechly is a stud upfront alongside veteran Thomas Davis, still going strong at age 35 and his 14th season. Kuechly is the MIKE, Davis the WILL, and Shaq Thompson works as the SAM. Kuechly and Davis are most common two in sub-package but I've seen Thompson replace Davis on third downs/two minute offense. Kuechly is an every down player.
Couple other stats for you. They're tied for 12th in points per game (22.5), another top ten third down defense like the Steelers keep on facing (36.3% – 8th) but their red zone defense is shockingly bad. Only the Tampa Bay Buccaneers are worse, the Panthers allowing a TD 80% of the time. The Steelers, as you probably know, are 2nd in red zone offense. So they gotta capitalize here.
Panthers Pass Defense
It's a young but aggressive, ball-hawking type of secondary making plays without an extreme amount of pressure. This group has 11 interceptions, tied for the 4th most, with rookie Donte Jackson not just leading all rookies with four interceptions but is tied for the league lead.
The pass defense has wholly been good, though not great. 10th in YPA allowed (7.2), but 21st in completion percentage (65.4%) which suggests they're allowing a lot of throws underneath. They're mostly keeping a lid on things, allowing only three completions of 40+ yards, tied for the 6th best figure.
The Panthers' pass rush has produced 21 sacks this season, a little below average. Addison is the only player on the team with more than than two of them, notching 7.5 on the season, ranking in the top ten league wide. Four of their sacks are coming from the linebackers, Kuechly and Thompson each recording a pair.
At cornerback, Jackson and James Bradberry are the starting outside corners. Captain Munnerlynn (#41) slides into the nickel. Mike Adams and Eric Reid, signed a few weeks ago and already making an impact.
Get a lot of man coverage from this Panthers team and it seems to be their default check against empty. Several examples.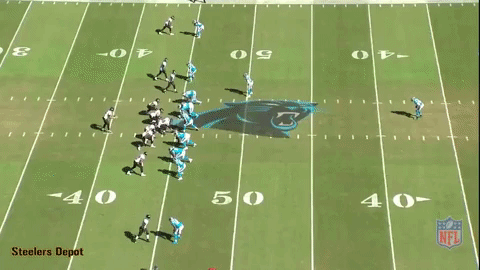 So if I'm the Steelers, I'm spreading things out and using crossing concepts to create space and win over the short/intermediate middle.
Carolina also seems to play some variation of "cone" coverage, something we don't talk about much on here. It's a version of pattern matching where a corner passes off an inside crossing route to a safety to negate losing leverage. The first clip is a really good example of that. The second isn't quite as clean but appears to be some sort of combination coverage, with the solo "X" receiver locked at the top and #3 at the bottom getting passed off to the LB.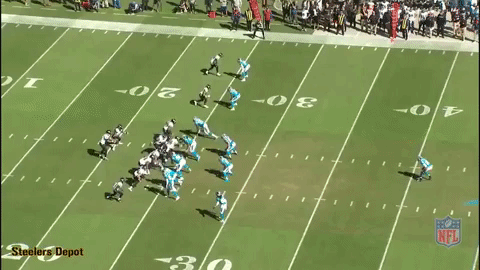 Despite a 4-3 front, the Panthers do blitz a surprising amount of time. It comes in a variety of fashions but sometimes, they'll tip their hand with pre-snap alignment. Check out this overload look, three DL on one side of the center, with a predictable stunt that loops to the opposite A gap.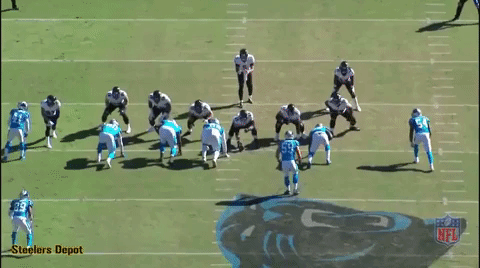 Although he doesn't have a sack this season, they like to put Thomas Davis on the edge quite a bit, similar to what the Steelers will do with Vince Williams. That essentially creates a five man front and can mess with protection schemes.
Dan's Individual Report
Defensive Line
Defensive Ends Mario Addison (RDE) and Julius Peppers (LDE). Defensive tackles Dontari Poe and Kawann Short. Defensive end Wes Horton will rotate in largely as the left end.
It's amazing how dominant Peppers remains even in his 17th season. He's extremely long, powerful, and still very athletic Great at setting the edge, and excels in all phases of the game. Very smart, and fundamentally sound. That's what's gotten him to this point.
At nearly 350 pounds, Poe is an unmovable force. He's great at plugging the gap, and was dominant as a nose for quite some time. Short is a great complement to Poe. Still very strong, but much more agile, and solid pass rusher. The two make a good tandem on the interior.
In his 8th NFL season Addison is playing some of the best football of his career, and with 7.5 sacks already, is on pace to break his career-high (11). Three of those sacks came against Tampa last week, but he's been a consistent disruption throughout the season. One of his greatest assets is his ability to avoid having two hands on him. Check out this progression against Washington.
On two separate occasions, Addison extends his left hand into the tackle's shoulder giving himself just enough room to find a lane. After the second extension, Addison fires inside and comes up with the sack.
He is very good at diagnosing the play and then attacking. He doesn't burst into the backfield like some other elite pass-rushers, but he's very efficient with how he utilizes a pass rush.
Linebackers
Luke Kuechly is the MIKE, Thomas Davis Sr. the WILL, and Shaq Thompson is the SAM.
This is a top-five linebacker unit in the league. Davis is still performing at a high level, and Thompson is increasingly demanding attention. Davis provides the stability in the run-game, while Thompson is a great utility linebacker. A former collegiate running back/safety/OLB/ILB, he's one of the more versatile guys on this team. Thompson has already matched career-high's in tackles and sacks only midway through his fourth season. It's all coming together at the right time.
Kuechly is simply the best sideline to sideline tackler in the NFL. He's too fast for blockers to square him up in the second level; he's too powerful to disrupt his timing, and he's too athletic to fake-out. All three of these are exemplified in this play against the Bucs last week.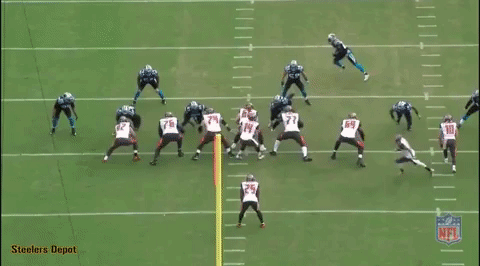 Can't get much better than that. Kuechly remains gap disciplined at the start, not over-pursuing to the edge. Once he notices the play action, he keys on the running back into the flat. The left guard pulls, and chips the defensive tackle before engaging Kuechly in the second level. Kuechly extends his arms going high pad level while backstepping just a yard or two to run around the block while maintaining his angle. There aren't too many linebackers that can make that play look so fluid. He doesn't get taken out of rhythm even if he has to adjust slightly. Then the running back appears to cut inside, but Kuechly doesn't bite on that either, chops his feet and then pursues to the ball forcing the running back out of bounds. Incredible discipline and athleticism make for an incredible force.
Defensive Backs
Outside cornerbacks James Bradberry (LCB) and Donte Jackson (RCB) along with free safety Mike Adams, and strong safety Eric Reid. Captain Munnerlyn will take over slot/nickel duties.
Bradberry has exceptional size for an outside cornerback. At 6'1", 211 lbs, Bradberry is tough to get around. He's very good in press, and can re-route easily. That being said he can be beat in transition and there may be some opportunities on that side deep down the field. Jackson, a former track star, has phenomenal speed and won't get beat deep too often. On top of that he has great ball skills and can line up in the slot as well.
Reid has been dealing with a shoulder injury and was limited Wednesday. He'll likely be a gametime decision. If he's not available Colin Jones will take over.
Reid is an extremely talented safety, and I'm quite surprised nobody picked him up until several games into the season. But the Panthers got a good one. He's very opportunistic, as is the Carolina defense, great ball skills and superb in the run game. He'll crowd the box often, and doesn't shy away from taking on offensive linemen. Take this play versus Baltimore.
Reid here is lined up on the line of scrimmage just over the tight end. He reads the stretch right almost instantly and crashes inside moving with the line.
Reid leaves his entire left side free to rotate into the backfield while shredding the attempted block. And after he traps the running back, he's able to reverse momentum and attack the ball for a big loss.
Great play recognition and urgency allows Reid to properly assess the play and act quickly resulting in a blown up play and loss in the backfield.
Great all-around defense. No glaring weakness in terms of individual performances. They all work well together within the system and it's a good mix of guys to complement each other nicely. The good news for Pittsburgh is that they've been battle-tested thus far with some great defenses.