As we have been for several years now, we'll break down the Pittsburgh Steelers' opponent each week, telling you what to expect from a scheme and individual standpoint. Like last year, Josh Carney and I will cover the opposing team's offense. I will focus on scheme, Josh on the players.
Today, a breakdown of the Carolina Panthers' explosive offense.
Alex's Scheme Report
Panthers' Run Game
An attack led by Christian McCaffrey, taking over a workhorse role this year. Few in the league plays as much as he does. His 500 total snaps rank second only trailing Todd Gurley where he's far and away the highest snap percentage back in the league, playing 96% (!!!) of the time. No other back is even in the 90's. So you're going to see him early and often.
He's averaging a healthy 4.6 YPC despite only recording two runs of 20+ yards, meaning he's consistently ripping off healthy gains. But he's just one part of a larger run game. The Panthers are tied for the league lead at 5.2 YPC. Cam Newton is heavily involved with four rushing touchdowns. So look out for him in the red zone.
Still, even more guys are getting involved. Carolina has only eight runs longer than 20+ yards, it's coming from six different players. I'm guessing they're the only team to do that. The Steelers, by comparison, have just one (James Conner, obviously). Point is, they're getting big plays in the run game from a lot of sources. Receivers are involved, playmakers like D.J. Moore and Curtis Samuel, and in total, wideouts have carried the ball 11 times with consistent success.
Here's how the offensive line should look.
LT: Chris Clark
LG: Greg Van Roten
C: Ryan Kalil (listed as questionable, didn't practice this week)
RG: Trai Turner
RT: Taylor Moton
Turner is one of the NFL's top guards, violent but athletic while the rest of their group, even though far from household names, have held their own. Van Roten has been a nice surprise.
The run scheme is pretty varied. They like to get the ball out on the perimeter with their pin/pull scheme, down blocking on the front side and getting their big boys up front to cut and knock down the secondary.
They'll use a Pony backfield with McCaffrey and backup C.J. Anderson. Sometimes they'll both be in the backfield, sometimes McCaffrey gets to split out. In the latter, that keeps your defense in base and ensures he's matched on a linebacker.
And of course, their receivers get involved too, like I said earlier. Sometimes that's a reverse, more often an end around.
But they can just as easily fake those handoffs and jets to "block" defenders without actually touching him. Like here. Fake the jet, the end is held by that action, and the line can leave him alone. You're going to get a ton of pre-snap motion and window dressing against this group. Hard enough to defend as it is, even tougher on a short week. Yes, both teams have to deal with it, but the Steelers don't do this kind of stuff. Watch the unblocked LDE here.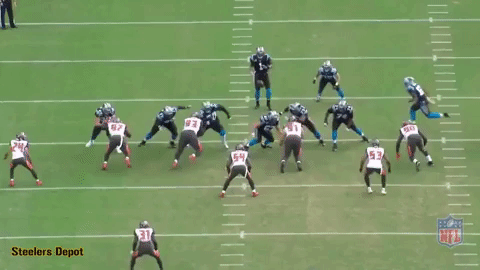 The Panthers are 3rd in runs of 10+ yards and tied 10th for 20+. It's made them an effective red zone group, ranking 5th and just a few percentage points behind the Steelers. Which defense will come up big in situation football?
Panthers' Pass Game
You know Cam Newton is good. I mean, duh. But he's been even more effective and efficient this season. His completion percentage sits at 67.3%, obliterating his previous high of 61.7% and 2017's mark of 59.1. He's been sacked just 12 times after being taken down 35 last year. Thrown only four picks too, on pace for a career low.
The offense ranks just outside the top ten at a little over 27 points per game although they're hitting their stride right now, putting up 36 and 42 the last two weeks. Two other quick stats to throw at you. Carolina is winning the turnover battle at +8, that's 4th in the league, but they're third down offense is decidedly average, ranked just 15th.
The passing game hasn't been as explosive as the run game. 25th in passes of 20+ yards and they're tied dead last in 40+ yard completions with just one.
McCaffrey is still the main cog here too. Leads the team in receptions and targets. As far as true receivers go, Devin Funchess has taken over as the #1 guy and jump ball threat. Rookie D.J. Moore is doing his damage after the catch. Averaging 15.6 per reception but 55.5% of his yards are coming after the catch.
Greg Olsen has also returned from injury and is his usual, steady self.
One of the Panthers' favorite concepts are playaction and over routes, crossers along the middle of the field. Use playaction, get those linebackers suckered in, and throw it over their heads.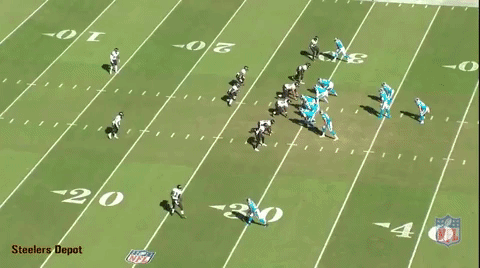 Off of turnovers, they like to try to take a shot or run playaction and hit one of their weapons in space. The Gruden favorite Spider 2 Y Banana, a throw to the flats with backside crosser as a secondary option.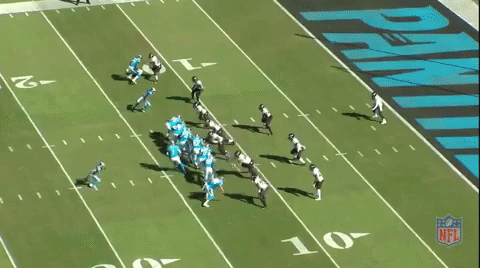 Josh's Individual Report
It's Panthers week, Steelers fans! With it comes a Thursday Night Football showdown at Heinz Field.
Coming into Week 10's matchup in Pittsburgh, the Carolina Panthers are mostly an average offense in every major statistical category. Currently, the Panthers sit in total offense (371.6 yards per game), 11th in points per game (27.6), 9th in yards per play (6.0) and 15th in third down conversion percentage (41 percent).
That being said, they're a productive offense that lacks explosion, but moves the ball down the field methodically, consistently controlling the football, pairing with a great defense to make a really tough team in the NFC North.
For all of this talk about Cam Newton not being in the upper echelon of quarterbacks in the NFL, he sure is having a great season without a bonafide No. 1 receiver.
Through 8 games, Newton has thrown for 1,893 yards on 263 attempts, completing 177 passes (67.3 completion percentage), 15 touchdowns and four interceptions. His QB of 63.9 has him 13th in the NFL ahead of guys like Aaron Rodgers, Matthew Stafford, Russell Wilson, and Deshaun Watson.
Newton has a big, strong arm that allows him to throw darts all over the field with his unorthodox release. His accuracy has improved a bunch this season. He's very comfortable throwing down the middle of the field, and with the return of Greg Olsen from injury, it's opened up another wrinkle in Carolina's offense under the guidance of Newton and first-year offensive coordinator Norv Turner, who has been a Godsend for the Newton and the Panthers this season.
Aside from his abilities as a passer, Newton is still incredibly dangerous as a runner, coming in as the second-leading rusher for Carolina with 342 yards and four touchdowns on 73 carries. That's nearly 10 carries a game for the veteran quarterback. Now, that doesn't mean that's 10 designed carries for him, but it's important to keep him corralled in the pocket when rushing the passer. He's so dangerous when he breaks loose in the open field due to his size and speed; he's a nightmare for defenses.
When Carolina commits to the run game and pulls this out in the red zone? Good luck.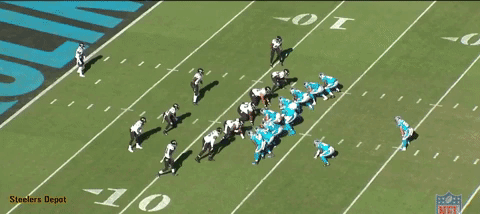 It's not the greatest of play fakes, but Newton sells the handoff to Christian McCaffrey just enough, freezing Baltimore's linebackers, allowing him to scoot around the corner for the 12-yard touchdown.
This is the first time I've seen the Panthers call this play this year, but it's clearly in the playbook, and obviously an option in the red zone.
While Newton is the clear headliner for the Panthers, McCaffrey is developing into one of the top dual threat running backs in the NFL this season. Turner has unlocked McCaffrey's potential, and he's thriving this season.
Coming out of Stanford, there were questions about McCaffrey's ability to be a workhorse in the NFL, running between the tackles and handling a WR2-3 role. He's proving he's not only durable, but gets better as the game unfolds.
McCaffrey seems to run best out of shotgun as the sidecar to Newton. That's not to say he's not effective in the traditional formations, but he's really comfortable in shotgun and seems to have his best runs out of shotgun where he can utilize his vision.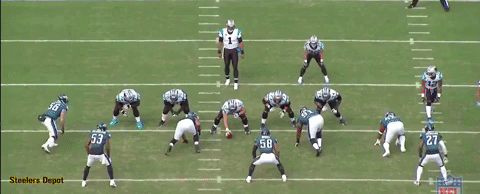 Look at this run against Philadelphia. He's so low and compact that he's essentially a bowling ball as a runner. But look at the balance and the explosion in his lower half. His vision helps him see lanes before they develop, and then he's able to explode through those lanes for big runs.
Carolina drafted him at No. 8 two years ago for a reason, and we're starting to see that in a big way this season. All it took was Turner taking over for Mike Shula.
As a receiver, McCaffrey is so shifty and runs great routes, but he's so good at the simple hot routes into the flats, and the Texas route that that's what Carolina has him run primarily.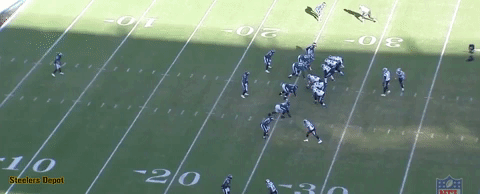 Again against Philadelphia, Turner schemes this up perfectly for McCaffrey, clearing out the receivers on crossing routes, rubbing Philadelphia linebackers off the route. Newton gets the ball to McCaffrey quickly, allowing him to burst up field for a big gain, setting Carolina up in the red zone.
Behind him, the Panthers brought in CJ Anderson from Denver in free agency, but the veteran rarely sees the field due to McCaffrey's versatility and ability to handle a heavy workload.
Make no mistake though: Anderson can come in and spell McCaffrey, changing the pace as a runner coming downhill with force. When he gets carries, he averages nearly five yards a pop. Don't be surprised to see Turner get Anderson more involved Thursday night on a short week to try and keep McCaffrey fresh.
At receiver, it's a patchwork group right now, but young guys DJ Moore and Curtis Samuel are starting to round into form, providing the Panthers with some explosiveness in the open field.
Samuel and Moore are more than just receivers right now for Carolina tough. As of now, the two speedy receivers have combined for 10 rushing attempts, primarily on jet sweeps, so pay attention for that on Thursday night. Turner loves to call them to get speed on the perimeter.
Last week against Tampa Bay, Samuel went 33 yards for a touchdown on a double reverse, while Moore went 32 yards on a jet sweep. It's a staple of Carolina's attack; it's just a matter of when they feel comfortable calling it.
As receivers, Moore and Samuel are the short game receivers where the Panthers try to get them the ball quickly, giving them a shot to make a defender miss and make a big play after the catch. Moore appears to be the guy who can carve up defenses down the middle of the field, but with Olsen back the Panthers are trying to figure out how to use the both of them in the middle of the field.
Devin Funchess is the possession receiver that bodies corners on the boundary. Newton loves to throw balls up to him, allowing him to make plays through contact. He's a tight end playing wide receiver, but it works quite well for Newton and the Panthers.
The return of Olsen adds Newton's favorite target back into the mix for an offense that is starting to hit its stride. When your veteran tight end can do things like this, you'd be glad to have him back.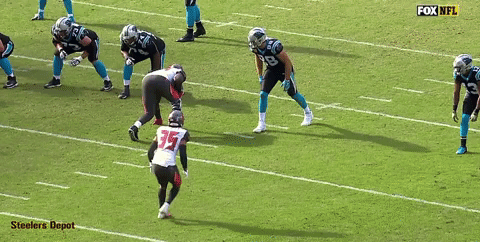 That's an incredible one-handed catch down the seam in the end zone.
Olsen is Newton's money guy in the middle of the field. Few linebackers have proven that they can cover Olsen consistently, which has allowed Newton to develop trust in Olsen over the years, becoming one of the best QB/TE combinations in the NFL.
Up front, it's not a great line on paper, but this starting five gets the job done well, resulting in the Panthers winning a number of games through sheer physicality.
Expect the Panthers to line up like this left to right on Thursday night.
LT — Chris Clark
LG — Greg Van Roten
C — Ryan Kalil
RG — Trai Turner
RT — Taylor Moton
The right side of the line is a clear strength for the Panthers with two monstrous humans in Trai Turner and Taylor Moton. Just a few years ago the discussion around Turner was where he ranked in the elite echelon of guards in the NFL. That discussion has died down some, but he's still playing at a very high level, especially in the run game.
Moton was a guy I really liked coming out of Western Michigan. He's thriving at right tackle, relying on his powerful frame to overpower defenders.
Kalil hasn't practiced all week  with an ankle injury, but it sounds like he'll play on Sunday. It's a shame he's going to retire at the end of the season because he's still one of the best centers in football, hands down. He's powerful, yet quick and moves really well for a man his size.
On the left side, I've really taken a liking to Van Roten this season. He's a mauler with a mean streak. Chris Clark is pretty solid too for a left tackle despite having a name many don't think of with top 10-15 tackles in the NFL. He's sturdy. That's all the Panthers need there right now.
On special teams, the Panthers are loaded for bear.
Graham Gano has missed just two field goals in the last two years. He's Mr. Automatic from 49 yards and in. He doesn't have a big leg to boom 50 + yarders, but give me a guy that is as consistent as he is any day of the week.
Punter Michael Palardy flies under the radar as a punter. He's got a big leg, averaging 46 yards per punt, dropping half of his punts inside the opponent's 20-yard line. He's not great with directional kicks away from returners, but he's able to consistently pin returners deep.
Damiere Byrd is the kick and punt returner. He's come close in recent weeks of busting off a long punt return. Pittsburgh's coverage units will have to be fundamentally sound against the jitterbug returner.