As we have been for several years now, we'll break down the Pittsburgh Steelers' opponent each week, telling you what to expect from a scheme and individual standpoint. Like last year, Josh Carney and I will cover the opposing team's offense. I will focus on scheme, Josh on the players.
Today, we're taking a look at the Jacksonville Jaguars' offense.
Alex's Scheme Report
Jaguars Run Game
Like I said in the title, Jacksonville is looking to get back into its identity. When they're playing at their peak, like 2017, it's as well-defined as any team in the league. That begins with a physical, man blocking run game. Win the point of attack, stay out of third and long, control the ball, wear defenses down. They are still in "old school" mode of offense, for better or worse.
Unfortunately for them, it's been that latter "worse" category for much of this season. The run game has tanked, in part due to injuries at running back and along the offensive line. Leonard Fournette did return last week, only the third game he's played this year. It skews his numbers, both in aggregate and relatively speaking, since he's barely had a chance to get going before things derailed.
Over 44 carries, he's averaging 2.8 yards per attempt, including a 24 carry, 53 yard performance last Sunday against the Indianapolis Colts. Filling in had been T.J. Yeldon, having more success and should slide into the backup role. They also traded for the Browns' Carlos Hyde but he hasn't been much of a factor, nine carries in his two games for the Jags.
Fullback Tommy Bohanon hasn't played a lot this year but he's coming off a game-high in snaps against the Colts, logging 18. Maybe a sign of things to come with Fournette back in action. He hasn't recorded a carry all year.
The Jaguars do have four runs of 20+ yards this year but three of them come from Blake Bortles. They're similarly poor in runs of 10+, ranking 29th.
Their offensive line is a wreck. Their projected starting five:
LT – Josh Walker
LG – Andrew Norwell
C – Tyler Shatley
RG – A.J. Cann
RT – Jeremy Parnell
Norwell has underwhelmed as a prized free agent from Carolina. Shatley replaces Brandon Linder, who they just lost for the year. Shatley had previously been used as a tackle eligible in short-yardage situations. Walker has been grilled as their third-string left tackle. The right side of the line is their strongest part of the unit. Parnell is an underrated right tackle with a great combination of strength and athleticism. Watch out for his first punch.
The run scheme still has its identity. Hard pressed to find any team that runs more man and lead blocking schemes than they do. They begin most games out of heavy personnel, 21 or 12, and prefer to play that way. Expect the Steelers to stay in their base defense quite a bit, just as they did against the Carolina Panthers. Against the Eagles, they didn't switch to 11 personnel until their 9th snap. Versus Indy, it took until their 5th, and that was a 3rd and 9.
Nothing fancy about their run game. Double-team at the point of attack, base blocks, follow the fullback.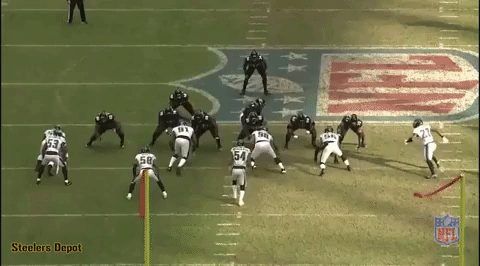 Alert for split zone looks, and possible playaction, with the tight end aligned off ball.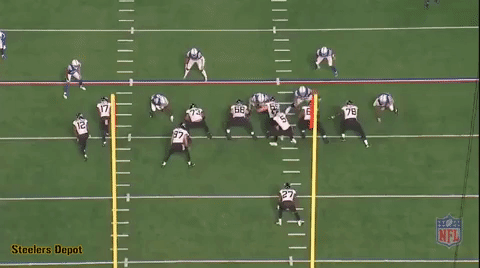 Jacksonville's offense has been unsurprisingly terrible, ranked 29th in points per game (17.8). That's in part thanks to a struggling red zone attack, a lowly 28th overall. Luckily for them, they have a strong-legged kicker in Josh Lambo.
Jaguars Pass Game
If you're looking at just his stats, Blake Bortles doesn't look significantly different than he did in 2017. His completion percentage has improved, up to 61%, with his YPA and passing touchdowns on pace to remain about the same. But his interceptions are up and with the run game no longer carrying him, his shoddy play has been exposed.
Donte Moncrief and DeDe Westbrook are their two top threats at receiver. Westbrook is averaging just 12 yards per catch but ten of his 38 receptions have gone for more than 20+ yards. That's the fourth most among receivers with less than 40 receptions, trailing just Courtland Sutton (20), Tyrell Williams (26), and Desean Jackson (33).
Moncrief is also a vertical threat and broke a couple tackles on way to an 80 yard score last week. There's also rookie D.J. Chark, another vertical threat. Here are the 40 times for those three WRs.
Chark: 4.34
Westbrook: 4.39
Moncrief: 4.40
So don't let Jacksonville beat you over the top.
And for the most part, teams haven't. Despite all that on-paper speed, they've hit just three completions of more than 40 yards and are below average in completions of 20+.
Tight end hasn't been a big part of this offense but James O'Shaughnessy is on the rise. Caught six passes for 46 yards last week versus Indy.
A lot of their passing concepts come off playaction. A simple lo-high read of the fullback/tight end/wide receiver (alert WR reduced split) to the flat and a crosser from the backside.
They like to run this Hank Concept out of 2×2 and instead of asking the tight end to sit down in the middle, they have a slot receiver do it. See it on 1st and 10 around their own 40 yard line.
Those are some of the most popular concepts I saw on tape.
Josh's Individual Report
It's Jaguars week, Steelers fans! And it's time for some sweet revenge.
Hitting the road to Jacksonville for a 1 p.m. start, the Pittsburgh Steelers are rolling, while the Jacksonville Jaguars are coming apart at the seams one year after an AFC Championship Game run.
Blake Bortles remains the starting quarterback for the Jaguars despite a rollercoaster performance series to series, let alone week to week. He's a maddening quarterback to watch. He'll make some jaw-dropping throws, but then he'll lack pocket awareness and ball security, forcing throws he has no business forcing.
It shouldn't comes as a surprise that Jacksonville's offense is middle of the pack with Bortles, sitting No. 17 in total offense with 359.4 yards per game, 23rd in yards per play (5.4), ninth in third down percentage (45), 29th in points per game (17.8), and 30th in turnover differential (-11).
The passing game isn't much to worry about weekly with Bortles at the helm. With the return of Leonard Fournette to the lineup last week, the Jaguars got back to what made them successful last week:  ground and pound. Granted, Fournette averaged just 2.21 yards per carry on 24 carries last week, but his return allowed the Jaguars to fully commit to the run game against the Indianapolis Colts.
That balance allowed the Jaguars to open up the playbook with play-action passes, screens, and RPOs, helping Bortles move the football down the field.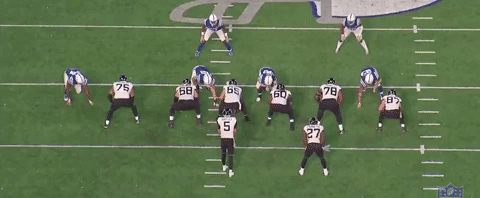 This is a classic RPO here from Bortles to tight end Blake Bell. The fake handoff to Fournette moving right to left causes Colts linebacker Anthony Walker to bite ever so slightly, allowing Bell to slip behind for a quick throw from Bortles, resulting in a 16-yard gain.
Jacksonville busted this play out early in the third quarter after consistently pounding the ball on the ground into a tough front seven of Indianapolis. That helps the Jaguars catch the Colts' linebackers off guard. Expect to see a similar game plan on Sunday against the Steelers.
With Bortles struggling to throw the football down the field with touch and accuracy, the Jaguars' passing attack relies on screens, swing routes to backs out of the backfield, and shallow crosses to speedy receivers looking to get the ball in space.
Against the Eagles in London, Jacksonville broke out the wheel route to TJ Yeldon in a big spot.
Isolating Yeldon on a linebacker is usually a win for Jacksonville. Bortles does a nice job here of identifying the blitz off the right side, which allows Yeldon to get up the field on the wheel route. You can't overlook the pick set by Donte Moncrief either, freeing up Yeldon down the right sideline.
Now, that pick by Moncrief should probably be called offensive pass interference nine times out of ten, but it wasn't called here and it allowed the Jags to pick up a splash play in the process.
Speaking of Yeldon, I personally believe he's more of a playmaker with the football than Fournette is. Bortles really trusts him in the passing game, which has caused Yeldon's snap count to rise in recent weeks, even with the return of Fournette. Oddly enough though, they don't run many screens to Yeldon; they're mostly to Fournette to get that big, powerful body moving downhill in space against defensive backs.
This certainly isn't last year's Jags offense though. The offensive line is severely banged up, which handcuffs their ability to punch teams in the mouth with the ground attack. Pop on the tape of last week's Jags-Colts game and you'll see Fournette getting hit in the backfield a ton, especially up the gut.
With the Jags struggling to open rushing lanes for Fournette, Yeldon, and Carlos Hyde, they'd be wise to start featuring Bortles and his legs a bit more.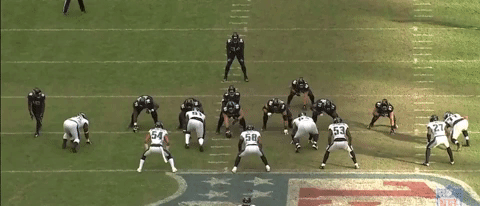 In London, Bortles had a ton of success with his legs against the Eagles. This is a designed rollout for him to throw the football, but he wisely tucks it to pick up the first down. He's exceptionally mobile for his size and is strong in the pocket. The Jags could really open things up for the ground game if they start using Bortles more as a runner, giving defenses another player to worry about against the run.
At receiver, the Jaguars have a bunch of talent, but with Bortles struggling in the passing game, this group really is really held back.
Moncrief had a great game against the Colts, showcasing his ability to not only run past defenders down the field, but also serve as a possession receiver. He's a good fit in Jacksonville, but he needs a quarterback that can consistently get him the football. Bortles isn't it.
Dede Westbrook is a guy I was really high on coming out of Oklahoma. He has speed for days and is a polished route runner with soft hands, but much like Moncrief, he doesn't have a quarterback that can utilize his talents consistently enough.
I like what the Jags did this offseason, throwing money at Moncrief and drafting DJ Chark Jr. out of LSU in the second round to try and help Bortles with weapons, but the veteran quarterback simply can't put it together.
Chark has struggled with drops this season, but he's a strong route runner with deep speed as well.
At tight end, the Jags just have a bunch of JAGs: Just a guy.
That's what James O'Shaughnessy, Ben Koyack, David Grinnage, and Bell are. All are strong blockers, but none will scare you in the passing game.
I mentioned earlier how banged up the offensive line is. Here's how they're expected to line up left to right on Sunday:
LT — Josh Walker (third string LT)
LG — Andrew Norwell
C — Tyler Shatley
RG — AJ Cann
RT — Jeremy Parnell
Not great, Bob!
Walker is the third-string tackle for the Jaguars. Additionally, he's dealing with a foot/ankle injury and didn't practice Thursday. If he can't go, Ereck Flowers – a former first round pick of the Giants who was cut earlier this season – could start in his place.
Norwell came over from Caroiina on a huge free agent deal and has played well, but he's had to cover for inexperience at tackle this season, causing his play to slip from the level he showed last season with the Panthers.
Add in the fact that Brandon Linder was lost at center and backup swing lineman Tyler Shatley has to start, it could be a long day for Norwell and Co.
Cann is dealing with a hamstring injury and has been limited in practice all week. Parnell is the lone healthy lineman right now for the Jaguars, but he's struggled against athletic pass rushers this season.
On special teams, the Jags are pretty darn solid.
Kicker Josh Lambo is on some type of roll lately, drilling a pair of 55+ yarders in his last two games. He did have an extra point blocked at Indianapolis last week, but it wasn't his fault. The Colts blew up the middle of the line right at the snap, giving Lambo no chance.
Punter Logan Cooke isn't anything spectacular. He's averaging just 42 yards per kick and seems to outkick his coverage quite a bit, making it tough for his coverage team to hold returners to little or no gain.
However, he sure does have a pretty left-handed pass.
Doug Marrone isn't afraid to gamble on special teams. Trailing in the third quarter at the Colts last week, Marrone called for a fake field goal, asking Cooke to throw to O'Shaughnessy, who barely picked up the first down. Bortles then found Fournette for a 2-yard touchdown a few plays later, keeping the Jags in the game.
I highly doubt the Jags will run a fake field goal two weeks in a row, but just keep an eye out. Marrone is a hard coach to get a read on.
In the return game, I really like Chark as a kick returner. He returned two 40+ yarders last week in Indianapolis and looks primed to break one. The Steelers' coverage units have to be on top of their game.