As we have been for several years now, we'll break down the Pittsburgh Steelers' opponent each week, telling you what to expect from a scheme and individual standpoint. Like last year, Josh Carney and I will cover the opposing team's offense. I will focus on scheme, Josh on the players.
Today, we're checking out what the Los Angeles Chargers will do on offense.
Alex's Scheme Report
Chargers Run Game
Even without Melvin Gordon, the Chargers are still going to pose a threat in the run game, as Josh outlines below. Replacing him will be Austin Ekeler, an undersized running back from Western State and bonafide diamond in the rough. He's versatile, just as strong out of the backfield as he is a runner, and averaging 5.8 YPC on 70 carries this season. Backing him up is Justin Jackson, a rookie but capable receiver who had a heck of a career at Northwestern.
They've gotten huge chunk plays from the run game too. They're tied first in runs of 10+ yards (51 of them) and alone at the top of gains that go 20+. It's no surprise their team yards per carry ranks third in the NFL at five yards a pop.
Like the Denver Broncos, the Chargers do a great job of ball security. Two fumbles on carries this year, neither by a running back. Given the Steelers issues in creating turnovers, this is a bad matchup across the board.
Los Angeles will hand the ball to a variety of people, too. Keenan Allen has eight carries and Mike Williams has four. Designed end arounds in their playbook so be on the lookout for those, too.
They do use a fullback, Derek Watt, T.J's older brother. He's played 104 snaps this year and is occasionally flexed out and runs routes, though he hasn't caught a pass this season.
The run scheme is pretty varied. One interesting thing they do is this split zone look with the tight end or fullback cutting the end man on the line. But it's a man blocking scheme, not inside zone like you commonly get. One example: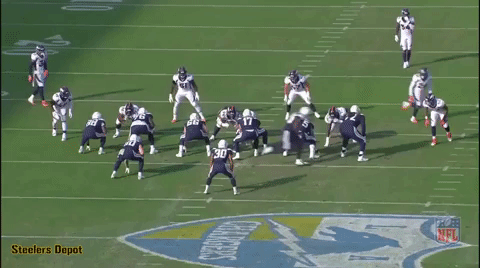 The offensive line isn't full of household names but they have good size. The expected starting five:
LT – Russell Okung
LG – Dan Feeney
C – Mike Pouncey
RG – Michael Schofield
RT – Sam Tevi
Only interesting note about this group is a rotation at right tackle. Tevi has started all but one game this year but he and Joseph Barksdale have split time at right tackle. Barksdale is an especially big dude and has a very tall stance, for whatever that's worth.
Couple more stats on their offense. Third down has been an issue, odd for the weapons they have and strong run game they boast, converting less than 38% of the time. That's 22nd in the league. Red zone offense has been better but also middling, 15th overall.
Chargers Pass Game
As always, led by Philip Rivers, arguably having a career year. His 69.5% ties a career high and his 9.1 average is a high. 26 touchdowns to just nine picks. On paper, he's been awesome, and looks even more impressive on tape. His toughness, willingness to stand in the pocket, adjust his arm angle to make a throw in a tight window. I'm not positive if he'll make it but to me, he's a Hall of Famer.
Three receivers who can definitely hurt you. Keenan Allen is one of the league's most technical route runners, right up there with AB and Adam Thielen. He has 69 receptions on the year; the next closest wide receiver has just 28. But the other two are playmakers: Mike and Tyrell Williams have combined for 12 touchdowns and both are averaging more than 17 yards per catch. Mike Williams has found his stride and become a red zone threat with three touchdowns inside the ten yard line. Antonio Gates is improbably still here too, the starter after Hunter Henry went down in the preseason.
The passing game is nearly as explosive as the run. Fourth in completions of 20+ yards (49) and tied seventh in 40+ (nine). There's even Travis Benjamin, not playing much this year, but a vertical threat too.
Running backs are a focal part of the pass game too. I know Gordon isn't playing but he and Ekeler have combined for 76 receptions on the year – a testament to how passing is schemed through the backs. That's the second highest amount of receptions by any RB duo in the league, trailing only Saquon Barkley and Wayne Gallman, and that's really a Kobe Bryant/Smush Parker skewed stat (Barkley has 71, Gallman 12).
Expect the Chargers to run angle routes and then work off of it. Two plays against Denver in Week 11. The first, Ekeler runs the angle route, stemming outside and then cutting back in on an angle. The next time, the linebacker sits inside to expect the angle but Ekeler runs the flat, winning outside because of the linebacker expecting the angle. Going to really stress the Steelers linebackers.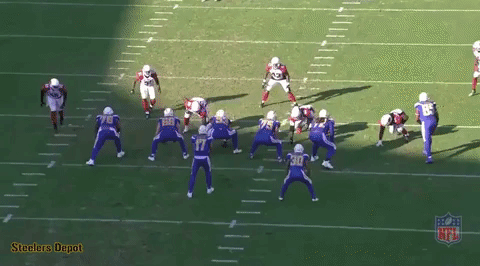 Rivers does a great job of motioning the RB to empty as a way to ID coverages. Tweeted it out the other day. In the first clip, Gordon is flexed out wide. The linebacker walks out with him. That makes it likely he's getting man to man and so Rivers throws the mesh route. In the next, Gordon is flexed out but the corner stays on him. That means you're getting zone and with the single high safety, that means Cover 3. So throw the smoke route with the off coverage.
Alert for their sail concept (vertical/corner/flat), a three-level route combination to flood zone coverage, run out of 2×2.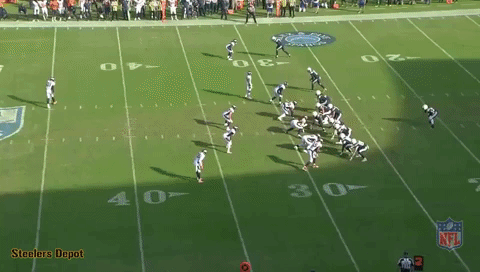 They like to use the middle of the field with levels concepts and post/over routes, too. I'm playing a lot of Cover 1 Lurk/Robber. Takes away the intermediate level crossers and defends against post routes. Biggest concern is losing on the outside but that's the chance you take.
Josh's Individual Report
It's Chargers week, Steelers fans!
With all due respect to the Kansas City Chiefs' offense, Sunday's primetime matchup with the Los Angeles Chargers will offer the Pittsburgh Steelers' defense its most complete test of the season to this point.
Coming into Sunday night's matchup at Heinz Field, the Chargers sit No. 6 in total offense (402.0 yards per game), 7th in points per game (27.9), 10th in turnover margin (+4), 10th in passing yards per game (273.2), 8th in rushing yards per game (128.8), and are 3rd in yards per play (6.8). Curiously though, the Chargers are just 22nd in the league in third down conversion percentage, tied with teams such as the San Francisco 49ers and Detroit Lions, among others.
Pittsburgh catches a massive break on Sunday night as star running back Melvin Gordon will miss the game with an MCL sprain, forcing do-everything backup Austin Ekeler to handle the heavy workload in the Chargers' backfield.
Make no mistake though: Ekeler is one heck of a running back in the NFL. He's a guy who can get to the edge quickly and make defenders miss, yet he can also barrel his way through the middle of the defense between the tackles, picking up a number of yards after contact. He's so shifty, yet so powerful that he's tough for defenses to get a handle on.
Aside from his ability to work over defenses on the ground, he's a great receiving back that Philip Rivers loves to get the ball to out of the backfield.
Against the Arizona Cardinals in Week 12, Ekeler caught 10 passes for 68 yards, serving as Rivers' safety value against a threating Cardinals pass rush. Ekeler usually finds his way into the flat or in the short middle of the field like James Conner does for the Steelers, resulting in easy checkdowns. However, the Chargers started to deploy Ekeler like Gordon later in the game after Gordon went down with an injury.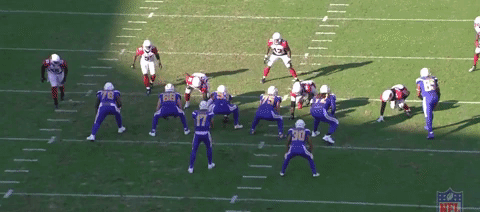 This is the famous Texas route that LaDainian Tomlinson dominated with for years with the Chargers. It's an easy route across the middle against slower linebackers designed to get the ball to the back quickly. Ekeler doesn't break any tackles here, but this route is now on tape with him. I expect to see it at least once on Sunday night against a slower linebackers group for the Steelers.
Along with Ekeler, rookie Justin Jackson – a prolific college running back at Northwestern – will see some touches with Gordon out. Jackson ran well against the Cardinals late in the game, helping Los Angeles milk the clock. The Chargers got the ball to him on a few tosses and a draw; don't expect anything more elaborate than that.
Rivers is on some kind of roll for the Chargers too. After tying an NFL record with 25 straight completions against the Cardinals, Rivers gets to go up against a secondary that has been much maligned lately despite not giving up many passing yards. That's likely to change on Sunday night against a high-powered passing game with Rivers as the leader.
He has an unorthodox delivery and doesn't really move as well in the pocket late in his career, but he's very accurate with the football and still has a strong arm that allows him to fit balls into tight windows all over the field.
Personally, I feel Rivers is a future Hall of Fame quarterback despite not winning a Super Bowl ring, and is one of the most underrated signal callers this league has seen in quite some time. He's going to be a very tough test on Sunday, especially with all the weapons he has at his disposal.
Keenan Allen is the headliner at wide receiver. Finally able to stay healthy these last two seasons, Allen has emerged as one of the most complete receivers in the NFL today. An exceptional route runner, Allen has a knack for creating separation late in his routes with footwork and attention to details within his routes. Plus, he has some deceptive explosiveness coming out of his routes, allowing him to create that sliver of room needed for Rivers to find him.
Los Angeles will line him up all over the formation to get him into favorable matchups, and they'll even hand the ball off to him on jet sweeps to get him in space.
Playing second fiddle to Allen is the duo of Tyrell Williams and Mike Williams. Mike Williams was the Chargers' first round pick last season, and after an injury-plagued rookie season, the Clemson product is coming on strong in his second season. Seven of Williams' 24 catches have gone for scores, including two last week in the same back left corner of the end zone in the second quarter against the Cardinals.
Here's his first score.
Bunched with Tyrell Williams at the snap, Williams slowly rocks the Cardinals' secondary to sleep before reaching the top of his stem in the end zone, rocketing outside to the back pylon where Rivers finds him on a jump ball. Williams was a terrific contested catch receiver at Clemson. He's essentially a tight end in a receiver's body, so he's able to go up and get the football in situations like this. I highlighted this touchdown because of the explosion out of his stem. That's really impressive.
The other Williams — Tyrell — is the home run threat for the Chargers. Five of Williams' 28 catches have gone for scores, including a long of 75 on the season. That came on the first offensive play from scrimmage against the Tennessee Titans in London.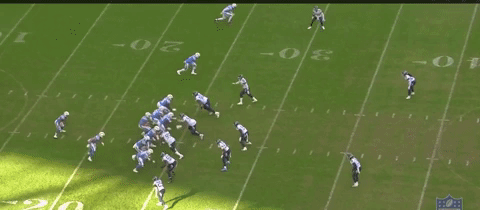 It's a straight go route off the ball, but look at Williams' long strides at the top of the screen that allows him to chew up ground between him and Tennessee's Logan Ryan. For some reason, Ryan sits in zone for just a second while every other defender in the secondary is playing man. Rivers sees it and lofts a perfect pass to Williams for the game's opening score. Don't be surprised if the Chargers come out firing deep early on their first drive on the road. The Steelers secondary hasn't given up a home run ball lately, aside from a 46-yarder last week to Emmanuel Sanders. They could be susceptible early in Sunday's game, especially with Williams' speed.
Outside of the big three in Los Angeles's passing game, No. 4 wide receiver Travis Benjamin got quite a bit of run last week against the Cardinals, playing mainly out of the slot.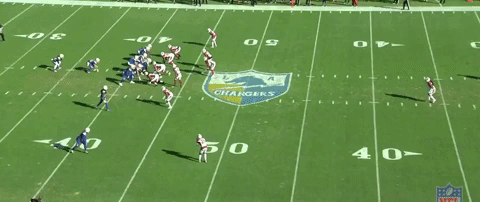 I really loved this design by the Chargers here with Williams in the slot. The play-action to Gordon and the fake block by Benjamin freezes the Cardinals' slot corner. Once Benjamin sees the corner stop moving his feet for a second, he turns on the jets on the wheel route up the sideline where Rivers drops the pass into the bucket for the big gain.
At tight end, the loss of Hunter Henry to a torn ACL during off-season workouts was supposed to be a devastating blow for the Chargers, but Los Angeles brought back Antonio Gates for another season, and the veteran still shows flashes of that elite skillset.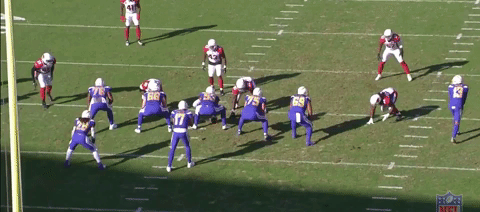 Lined up in the slot here, it's a 7-yard hitch route for Gates, who finds himself matched up with a slot cornerback. The quick hitch makes for an easy target for Rivers, who fires the ball quickly to Gates. From there, the veteran tight end shrugs off the first tackle attempt before making the safety miss in space, picking up the first down.
Up front, Los Angeles doesn't have a great offensive line on paper, but this group is really good at running the football and protecting the quarterback.
Here's how they're expected to line up left to right on Sunday.
LT – Russell Okung
LG — Dan Feeney
C — Mike Pouncey
RG — Michael Schofield
RT — Sam Tevi
Okung is the big name on this offensive line, as is Pouncey. Okung was a very good tackle earlier in this career. He's still solid on the left side of the line for the Chargers, but he's turned into more of a run blocker than pass protector for Los Angeles. Pouncey has really elevated this group to the next level when it comes to a strong offensive line. He instantly plugged a gaping hole at center and has solidified things across the board.
I really like Feeney, who has a bit of a nasty streak to his game and has some underrated athleticism for the position. Schofield has played some good football this season and has been able to hold off former first round pick Forrest Lamp so far. Tevi took over for an injured Joe Barksdale and has filled in admirably, helping the Chargers establish a physical rushing attack over the right side of the line.
On special teams, the big bugaboo for the season has been the kicker once again. There seems to be a Chargers curse when it comes to the kicking game. However, Michael Badgley seems to have broken that curse. He hasn't missed a field goal attempt in nine tries since taking over for Caleb Sturgis, and has missed just one extra point, which came in a 23-22 loss to the Denver Broncos.
Punter Donnie Jones is passable as a punter at age 38 for the Chargers. He's averaging less than 43 yards a punt, but he has 11 punts downed inside the opponent's 20-yard line on just 25 tries.
Kick and punt returner Desmond King has really opened things up for the Chargers on special teams. King averages nearly 12 yards per punt return and has a long of 56 yards this season, while also averaging 23 yards a kick return with a long of 40 yards, which came last week against the Cardinals, giving Los Angeles the early spark it needed.