As we have been for several years now, we'll break down the Pittsburgh Steelers' opponent each week, telling you what to expect from a scheme and individual standpoint. Like last year, Dan Vasko and I will cover the opposing team's defense. I will focus on scheme, Dan on the players.
Today, we're taking a long look at the Los Angeles Chargers' defense.
Alex's Scheme Report
Chargers Run Defense
The run defense has been ok, average overall, but hurting without starting nose tackle Brandon Mebane, confirmed to miss Sunday night due to a family matter. They run a 3-4 front in a scheme that's pretty multiple, similar to the Steelers.
Last week against Arizona, without Mebane, they mostly ran a two down linemen front with #71 Damion Square and #93 Darius Philon up front. There is good depth including Isaac Rochell, rookie Justin Jones, and former Colt T.Y. McGill. Rochell mostly enters as a sub-package player in passing situations.
This entire front is an athletic bunch with great hand usage and ability to defeat blocks. Would prefer to double those guys up front so they can't disrupt and get penetration.
Linebacker is a solid group, even after losing Denzel Perryman earlier this month. Joey Bosa returned two weeks ago and has seen his snap count increase during that time, jumping from 55% to 70% last week and I assume, a full-time role Sunday Night against Pittsburgh.
Along the inside you'll find Jatavis Brown, a talented, versatile linebacker, and Kyle Emanuel. They will remove Emanuel and replace him with safety Adrian Phillips as part of a "small nickel" look. Makes them a little easier to run on and they'll use it against a lot of 11 personnel, even on early downs. Play below went for an 11 yard gain.
The third down offense is below average (40.4%) but they really buckle down in the red zone, trailing only the Minnesota Vikings, allowing a TD just 45.7% of the time. That makes them one of the stingiest defenses overall, 4th in points allowed per game, just a shade under 20 per game.
Chargers Pass Defense
It's pretty good. Top ten in yards per attempt and interceptions. Cornerbacks Michael Davis and Casey Heyward are your starters on the outside with Desmond King in the slot. Derwin James and Jahleel Addae are the safeties.
James is one of my favorite players to watch. I'll let Dan go more in-depth in it below but you have to find where his #33 jersey is located at all times. He will generally line up closer to the line of scrimmage but he can be in the slot, on the edge, down in the box, but he can play deeper in coverage, too. Heyward and King are excellent players too so I'd try to focus on going after Davis and Addae, the latter who isn't a great athlete (4.65 40 coming out) and is asked to play in space.
Like I wrote above, they have 11 interceptions this year. King leads them with three. The defense is average with 28 sacks but getting Joey Bosa back is a huge boost. He registered two sacks against Arizona last week. That'll likely boost Melvin Ingram's numbers, coming into this week with just 5.5. Quietly, Rochell, who had just 4.5 career sacks in college, has the same number of this year. Good find by them, a 7th round pick last season.
Derwin James has 3.5 sacks this season, the most in the NFL by a defensive back. He's a special dude and a guy I would kill to have in a Steelers' uniform.
Coverage wise, they are actually pretty predictable. I'm not sure if any team plays more single high looks than the Chargers do, preferring to keep James close to the line of scrimmage. You get a ton of Cover 3, especially against 2×2 looks. It isn't always a spot dropping one; like most teams who run Cover 3, they will match four verticals so they're not outmatched. Often, that means Derwin James carrying the slot receiver, like you see below in this GIF.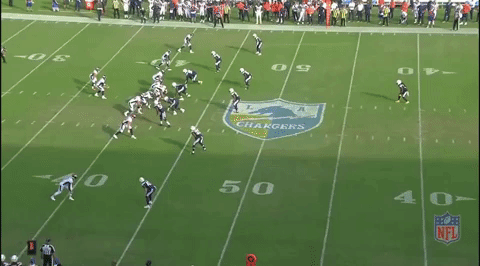 James makes up the bulk of their blitz schemes too. They'll run games with him and Bosa. They'll also align Ingram and Bosa on the same side or shade one of them inside of the tackle and align the end wide, putting the tackle in a bind and stressing the guard.
Dan's Individual Report
Defensive Line
Joey Bosa at LDE, Melvin Ingram is the RDE. Justin Jones is the nose (in for Brandon Mebane), and Darius Philon rounds out the interior at DT.
Bosa and Ingram may be the most formidable (Tomlin used this word a lot, so I'll give it a whirl) defensive end tandem in the league. Both exhibit versatility along the line, and have both speed and power rushes within their arsenal. Let's check out Bosa's big day just last week against Arizona.
Bosa had a field day with their right tackle, and he attacked in different ways. On his first of two sacks, Bosa employs a power rush, using his right hand to bulldoze the tackle and force him out of position.
Bosa fires off the line extending his right hand into the inside pad of the left tackle. His sheer strength is certainly key to being able to pull of this move, but the placement also puts the tackle in a bad spot. Notice how the tackle has both hands raised at one point giving Bosa all the leverage needed to explode into the backfield. He makes the tackle turn almost parallel to him which gives him an obvious advantage as the pass-rusher. Now let's check out a more shifty move on his second sack.
Here Bosa uses his speed off the snap to open up the tackle's stance and puts his hands to work. A quick violent swat from both hands on the tackle puts Bosa in prime position to round the corner and get to Josh Rosen before he can step up and out of harms way. Bosa's hand movement is a big piece to his productivity, but you've got to have the speed and the power to be effective. He's got both, and it shows he can beat you in many different ways. And since these linemen do move around, he'll have to be accounted for on every down, and it'll require a total effort from the offensive line to limit his impact.
Ingram is great off the edge, converting from outside linebacker just a year ago, he's made his presence felt from the three-point stance. But he's certainly not limited to one aspect within this defense. He can play on both sides, from a standing position, hands on the ground, either way he's wreaking havoc. Ingram is more stout than Bosa (Bosa at 6'5" is very long and rangy, whereas Ingram at 6'1" brings the power and leverage). Both weigh roughly 265-270 pounds, with Bosa being a bit heavier.
Linebackers
Jatavius Brown and Uchenna Nwosu are the outside linebackers (Nwosu typically is the will). Kyle Emanuel comes in at inside linebacker. This team rotates quite often and goes to dime even on early downs, usually bringing in safety Adrian Phillips as the sub-linebacker for Emanuel. But we'll focus on the three main linebackers here and more on Phillips later.
This group is probably the least impactful of the three units on the defense, and that's not so much a knock on the players as it is a product of the scheme, and simply how dominant the d-line and secondary is.
Nwosu is a very athletic linebacker with the ability to run down backs along the sidelines. He has very solid instincts in coverage, and has a knack for breaking up passes. But his overall measurables are a bit underwhelming. Obviously that's not a primary indicator of one's potential, but it's worth noting especially when taking on blockers one-on-one. He can be taken out of a play effectively when engaging tackles.
Emanuel is another hybrid-type. He's pretty quick with a high motor, but will usually be subbed out in passing situations. Takes great angles into the backfield, and can find gaps quickly.
Another hybrid guy is Jatavius Brown. Extremely quick and has good field awareness. Often in the right spot. But a bit undersized, as is the theme with this unit. But that's what the Chargers are looking for. They bring the power on the line and hope the speed in the 2nd level can take care of the edge. When used to blitz the quarterback, though, these guys can be very effective as they'll be in the backfield, if untouched, in a heartbeat.
Defensive Backs
Of course this secondary starts with none other than Casey Haywards Jr. at RCB. Michael Davis lines up opposite Heyward. They have a variety of safeties they use being Jahleel Addae (mostly free safety/lines up deep most often) Adrian Phillips and Derwin James.  Desmond King largely sees slot duties.
The Chargers utilize their defensive backs in a lot of different ways. Of course Phillips was mentioned earlier as a linebacker substitute in their dime packages, and they really throw guys all over the field. They make it difficult to adjust from down to down.
They run single-high a ton with Addae roaming in the secondary. Phillips and James tend to sub in at linebacker or come down into the box. Phillips is a great asset, and he's quite effective in the run-game. We mentioned the Chargers like to mix things up a lot, so Phillips will rotate in quite often, and assumes mike duties in relief of Emanuel.
Phillips takes great angles as well, and sticks to his assignments. Not quick to over-pursue, which you could expect sometimes from safety hybrids in this type of scheme. Here it's a stretch run to the outside, with Phillips (#31) shadowing Royce Freeman the whole way.
Freeman is forced inside by Jatavis Brown, and Phillips meets his head-on and makes the tackle. It's not a flashy play or even one that showcases his athleticism. But rather it's a simple play that too often doesn't get made. Phillips provides a quality replacement in the run-game, with the upside of an extra DB in coverage. What's not seen here is his communication on the field as well. He does a good job of getting people in position and takes on that leadership role.  All around a tough defense to read, and Phillips could be doing a vast variety of assignments on any given play.
As for the corners: Casey Hayward is a phenomenal shut-down corner, that will likely see plenty of AB Sunday night. He's one of the more difficult corners to get separation from. Great hips, able to turn and run, but very quick feet and can cut on a dime. Very difficult test for the wideouts in this one.
Onto a younger guy, second year-pro Desmond King, who's quickly becoming one of the best slot corners in the game. What King does so well is reading the quarterback. That's why he excels most in zone coverage where he can lock eyes on the QB. Take this pick-six against the Seahawks for example.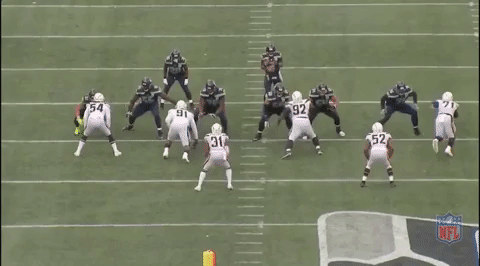 The Chargers are disguising man-coverage with King in the slot. But once it's snapped, King drops to his zone with eyes on Russel Wilson the whole way. And this play never had a chance. King is in perfect position to jump the hitch and take it to the house untouched. It's his instincts that stand out, and he's got the ball skills to match. I had the fortune of covering King when he was with the Iowa Hawkeyes and I can say I've seen him first-hand turn games around on multiple occasions. He'll be a good one for years to come.