Steelers-Ravens is usually always an entertaining game, and like always, a few plays here or there ends up being the difference one way or the other.
That was the case again on Sunday at M&T Bank Stadium in Baltimore, as both teams saw a couple of key plays go there way, resulting in the final score.
I'll do my best to pinpoint the top 5 plays that helped changed the game from Sunday's contest, like I have each week. Let's take a look.
Play 5 — 3rd & 11 at 50 (1:45 – 4th) (Shotgun) B.Roethlisberger sacked at PIT 40 for -10 yards (M.Judon)
A sack of Ben Roethlisberger to start off this list? Really? Oh yes.
Pittsburgh was in its four-minute offense and was doing a great job of milking the clock late in the fourth quarter. However, a run by James Conner on first down for no gain, and then a loss of 1 yard on second down forced the Steelers into a 3rd and 11 from midfield.
Roethlisberger and the Steelers wanted to at least complete the pass inbounds first, and then hopefully pick up the first down, but the Ravens rushed just three and dropped eight into coverage, taking away everything the Steelers tried to do from a route-concept standpoint.
The veteran signal caller tried to extend the play by moving out of the pocket, but nobody could work open, so Roethlisberger made the right football decision by just falling down and taking the sack from Matthew Judon, rather than trying to force a throw or chuck it out of bounds, stopping the clock.
By taking the sack, Roethlisberger helped the Steelers chew up 48 more seconds before taking a timeout of their own before punting the ball away. If Roethlisberger had thrown incomplete on the play, the Ravens likely would have gotten the ball with roughly 1:35 after the punt and no timeouts. That's a lot better than 44 seconds and no timeouts.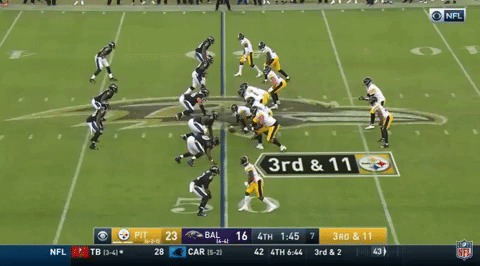 Play 4 – 3rd & Goal at PIT 5 (5:09 – 1st) (Shotgun) J.Flacco pass incomplete short middle to J.Brown
This was arguably the biggest mistake of the game by Joe Flacco on Sunday at home.
Facing a 3rd and Goal from the Pittsburgh 5 after a nice-looking drive from the Ravens, Flacco didn't even see rookie quarterback Lamar Jackson wide open in the right flat near the front pylon of the end zone, instead forcing a throw through the back of the end zone to a double covered John Brown.
If Flacco has some better vision throw and hits Jackson for the game's opening score, it's 7-0 Baltimore, rather than 3-0. After that, Pittsburgh scored a touchdown to take a 7-3 lead, and the Ravens never recovered on the afternoon.
Play 3 — 3rd & 6 at BAL 21 (8:54 – 3rd) (Shotgun) B.Roethlisberger pass short left to J.Smith-Schuster to BLT 14 for 7 yards (T.Young)
Coming out of the half with a 14-6 lead, the Steelers took the second half kickoff and proceeded to march down the field for another touchdown as Roethlisberger snuck in from 1 yard out to make it a 20-6 game after Chris Boswell's missed extra point.
On that opening drive of the second half, the Steelers faced three third downs, but the 7-yard completion from Roethlisberger to JuJu Smith-Schuster was arguably the biggest one of the drive as the Steelers were just outside of the red zone, yet clearly in field goal range.
Smith-Schuster beat Tavon Young inside on a slant and Roethlisberger hit him for the 7-yard gain. If the Steelers don't convert there, Pittsburgh settles for a field goal and it becomes a 17-6 game. The Ravens then scored on the next drive to make it 20-13. A 7-point lead on the road looks a lot better than a 4-point lead.
Play 2 — 3rd & 10 at PIT 17 (3:07 – 3rd) (Shotgun) J.Flacco pass incomplete deep right to M.Andrews (M.Burnett). PENALTY on PIT-M.Burnett, Defensive Pass Interference, 16 yards, enforced at PIT 17 – No Play
The Steelers had a tough time covering tight end Mark Andrews on Sunday.
This one won't go down as an actual "play" but it was a big outcome in the game that helped pull the Ravens to within a score.
Morgan Burnett matched up with Andrews in the red zone and fell a step behind. After Flacco saw that, he threw it up for Andrews. By being a step behind, Burnett had to play catch-up and got his head around too late, resulting in pass interference called in the end zone, setting the Ravens up at the 1 yard line. That led directly to an Alex Collins 1-yard rushing touchdown, making it a 20-13 game in Baltimore.
Now, I'm not sure how Burnett's play was any different from Young's play earlier in the game against Antonio Brown in the end zone, or Terrell Edmunds' play one play earlier against Andrews in the end zone, but it was a major call that went against the Steelers, leading to a touchdown.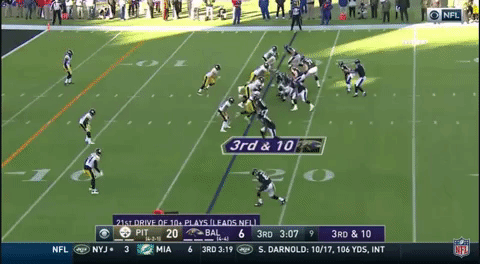 Play 1 — 2nd & 20 at PIT 5 (12:39 – 4th) No. 5 – Joshua Dobbs in at QB for PIT. J.Dobbs pass deep middle to J.Smith-Schuster to PIT 27 for 22 yards (E.Weddle)
While most of Steelers Nation was subsequently freaking out seeing Roethlisberger writhing in pain on the ground after a 3-yard scramble, second-year quarterback Joshua Dobbs calmly came onto the field, checked out of a run play into a pass play, and fired a strike down the middle of the field to Smith-Schuster, converting a 2nd and 20 into a first down, getting the Steelers off of their own goal line.
We'll never know what would have happened if Dobbs stayed in the run call, but by checking into a pass and hitting Smith-Schuster, Dobbs got the Steelers out of a serious jam.
Later in the drive Roethlisberger hit Jesse James for 51 yards on a double move, setting up Boswell's field goal to make it 23-13.