Sunday's game on the road against the Jacksonville Jaguars was cringeworthy for roughly 40 minutes, but the Pittsburgh Steelers woke up in time to answer with a big 20-16 win.
Trailing the entire time until the clocked showed 3 seconds left, the Pittsburgh Steelers came through in big spot after big spot down the stretch, flipping the game on its head to come out on top.
Like I do every week, I'll take a shot at diagnosing the top 5 plays that helped shape the game. Let's take a look.
Play 5 — 2nd & 10 at JAX 11 (8:02 – 3rd) (Shotgun) B.Roethlisberger pass deep middle intended for A.Brown INTERCEPTED by J.Ramsey in end zone.
Trailing 9-0 on the road, the Steelers finally put together a drive that looked to be ticketed for points thanks to a short punt by Jacksonville, and a 15-yard roughing the passer penalty on Calais Campbell wiped out an interception by Myles Jack moved the Steelers deep in Jaguars territory for the first time all game.
Ben Roethlisberger tried to find Antonio Brown in the end zone, but the veteran quarterback threw the ball a bit behind Brown, allowing Jalen Ramsey to record his second interception of the day, helping stop a streak of Jacksonville allowing a touchdown on 25 straight red zone trips this season.
If Roethlisberger throws in front of Brown, it's a touchdown for the star receiver. But the ball was off the mark, allowing the All-Pro corner in Ramsey to make a play.
After the interception, Jacksonville marched down the field for what looked to be a dagger of a touchdown to go on top 16-0 late in the third quarter.
Play 4 — 1st & 10 at JAX 20 (7:59 – 3rd) B.Bortles pass short middle to L.Fournette to JAX 46 for 26 yards (S.Davis; J.Bostic)
This is the first play after Ramsey's interception.
Pittsburgh calls an all-out blitz, leaving Sean Davis as the lone safety back on the play. Leonard Fournette does a nice job of wading through the blitzing defenders to slip behind the defensive line for a short dump-off from Blake Bortles.
Once Fournette secures the catch, it's open grass in front of him. The big, lumbering back races 26 yards before Sean Davis and Jon Bostic can get him on the ground, setting the Jaguars up near midfield.
Fournette later added another 20-yard catch from Bortles on a screen, leading to his 2-yard rushing touchdown, making it a 16-0 game.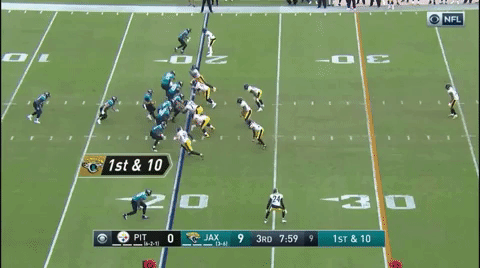 Play 3 — 1st & Goal at JAX 1 (0:05 – 4th) Ben Roethlisberger 1 Yard Rush C.Boswell extra point is GOOD, Center-K.Canaday, Holder-J.Berry. PENALTY on JAX-A.Jones, Unnecessary Roughness, 15 yards, enforced between downs
Wait, how can the game-winning touchdown run be the third play in this list? Well, the Steelers had a timeout and were at the half-yard line, so I felt pretty good about their chances of at least getting 3 points.
It was a sloppy play, in terms of execution, but thank goodness for all of Roethlisberger's 6-foot-5 frame to be able to stretch across the line like that.
Fortunately he didn't decide to flip it to Vance McDonald cutting left to right behind him because Yannick Ngakoue read the play and stepped into his throwing lane, forcing Roethlisberger to try and make a play with his legs.
Once again, he proved he's incredibly hard to get on the ground on his own as Jack learned the hard way.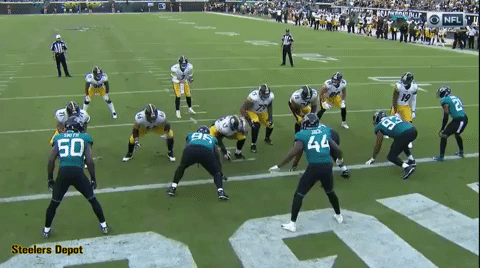 Play 2 — 2nd & 4 at PIT 38 (1:39 – 4th) (No Huddle, Shotgun) B.Roethlisberger pass short left to J.Smith-Schuster to JAX 27 for 35 yards (A.Bouye)
Trailing by just three points and needing to move into field goal range, Roethlisberger dialed up a deep shot to JuJu Smith-Schuster down the left sideline against AJ Bouye, resulting in a 35-yard splash play to push the Steelers into field goal range immediately.
The 35-yard catch was the second big play down the left sideline the fourth quarter that Smith-Schuster made, previously hauling in a 21-yard contested catch over Ramsey.
The 35-yarder put the Steelers at the Jacksonville 27 yard line, leading to a 25-yard pass from Roethlisberger to Brown to the Jacksonville 2 yard line.
Play 1 — 2nd & Goal at JAX 2 (0:22 – 4th) (Shotgun) B.Roethlisberger pass short middle intended for R.Switzer INTERCEPTED by D.Hayden at JAX -8. Touchback. PENALTY on JAX-D.Hayden, Face Mask (15 Yards), 1 yard, enforced at JAX 2 – No Play
It took a bit for a flag to be thrown on this play, which gave all of Steelers Nation a heart attack, but the Steelers caught a massive break in the end.
DJ Hayden appeared to pick off Roethlisberger in the end zone for the game-clinching play, but upon further review Hayden nearly ripped off Ryan Switzer's helmet in the end zone before the interception, resulting in a pass interference call that wiped out the interception in the end zone, giving the Steelers new life.
Following the PI, the Steelers had a timeout and inexplicably didn't give James Conner a crack from the 1-yard line, instead throwing a pass that resulted in another pass interference call, setting up Roethlisberger's 1-yard game-winning touchdown run.