I've written plenty about JuJu Smith-Schuster this week already. Maybe it's a little cathartic after that disappointing loss to Denver on Sunday afternoon. He was a consistent bright spot. Big plays, no fumbles, I'm sold.
It isn't just the big plays that make him the budding superstar he is. The 97 yard touchdown was amazing, that's the first thing I wrote about Monday morning, but it's the small plays that keep him on the field for the large ones.
What's always impressed me about Smith-Schuster was his football IQ. For how young he was, for how complex wide receiver can be, and watching him off the field…what a total dork he was. But on the field, he's a brilliant player and has developed outstanding chemistry with Ben Roethlisberger, a guy who at this point in his career, couldn't be more different than JuJu.
Two plays from Sunday, just six and ten yard gains, stood out to me, reaffirming that IQ and chemistry.
I highlighted this one on Twitter the other day but am using the TV tape because it honestly gives us a better look than the All-22. Smith-Schuster is lined up at the top.
The play below is a broken one. Smith-Schuster is supposed to run a smokescreen, basically a standing screen where he'll get the ball against off coverage. The cornerbacks roll up so he's not an option.
But as the play breaks down, and he quickly realizes that, JuJu darts across the middle of the field. During five Roethlisberger pump fakes, he runs to the opposite sideline, about 50 yards, getting into Roethlisberger's vision and make the grab, moving the sticks. Take in where he starts and where he ends up.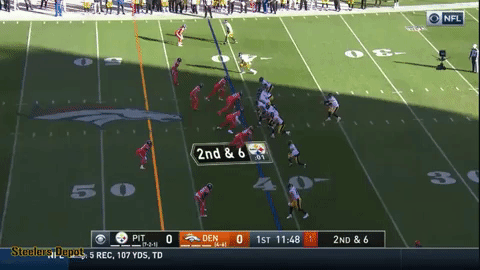 Similar situation later in the half. This begins as a pivot route, faking an inside break (Steelers have run it inside plenty to set this route up) before breaking back outside.
JuJu isn't able to shake the corner, the talented Chris Harris, and as the play again begins to break down, Smith-Schuster comes back inside. Back into Roethlisberger's line of sight. Pass is complete and the Steelers pick up the first down on 3rd and four, a gain of six.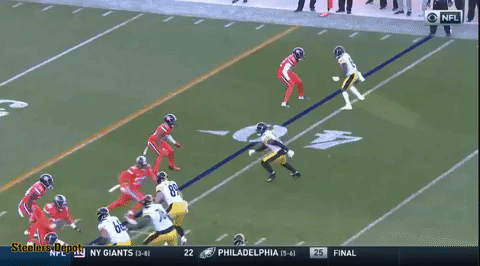 These are the plays I love watching him make, more than any 90 yard touchdown. Want to know why Roethlisberger trusts this dude so much, even saying Tuesday he wanted to throw it to him four times in a row on the final drive (Antonio Brown says, uh, hi)? Because of plays like this.
In a way, he's become a checkdown option, something most receivers aren't. But when Roethlisberger needs an outlet, Smith-Schuster almost always finds a way to make himself open. Crazy thing is this guy is only going to get better. Can't wait to see him develop.