The biggest change under Randy Fichtner has clearly been the Pittsburgh Steelers' red zone offense. I'll have to double-check the numbers when they update but after a 3 for 4 showing this weekend, they're closing in on having the league's top red zone offense. It's a ridiculous improvement from anything Todd Haley did or anything that's gone done with Mike Tomlin the head coach.
Only once under Tomlin have the Steelers finished in the top ten in red zone offense. You have to go all the way back to 2007 for that when they finished 7th, still under 60%. Since then, they've been no better than 12th and last year, tumbled down to 18th.
Entering Sunday, theyranked second at 75% and matched that seasonal performance against Baltimore. Much of the credit has to go to the players. Without them executing, it doesn't matter if Bill Walsh is calling the shots. They won't work.
Still, it's hard to look at all this history and just assume the switch has been flipped. The Steelers had mostly the same dudes last year: Ben, AB, and James Conner isn't making anyone miss he who shall not be named. So Fichtner has to be of some significant difference, right?
He showed his ability to scheme in the red area yesterday. The opening touchdown, Conner's first receiving score of his career, was a brilliant design that may not have fully intended to get the ball into his hands, worked out perfectly. Let's have a look.
3rd and 5. Critical down, clearly. Steelers motion Vance McDonald into a 3×1 looks. James Washington and JuJu Smith-Schuster stacked to the bottom. All three are going to take an inside release. With the Ravens in man coverage, it draws all their defenders away from Conner, releasing into the right flat.
McDonald, and I'm not sure if this is intentional or not (but it feels like it) sets a "pick" on MIKE linebacker Kenny Young. He has to work through McDonald to cover Conner in the flats, remember, it's man coverage and there's no help,
With Young picked, Conner has complete leverage and Roethlisberger makes an easy throw into the flat. From there, it's all Conner, and I really like the finish against safety Eric Weddle. There's been a couple plays this year where he hasn't been quite been able to finish at the goal line, a small blemish on an otherwise outstanding resume, but he lowers the shoulder, reaches out, and crosses the goal line.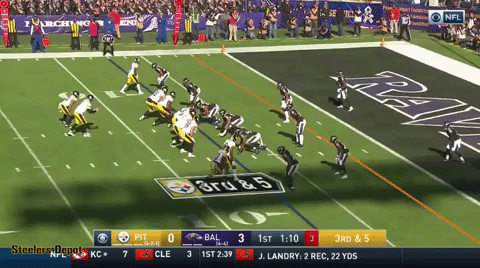 After the game, Conner described the play as a checkdown, hinting that he wasn't the primary read. Maybe he wasn't but the route distribution was set up to get him open. Without much space to work with near the goal line, Fichtner was able to create leverage to beat man coverage. That's how you create space. That's how you put up points.