No question early in the season, the Pittsburgh Steelers secondary looked lost. Blame it on a hundred different reasons. But in large part, it came down to inexperience and a lack of comfort from that group. Terrell Edmunds, obviously a rookie, and thrust into the starting SS role because of Morgan Burnett's injury. It was a secondary that didn't get to play together much in camp and the preseason due to injuries from Burnett and Sean Davis, who missed chunks of the summer.
That made the Steelers coverage very vanilla. It was easy for quarterbacks to know what they were getting. Not much rotation from the safeties so if they were single high pre-snap, odds were high they would be post-snap. Coverages didn't vary and so this group was tested and too often, toasted.
It's seemed to change over the last month. Edmunds is more comfortable, Burnett has been back in the lineup, and they've found stability at right corner in Coty Sensabaugh, now playing full-time over Artie Burns. It's allowed Keith Butler more freedom with his calls and coverages. I'm sure they're not brand new, stuff that's been in his back pocket for months, but the elevated play of this secondary is letting him dig deeper into the playbook.
Three times Sunday against Jacksonville, I saw the Steelers play what's known as their Cover 7 "Cone" coverage. Cone is a Nick Saban/Bill Belichick term, a bracket coverage capable of taking away any shallow crossing route by #1. Essentially, the safety and cornerback trade responsibilities. The safety has inside responsibility is #1 stems inside off the snap while the corner will support anything vertical.
Here's a look it, thanks to Eleven Warriors, the popular Ohio State football website.
Here are cutups of Saban running Cone while with the Miami Dolphins. In the first clip, watch the RCB pass off #1 inside to the safety.
Let's take a look at how the Steelers ran it.
They called it three times, on early downs, twice on 1st and 10 and once on 2nd and 10. It always came with #1 in a reduced/tight split, a signal he's running to the middle of the field (tape study would back that up, of course).
Here's the first time they used it, early in the first quarter. With coverage responsibility outlined.
You can even see Joe Haden point as #1 ducks in. He's alerting Terrell Edmunds to pick it up while Haden replaces vertical.
Edmunds does well to work through the trash and make the immediate tackle for only a five yard gain and zero YAC.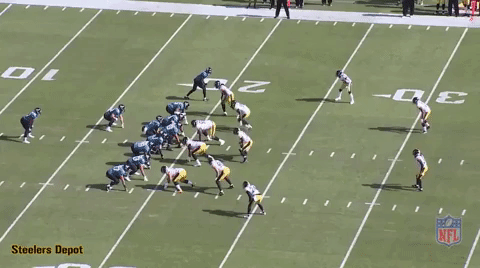 Similar in the second quarter. Jon Bostic and Sean Davis end up doubling him and the pass is incomplete.
Same idea here. Sean Davis rotates down right before the snap, taking #1 inside while Coty Sensabaugh replaces him over the top. Blake Bortles thinks he has Dede Westbrook one-on-one with Jon Bostic. But with Sensabaugh now the free safety, he gets in the way and the pass flutters incomplete.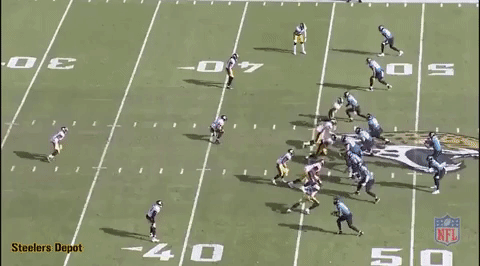 Can't remember Butler running this before, maybe he has and I missed/forgot it, but it's definitely new this year. I like the wrinkle not just for the concept itself but the vote in confidence in this secondary. To have the flexibility to add in new coverages, be a little less predictable, and have more answers for what offenses want to do.
If you're playing zone coverage and #1 dips inside, now you have linebackers on receivers. If you're playing straight man coverage with the corner following, now you're in trail position the whole way and vulnerable to getting picked/rubbed by mesh concepts and other crossers. Cone solves all those problems.
Beyond that, I've seen the safeties disguise their coverages more in the last several weeks. Not that they're always playing Cone, it might be rotating from a Cover 2 look to Cover 1, but it's a change from early in the year. They're not as static, not as predictable. That's going to be really important the rest of the year when this defense faces some of the NFL's top offenses and of course, for hopefully a long playoff run.