Though Antonio Brown's receptions and yards are down from where we're used to, his touchdowns have skyrocketed. He's found the end zone for the seventh straight games and been an undeniable asset in the red zone. Even when he's not getting the ball, Brown is a threat and creating quality matchups for his teammates to produce. That happened twice against the Carolina Panthers, the final two scores they needed to ice the game away.
Vance McDonald made a beautiful, if controversial, catch in the back of the end zone in the third quarter. The Steelers line up in a traditional 3×1 look, Brown lined to the bottom as the solo "X" receiver.
Brown isolated on a rookie corner like Donte' Jackson, who he burned for a 53 yard score earlier in the game, is a risky approach. So Carolina protects their corner by rolling a safety over the top, bracketing Brown and taking away any in-breaking route.
That causes them to play a two high look, leaving the middle of the field open (MOFO).
McDonald is able to bend his route to the inside of the strong safety and gets behind LB Luke Kuechly. Great throw by Ben Roethlisberger and it's six.
That's made possible because of the coverage. Can't run that route successfully with the middle of the field closed, a defense playing with a single high safety, like you commonly get in the red zone. Because of how the Panthers want to play AB, giving the corner help, it leaves the middle of the field open.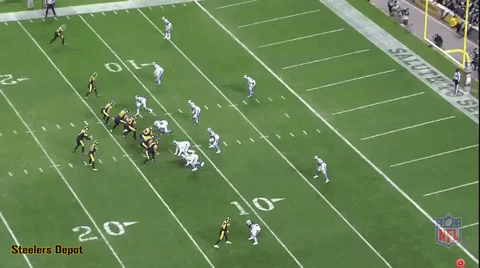 Jesse James got a similar advantage on his score later in the quarter. 2×2 formation with Brown stemming vertical and James running to the right flat. Off the snap, both defensive backs begin to carry AB. By the time, they pass things off correctly, James is wide open, and he easily reaches over the goal line.
This looks like more along the lines of slight miscommunication, the intention wasn't to truly double Antonio Brown, but when you see that #84 start to fly past, I bet every DB gets a little nervous. And that's all it took for James to be by his lonesome before putting up more points on the board.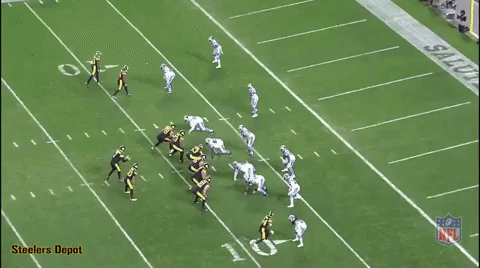 That's the constant threat Brown brings. Every defense knows he's the one guy you have to take away. Doing so comes at the expense of the rest of your defense, creating one-on-one matchups for the Steelers' offense to take advantage of. Now the fourth highest scoring offense in football, they certainly are doing so.