I get it. Depth can only be so good. No team can rely on their last defensive linemen and expect the same production as their starters. The Pittsburgh Steelers aren't alone. It's not a shock the DL didn't play as well as a whole without Stephon Tuitt. Cam Heyward was his usual excellent self and Javon Hargrave got the overdue chance to shine. But behind them…this group was exposed. Sunday was a prime example.
On the Broncos' first scoring drive, the Steelers had to sub Hargrave and Heyward out after five plays. In came L.T. Walton and Daniel McCullers to join Tyson Alualu. Quarterback Case Keenum connected with backup tight end Matt LaCosse for gains of 17 and 10 yards. There were issues in coverage, yes, but Keenum had all day to throw and get to his secondary reads. Both times, the cleanest pocket a QB can have. No pressure, perfect throwing lanes for Keenum.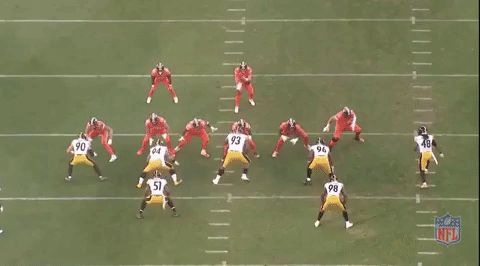 Felt like a 7 on 7 drill. Screengrabs of the pocket from those two plays.
Even in the first clip with the Steelers rushing only four, there aren't double-teams across the board. Alualu and Walton mostly have one-on-one matchups and don't come close to winning. No hand use, no athleticism, no ability to work off the block.
Run defense wasn't great either and that's what the depth is supposed to offer. This long 18 yard run by Phillip Lindsay in the second half. There are multiple issues on this play, Coty Sensabaugh has a terrible run fit and I'm pretty sure Walton's initial responsibility is the A gap, not the B gap Lindsay hit.
But this clearly not a slanting, one-gapping play and Walton can see Lindsay cross his face. But he doesn't have the athleticism or hand use to work off the left guard's block and isn't even able to shed the block until Lindsay is five yards past him.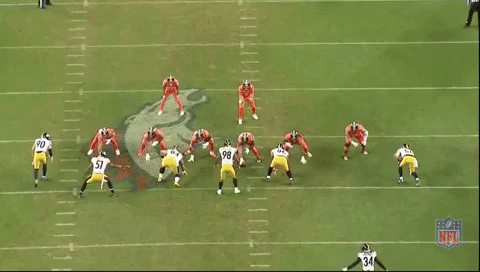 And let's check in on Big Dan on this pass rush.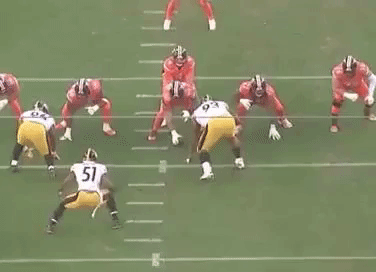 Yeah…not sure what to say about that one. Yes, technically, he did his job, Vince Williams rushed free, but clearly, anyone could've been there and the result would've been the same. That was the left guard doing a poor job of finding the blitz, not McCullers taking two steps and then falling to the ground like a Giant Sequoia. Even taking the double-team, you gotta stay on your feet, have the chance to get a hand in a throwing lane, or stay in the play if Keenum – who is mobile – breaks free and extends it.
Again, depth will only be so strong. But the Steelers philosophy for their backup defensive linemen has to change. They've focused on run stuffers, basically nose tackles. That's who McCullers is and where Walton played last season. Instead, they gotta shift to the way the starters have. Athletic bodies with good hand use and the ability to work off blocks. Players capable of one-gapping, stunting, giving some semblance of a pass rush. McCullers, Walton, and Alualu have combined for a grand total of four pressures and one sack this year (Patrick Mahomes falling at Big Dan's feet Week Two).
Mentioned this on Twitter the other day but I can see defensive end being the surprise selection of the draft, the way offensive tackle was this year. To give this team better depth, a potential piece for the future in case of injury, and the fact Heyward is going to be 30 next season. If it were me, I'd re-sign Alualu to a cheap, one-year deal, draft an end or versatile nose tackle in the mid-rounds, and potentially find a super cheap option in free agency to compete for that 6th spot. And say goodbye to Walton and McCullers.
They could swing back around to Jordan Phillips, who they put a waiver claim in for until Buffalo nabbed him. Brent Urban and Rodney Gunter could be other possibilities that caught my attention at a quick glance.
Bottom line. The way they set their depth has to match their approach to the starters. Because in their mind, depth are just starters in waiting.