James Conner was the talk of the town after Week One. The next three weeks? Quiet, even if largely no fault of his own.
He, like the rest of this Pittsburgh Steelers team, came roaring back Sunday afternoon, rushing for 110 yards and hauling in 75 more as a receiver. The Atlanta Falcons had no answer for him and one play, a 3rd and 13 screen pass with the Steelers clinging to a three point lead, summed up how much he terrorized that defense.
Words don't even do it justice. This is just one heck of an effort. Credit to Alejandro Villanueva and Ramon Foster for throwing two key blocks, too.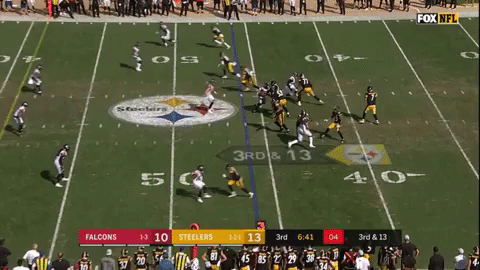 After the victory, Conner was asked about that play.
"110 percent," he told reporters at his press conference. "Every play. Called that play for a reason and it worked. Had to break a couple of tackles but that's what I feel like I'm capable of doing."
By my count, six broken tackles, Conner running through body after body en route to a first down. It's more of the same from him out of the backfield, running hard, decisively, and someone the offense has total trust in to do whatever is needed.
In Conner's mind, however, the important part was just to get the win.
"The run game is awesome. But getting the win is the most important thing. Throw it to win, run it to win, but today we were pretty balanced."
In number, the Steelers couldn't have been more balanced: 29 pass attempts, 29 rush attempts. That screen play and conversion eventually gave Pittsburgh much needed breathing room, leading to Ben Roethlisberger's first TD to Antonio Brown and a double-digit lead in the process.
That's one of those plays that in hindsight, you realize how important they are.
And through the first five weeks of the year, how important Conner has been to this team.